The company first started exploring health-enhancing aquaculture feeds at the start of the 1990s, in an attempt to provide viable alternatives to traditional medicine-based treatments in salmonid farms, after establishing that specific natural substances could result in stronger, more robust animals.
Highly-refined beta-glucans were the novel ingredient to be made available to the market and discussions were held with leading scientists in the field regarding their application.
"We saw that salmon were being exposed to a number of challenges, and we felt that if we could stimulate the immune defences before the main risk period, then we could provide much-needed support to those fish. The trials gave some good results; good enough that we decided to introduce a new anti-stress product, Respons," says Viggo Halseth, Chief Innovation Officer at Nutreco, who held the role of Marketing Manager at Skretting 25 years ago.
Very soon after, the diet accounted for around 13 percent of Skretting Norway's sales, where it was first introduced, and that was the case for the next few years, which was very high since the recommended use was for just two out of eight weeks. Overseas implementation began with Ireland and the UK, before a much broader geographical rollout.
Evolution
For some years, beta-glucans were the core focus of Skretting's health feeds, but in 2004 the decision was taken within the Skretting Aquaculture Research Centre (ARC) to establish a health department to see what could be achieved in terms of strengthening preventative health through feeding and diets. Three years later, the Protec diet was launched to help support against challenges in the four key areas – skin, gills, gut and immune system. In 2013, Protec was comprehensively upgraded to deliver support for viral challenges, while in 2016 Skretting launched Lorica – a shrimp health diet that supports the functioning of the immune system and helps protect the animals against hostile threats, including Vibrio bacteria.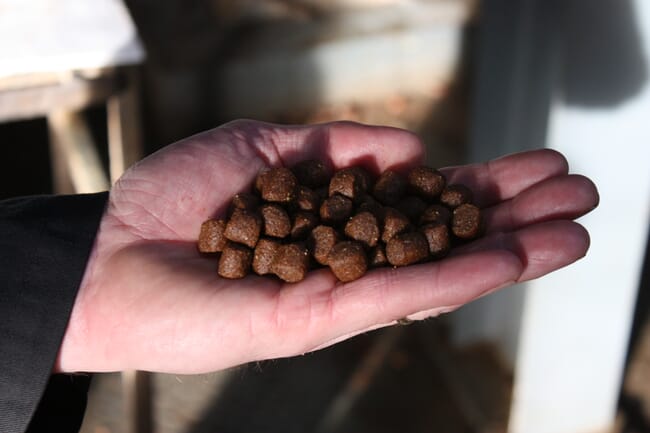 Today, Skretting's portfolio of health diets contains a wide range of functional ingredients that work in synergy to enhance the animals' ability to cope with stressful situations such as disease, handling, transport and vaccinations.
"That is the science behind these products," says Truls Dahl, Global Product Group Manager Health at Skretting. "To ensure the best outcomes, we find the best combination of ingredients as well as the ideal dosage. In these diets, we have established, with full documentation of the processes, the optimal mixture formulation and created a form in which it can be delivered directly to the species for which it has been developed. And because we are a feed company, we produce complete feeds that are tried, tested and ready for use."
For example, the first generation of Protec gave very positive support with regards to viruses through enhancing the immune system. The improved immune defence was particularly demonstrated in its contribution to helping control pancreas disease (PD), but benefits were also observed with the support given against other viral diseases, such as infectious salmon anaemia (ISA). Protec Gill, a diet expressly developed to support salmonids' gill health and recovery during disease, environmental and treatment challenges, is among the most recent innovations to come out of this strategy. And Skretting's recommendation for all proven functional feed solutions is the same: That they should be included proactively – before there is a challenge that will affect the condition of the stocks – as part of a structured approach to best management practices and an integrated health programme, because they work best alongside strategies such as vaccination, disease monitoring and the control of environmental parameters.
New challenges are certain to lead to shifts in Skretting's R&D focus. A growing cause for concern, for instance, is the amount of handling that farmed fish undergo, whether for vaccination or treatment for parasites. These are all potential sources of stress that can affect the feeding days and in turn impact the production cycle and even cause mortality.
At the same time, the scale and impact of shrimp diseases is a growing key focus for Skretting and an area in which its first shrimp health diet, Lorica, is already having a positive effect. Similarly, the Protec diet launched for tilapia last year has come from considerable ongoing R&D looking at the key diseases impacting the species' production.
"We are making specific feeds for more than 60 different aquaculture species. We have a strong core experience with those 25 years with salmon and marine fish species and in recent years we have been using that knowledge, competence and technologies to make some really exciting breakthroughs in other areas, most recently shrimp," says McGurk.