The central theme of this fifth edition of TARS was "from farm to plate" and focused on new approaches to improve feeds and feeding in aquaculture. The event attracted around 200 participants representing major aqua feed mills, big farm owners and major suppliers of the Asian aquaculture industry.
TARS organizes a series of round table sessions where stake holders from industry, academia, government and NGOs convene to share ideas and identify strategies to ensure sustainable development of Asia's aquaculture industry.
This year, participants had fruitful discussions in breakout sessions covering 4 themes: Feeding Today's Shrimp; Freshwater Fish Feeds; Marine Fish Feeds; and Aqua Feed Industry.
Dr Peter Coutteau, Global Aquaculture BU manager presented a talk titled "Towards a paradigm shift in feed specifications," comparing feed regulations for aquafeed of different Asian countries and those in force in EU.
Feed standards based on simple analytical features are not effective and risk to limit innovation which is badly needed to face current industry challenges. Up-to-date aquafeed includes nutrient quality and functional properties to improve feed utilization and animal health but also require adequate information (labeling) and continued education/support of the farmer.
The aquaculture industry would benefit from regulations targeting rather feed and food safety than feed specifications, and would further benefit from uniformity on regulations across the ASEAN region. Dr. Coutteau received a lot of feedback from the feed mill industry, which has been limited by national regulations for many years.
The Nutriad Gala Dinner, organized at the Marriott Hotel in Hanoi, was an excellent opportunity for visiting aquafeed professionals and Nutriad's expert team to further discuss on important topics while enjoying some nice food in a pleasant environment.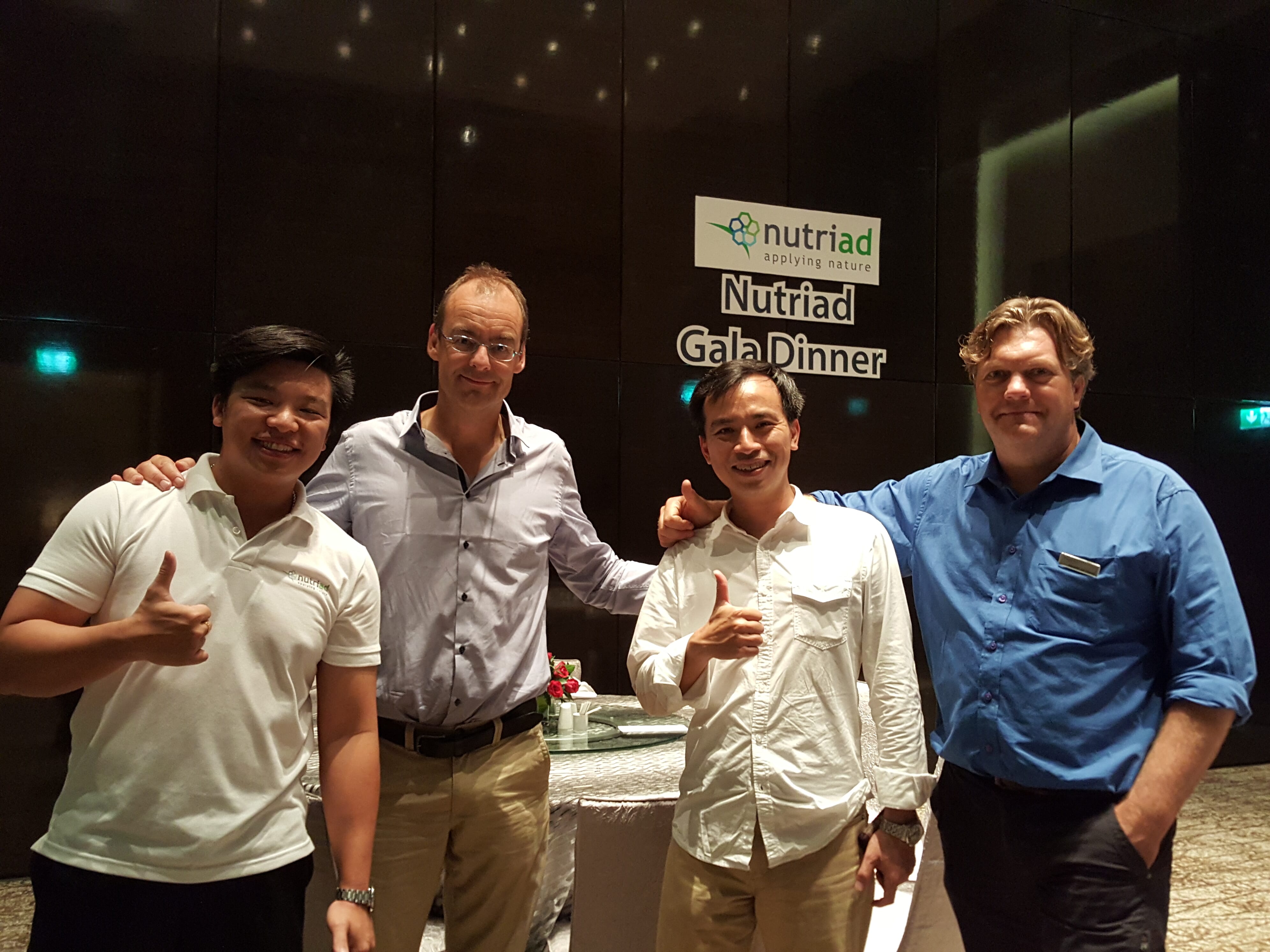 Nutriad delivers products and services to over 80 countries through a network of own sales offices and distributors. Supported by 4 application laboratories and 5 manufacturing facilities on 3 continents.
Find out more on our aquaculture expertise at: http://nutriad.com/nutriad-species/aqua/