Nutriad present at Aquaexpo Ecuador
Belgium headquartered Nutriad, specialty feed additives producer for shrimp and fish participated in the International AquaExpo 2018 in Guyaquil (Ecuador) organised by the National Chamber of Aquaculture (CNA). The AquaExpo has become a reference in the shrimp industry in the Americas and receives increasing global attention, due to the importance of Ecuador in the global shrimp production.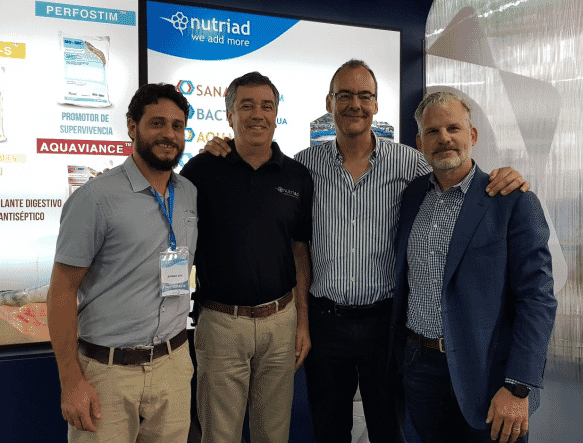 The shrimp sector employs an estimated 200,000 people directly and indirectly in Ecuador. In 2017, the country produced and exported more than 400,000 metric tons of shrimp with industry expecting to grow 4-5% in 2018.
This year's event attracted more than 750 attendants, mostly from South America, but also from Europe and Asia. 31 International speakers presented different topics on nutrition, health, genetics, diseases, biosecurity, management practices oriented to the farming of white leg shrimp, Litopenaeus vannamei.
In Ecuador Nutriad is working with BIOBAC, which distributes their aquaculture specialties. aqua team supported the BIOBAC booth with focus on programs for aquaculture additives supporting the prevention of shrimp diseases (Sanacore® GM, Bactinil® Aqua) and species-specific digestive/metabolic enhancers to reduce feed cost and improve performance in shrimp (Aquagest®, Lipogest®).
Peter Coutteau, Business Unit Director Aquaculture Nutriad, commented: "Nutriad has been working with producers in South America in general and in Ecuador for many years. Our philosophy of sharing insights and working together with local professionals has helped us establish a leading position in the aquaculture markets."
Nutriad is an industry leading specialist in the development, manufacture and marketing of animal and aqua feed additives worldwide. Headquartered in Belgium, Nutriad delivers products and services to over 80 countries worldwide through a network of own offices and distributors, supported by four application laboratories and five manufacturing facilities located on three continents. Find out more at www.nutriad.com