Nonprofit will develop and disseminate disease-resistant tilapia
New strains of Nile tilapia that are more resistant to disease and more effective at utilizing feed are being developed by WorldFish.
Based on a roadmap developed with world experts at a WorldFish-hosted workshop which took place last month at The Roslin Institute in Edinburgh, the research will use advanced techniques such as genomic selection to introduce these characteristics into its improved tilapia strains.
Since 1988, WorldFish has used selective breeding to develop and manage the fast-growing Genetically Improved Farmed Tilapia (GIFT) strain. The strain has been disseminated to at least 16 countries, mostly in the developing world, and is grown by millions of small-scale fish farmers for food, income and nutrition across the globe. Use of genomic selection tools, which enable the selection of animals based on genetic markers, will allow WorldFish to expand its GIFT research beyond a growth-only focus and introduce selection for characteristics that are otherwise difficult to measure, such as resilience and feed efficiency. Genomic selection has enabled a step change in the rate of genetic improvement of terrestrial livestock, and has the potential to do the same in fish.
Expansion of GIFT research is a key part of the CGIAR Research Program on fish (FISH) and supports WorldFish efforts under its sustainable aquaculture program to increase the productivity of small-scale aquaculture to meet growing global demand for fish.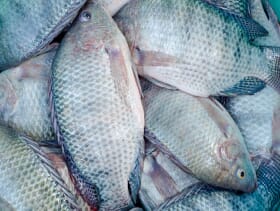 John Benzie, WorldFish's Program Leader for Sustainable Aquaculture, says: "Incorporating new traits in the breeding program for GIFT will help fish farmers prepare for future challenges such as climate change and increasing evidence of disease risks. This will particularly benefit farmers in Africa and Asia, where tilapia is critical for food security yet farmers often have limited access to improved fish breeds suited to local conditions."
Ross Houston, Group Leader at The Roslin Institute, adds: "Aquaculture production needs to increase by 40 percent by 2030 to meet global demands for fish. Nile tilapia (Oreochromis niloticus) is arguably the world's most important food fish, and plays a key role in tackling rural poverty in developing countries. The innovations in genetic improvement mapped out in this workshop are an important step toward achieving these ambitious goals."