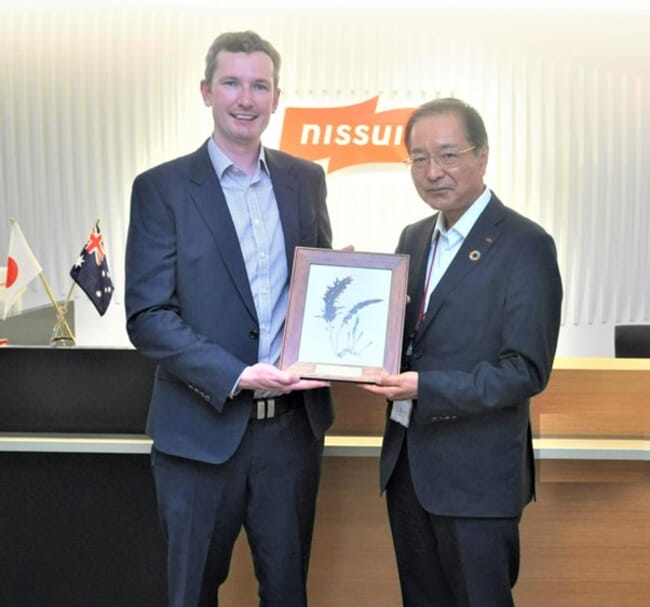 Methane, which is emitted during the digestion process of ruminants such as cattle and sheep, is a powerful greenhouse gas that contributes to global warming and has about 28 times the greenhouse effect of carbon dioxide.

Asparagopsis is a type of red algae that is distributed in tropical and subtropical waters of Asia and Oceania. Asparagopsis suppresses methane emissions from cattle by up to 98 percent by inhibiting methanogenic bacteria, and has also been found to improve growth by up to 26 percent by improving metabolism. Based on these findings, research is now underway to cultivate and produce Asparagopsis as a feed ingredient.

Australia's Commonwealth Scientific and Industrial Research Organisation (CSIRO) established a commercial entity, FutureFeed, which holds two patents for the use of Asparagopsis for reduction of methane in ruminant livestock.
Immersion Group is one of nine FutureFeed licence holders globally, and the only company with permission to sell Asparagopsis into Japan. Immersion Group is a startup founded by Dr John Statton and Scott Elliott in 2021, and since then it has established technology for the production of Asparagopsis seedlings and developed its own land-based aquaculture system and plans to build a pilot plant to commercialise it.

Immersion Group CEO Scott Elliott said the Nissui investment would allow rapid scaling of the company's proprietary production technique for Asparagopsis onshore.

Nissui plans to support Immersion Group's construction of a pilot plant near Geelong in Victoria, Australia and expansion of processing bases, as well as to verify the effectiveness and safety of the product and conduct test sales in Japan from 2024 to confirm the feasibility of commercialisation.

Nissui also expects synergies in developing seaweed land-based aquaculture know-how and technology through the collaboration with Immersion Group.