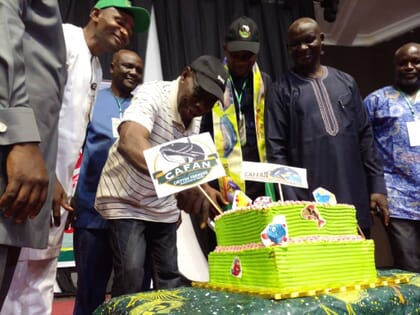 The event was in part organised to help heal the rift between the Catfish Farmers Association of Nigeria (CAFAN) and the Catfish and Allied Fish Farmers Association of Nigeria (CAFFAN) – both of which pledged to reunify this summer.
During the event former Nigerian President, Olusegun Obasanjo, who founded CAFAN, cut a "Unity Cake" and shared it among the leaders of the two former factions, to loud applause from delegates.
Obajanso called on the farmers to fuse their processes, plans and structures together before selecting leaders. He said that it was extremely important to bring together all stakeholders in the aquaculture value chain. He also said that "farmers are cheated when we don't add value to what we produce, so that we can maximise what we get for our labour".
The President of the Fisheries Society of Nigeria, Dr Lukman Adegoke, called for the "synchronisation of sales", to deal with the current situation, in which prices are dictated by middlemen.
"We need to avoid the situation where farmers are rushing their produce to the market. We need to develop a quota system which will stabilise the prices of fish on the market. Only fish farmers must dictate the prices of fish," he urged.
He also called for the extension of the backward integration policy which saw Triton and other fish importing companies entering fish farming and feed production. On the agitation by farmers for government action on the export of smoked fish, he advised farmers to pay attention to product quality.
"A major problem is residue monitoring. If your farm is not certified, your products cannot be exported," he noted.
He therefore called for the development of local certification groups to make the job of the national certification authority easier.
Prospects for diversification
One intriguing presentation was by fish farming trainer and consultant Israel "Mr Fish" Ademuyiwa, who argued the sector should diversify into pangasius, pacu, African bony tongue and African carp.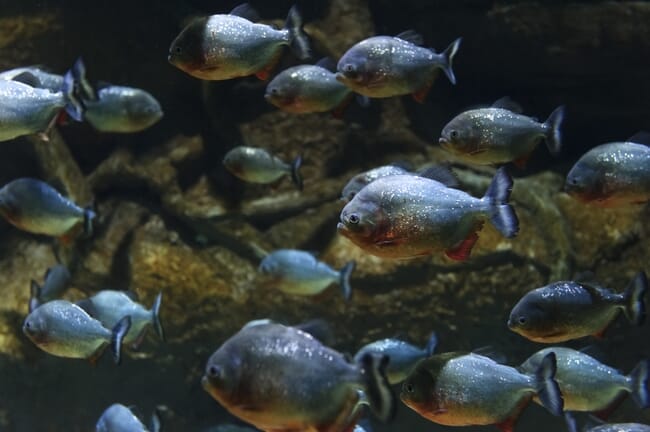 "The white catfish (Pangasius hipopthalmus) has quite a number of advantages compared to the black African catfish. It is a herbivore, so you can make good savings on feed. It does not cannibalise, so there is no need to grade. It can grow up to 1.5 kg in four to five months. And unlike black catfish which is mostly dried, smoked or eaten fresh, it can be processed in eleven ways, including freezing. A 1kg fish gives you 250,000 to 300,000 eggs, compared to black catfish which gives you 25,000 to 30,000 eggs. 80 per cent of the white catfish comprises flesh, unlike the black catfish whose head alone is quite big. You can stock white catfish at populations four times that of the black catfish. It thrives in earthen ponds, so small cottage level farmers can earn good income from farming it. And white catfish is really tasty," he said.
Mr Fish also recommended what he called "the fish with human-like teeth" – ie pacu – as a viable candidate for aquaculture in Nigeria. Pacu, he said, is a herbivore, so can reduce a farmer's feed bill by up to 70 percent.
"It does well in both earthen ponds and cage culture, and offers interesting prospects for commercial production in Nigeria. And pacu is really tasty," he argued.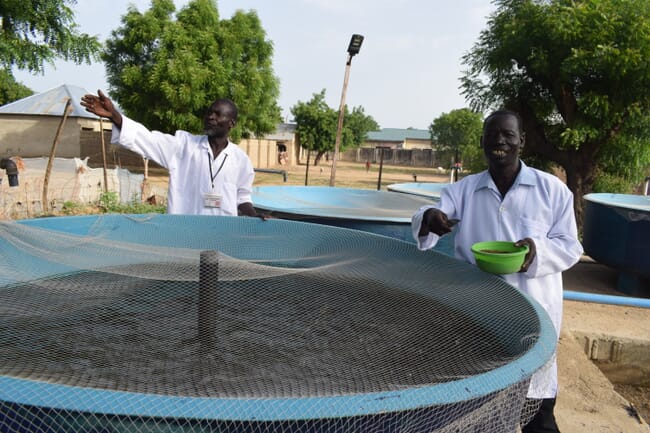 The third alternative to tilapia and catfish, he said, is bony tongue (Heterotis niloticus).
"Heterotis is very tasty, but it is not easily cultured, so work needs to be done in order to develop the commercial farming culture in Nigeria," said Mr Fish.
He also mentioned the common carp as a fish species that was introduced in the sixties but was rejected by consumers. The environment today is different, he said, and the carp can play an important role in aquaculture.
The conference was well attended by top policy makers and players across the aquaculture value chain. A Lagos fish farmer, Segun Ika, said that "the industry will certainly benefit from having all the industry leaders at one location for two days, discussing ways of moving aquaculture forward".