The already significant problem of sea lice is compounded by the fact that the parasite has become resistant to chemical treatment methods. The estimated losses to Norway's aquaculture industry due to sea lice range from NOK 500 million to 2 billion yearly.
Intensifying research
Research aimed at combating sea lice is rapidly expanding as both scientists and the industry search for solutions. Between 2010 and 2013 the Research Council will be allocating nearly NOK 50 million to research on sea lice.

This little troublemaker has been given high priority in the HAVBRUK programme. In all, four of the 26 new research projects receiving funding in 2010 revolve around sea lice.

Researchers have been focusing most of their efforts on vaccines and other pharmaceutical measures to battle the tenacious parasite. But now, a cleaner fish called the Ballan wrasse is being enlisted to eat mass quantities of sea lice directly off infected salmon. Leading the charge on this anti-lice offensive are Villa Organic, Marine Harvest and the Institute of Marine Research's Austevoll Aquaculture Research Station.
Powerful weapon
Ballan wrasse alone will not be able to defeat the parasite, but Per Gunnar Kvenseth of Villa Organic, a seafood producer on Norway's west coast, firmly believes that this fish species could prove to be a key weapon in the arsenal for fighting sea lice.

"Ballan wrasse are ideal for eating lice off the salmon," explains Dr Kvenseth. "As juveniles they can be placed in the cage together with salmon juveniles, and the two species will grow up alongside each other. The fact that Ballan wrasse are so hardy – and that they maintain such a high activity level throughout the winter – makes them better suited to the task than any other type of cleaner fish we have experimented with."

Ballan wrasse
300 lice for lunch
Unlike most other salmon producers, Villa Organic normally uses no chemical agents against sea lice. Yet the company feels it manages to keep the parasite in check at least as well as other aquaculture facilities.

Over the last few years, Dr Kvenseth has become a steadfast champion of the Ballan wrasse. "This is truly a fabulous project to be working on," he says.

Dr Kvenseth and his colleagues have found up to 300 sea lice in the stomach of a single Ballan wrasse grazing among farmed salmon.
Wrasse production next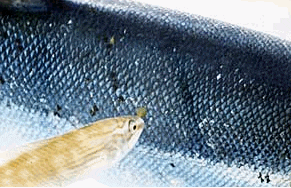 Ballan wrasse are ideal for eating lice off the salmon (Photo: Anne Mette Kirkemo)
The main obstacle to using Ballan wrasse within the aquaculture industry is the logistical matter of having enough of them to do the job. In the wild, Ballan wrasse of the size needed are in short supply. Providing this species in adequate numbers will require hatcheries and feeding tanks on land.

Villa Organic has been working with Austevoll Aquaculture Research Station to solve various challenges relating to light conditions and other aspects of Ballan wrasse production. Together, they have now developed production protocols – the routines for raising Ballan wrasse. It takes 12 months of tank feeding before this cleaner fish is ready for sea duty in the salmon cage.
Wanted: 15 million Ballan wrasse
If Ballan wrasse is to become the weapon of choice in fighting sea lice, millions of new individuals will need to be produced each year.

One group of Norwegian salmon farmers plans to produce 100,000 of the cleaner fish this year and another 500,000 next year. Based on an estimated demand of 15 million individuals per year, Norway could build up a Ballan wrasse industry worth some NOK 250 million annually within a few years.
Empty cod tanks could house wrasse

Ballan wrasse are ideal for eating lice off the salmon (Photo: Anne Mette Kirkemo)
But where on earth is there room for 15 million wrasse fry?

For proponents of Ballan wrasse, the problems plaguing cod production in Norway in recent years could prove a blessing in disguise, since several aquaculture facilities along the nation's coast currently have empty cod tanks. "These tanks could be converted relatively easily to facilities for raising Ballan wrasse," Dr Kvenseth points out.

So Ballan wrasse production could be the silver lining for Norwegian cod farmers in troubled times.
Cage nets must be clean
Successfully using Ballan wrasse rather than chemical agents to combat sea lice entails another challenge: ensuring that the wrasse do not simply feast on molluscs and algal growth instead of feeding on the salmon parasites. Specially treated nets is one possible solution.

But Villa Organic prefers environment-friendly measures whenever possible, so it will physically remove growth on the nets. Dr Kvenseth acknowledges that this is a labour-intensive process but says that keeping the nets clean has the added benefit of improving seawater exchange within the net, yielding higher-quality salmon.
April 2010