Owned and operated by NSK Shipping, the finished vessel, the MS Nyksund, was formally handed over earlier this week at the Tersan shipyard, in Turkey, the site responsible for construction.
"The MS Nyksund left port last Friday headed for Norway. Estimated sailing time to BioMar's facility at Karmøy is approximately two weeks," says Mats Nygaard Johnsen, CEO of NSK Shipping AS.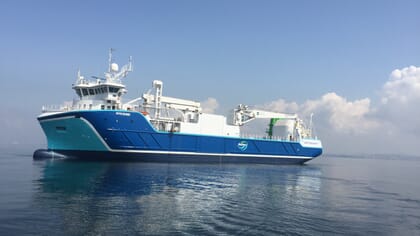 "We have long looked forward to incorporating this very sophisticated vessel into our fleet, in order to maximise the service we provide to our customers. The original plan was that the ship would be delivered in time for this year's high season. The delays at the shipyard gave us a few fairly challenging months and we are now eager to put the new ship to work," says Tore Gunnar Wikdal, COO of BioMar Norway.
"The MS Nyksund's slightly smaller sister ship, the MS Høydal, which was delivered some years ago, equipped us with some entirely new solutions for delivering feed in bulk. What's more, the vessel was the first gas-powered ship of its type, making an important contribution to BioMar's sustainability program. In this new ship we have further enhanced the technology seen on the MS Høydal and it complements well with BioMar's existing fleet of feed carriers," he adds.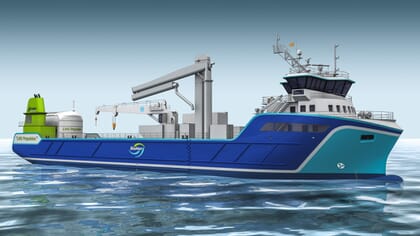 The 2,700-tonne capacity ship is fitted with leading-edge equipment throughout and runs on an environmentally friendly LNG-powered engine delivered by Rolls-Royce. The ship is also fitted with fish feed handling equipment that is both efficient and gentle on the feed, while having larger and more powerful thrusters and a DP system for optimum manoeuvrability.
"Our objective throughout has been to create an innovative and environmentally friendly solution that will meet the requirements of BioMar and their customers," says Mats Nygaard Johnsen.
"NSK Shipping is proud that BioMar have once again chosen us to carry their products. NSK already owns the MS Høydal and the MS Nyksund II (formerly the Nyksund), both of which form part of BioMar's fleet. We are now looking forward to getting the new ship home and operating for it for BioMar," he concludes.