Previously, Knoydart and Loch Nevis were served by an internet service that was struggling to cope with the increased demands being placed on it. Similarly, the satellite system that Scottish Sea Farms was reliant on for internet access wasn't able to support the growing business need for high speed, high capacity connectivity between its three Loch Nevis farms and the shore base.
Now, Scottish Sea Farms and HebNet have upgraded the local infrastructure with a state-of-the-art enterprise-grade wireless link between Skye and Knoydart, capable of delivering broadband of 30Mbit/s or more to end users, putting the area on a par with broadband provision in parts of central Scotland.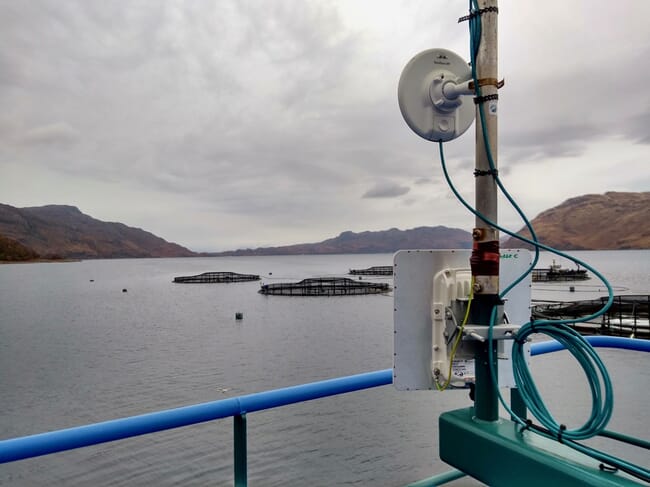 Adding to this, Scottish Sea Farms has invested in a dedicated fibre optic connection, supplied by community internet service provider HUBS CIC, which links the core networks of both organisations – guaranteeing capacity, availability and quick resolution in the event of a fault.
For Scottish Sea Farms, this faster, more reliable solution has enabled each of the company's three Loch Nevis farms to be equipped with remote feeding and monitoring systems – key advances in terms of ensuring that farmed salmon are fed as and when they instinctively want.
For the wider community, the increased capacity makes things like smart-enabled TVs, gaming and live streaming applications such as YouTube, Netflix and Amazon Prime an everyday reality.
Jim Gallagher, Managing Director of Scottish Sea Farms, says: "Each and every pound that our company invests is focused on one thing, enhancing the health and welfare of our fish, and this latest investment helps us do exactly that. It also contributes towards our goal of ensuring that the communities in which we live and work derive maximum benefit from us being there, by offering access to the same high levels of connectivity that come as standard in more central locations."
Ian Bolas, Director at HebNet, a community interest company which also supplies broadband for the nearby Small Isles and Elgol, adds: "Designing and installing the infrastructures required by the remote locations we serve is one challenge, but meeting the significant cost involved is quite another. By working with Scottish Sea Farms, who met well over 50 percent of those costs, we have been able to bring forward our own planned upgrades by as much as 12 months – something that will benefit local residents, businesses and tourists alike."
Meanwhile, Scottish Sea Farms is already working with another remote community – Drimnin on the shores of the Sound of Mull – to help bring high speed wi-fi to the area, where previously there has been little or no internet access.