Mussel seed supply
Mussels can be cultivated in a variety of ways – bottom culture, long line and raft culture and in certain areas of France and in Jersey, using bouchots. The methods utilised in different regions are most often a reflection of the local environmental conditions and of the geography of the location. All methods and locations in Europe though do have at least one major common thread – the complete reliance on natural occurring settlements of the juvenile mussel, the seed.

Prediction of the occurrence, timing, location and size of any spat-fall is at the best woolly. There are a great number of complex environmental variables to be taken into account. This introduces a level of uncertainty and unreliability and often results in there being great fluctuations in the supply of mussels to the processors, retailers and eventually the consumers; supplies of mussels being a reflection of the relative size and quality of seed settlements. This in turn can have an impact on price, which in turn can impact on demand and so on.
Environmental concerns
Certain cultivation sectors have additional issues to contend with. For example, the bottom cultivation sector across Europe is subject to increased scrutiny under the requirements of the Habitats and Birds directives (92/48/EEC & 79/409/EEC) and legal interpretations of their obligations. Thus access to any settlement of mussel seed, even in areas of traditional use, is no longer a foregone conclusion as a variety of additional management and scientific assessments have become part of the process.
The BLUE SEED Project
These levels of environmental and anthropogenic uncertainty and risk have led many of those involved in the mussel cultivation sector (researchers, industry and managers) to look at the potential alternative ways of providing a supply of mussel seed. To this end a number of bodies came together under the funding of an EU CRAFT project (No 017729) – Technology development for a reliable supply of high quality seed in blue mussel farming - known as BLUE SEED. The project was drawn together and very ably co-ordinated by Dr. Pauline Kamermans of IMARES in Yerseke.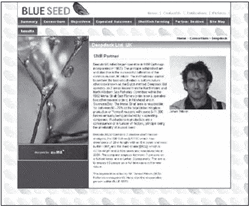 The DEEPDOCK partner page on the BLUE SEED website
The objectives of the BLUE SEED project were to investigate how to secure a reliable supply of blue mussel seed and to develop techniques allowing farmers to market blue mussels year round. A problem blue mussel producers face is the unpredictability seed supply. Seed is mostly harvested from suspended substrates or mussel beds. The amounts of wild seed available are extremely variable from year to year. A reliable supply of seed from hatchery sources will allow mussel farmers to overcome this. A second problem is that recently spawned mussels cannot be sold due to insufficient meat content. Producers potentially could benefit greatly from a hatchery-based technique, such as triploid induction, that produces non-maturing mussels that have a higher growth potential and can be marketed year round.

In the project 10 partners five mussel farmers/sellers from France (Grainocean), The Netherlands (Neeltje Jans and Roem van Yerseke), Spain (OPMEGA) and Wales (Deepdock), an Irish based network for training and technology transfer (AquaTT), a Welsh university (University of Wales at Bangor) and three research institutes from Spain (CIMA), France (IFREMER) and the Netherlands (IMARES, formerly called RIVO).

Three scientific and technical project objectives were formulated:
Develop hatchery technologies for a reliable blue mussel seed production, by focusing on (a) brood-stock conditioning, (b) larval rearing and (c) seed production.
Develop a viable production method for (a) sterile triploid mussel seed and (b) tetraploid brood-stock that will enable year-round marketing of high quality mussels.
Compare, in each of the project partner countries, the economic feasibility of producing blue mussel seed based on hatchery-produced larvae to the benefits of blue mussel seed collection methods presently in use.
The work was divided into five work-packages: Internal project management was taken care of in Work-package (1). Work-package (2) concerned brood-stock conditioning and larval rearing. Work-package (3) dealt with production of triploid larvae and tetraploid brood-stock. Work-package (4) concentrated on spat settlement and on rearing of diploid and triploid spat to seed size. Work-package (5) compared the costs entailed in the production of hatchery seed with those of conventional wild-caught seed. In addition, within Work-package (5) project results were communicated within the consortium and to end users, through workshops, meetings with producer associations and a website (www.blueseedproject.com). Considering that the normal production cycle for blue mussel in Europe is 2 to 3 years and the BLUE SEED project was only 2 years long, its focus was on spat and seed production.
Results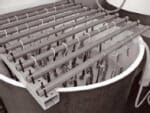 Spat collector ropes hanging directly into a circular tank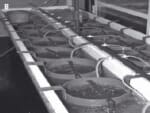 Spat settled on nylon mesh and reared in downwelling units in a flow-through rectangular tank.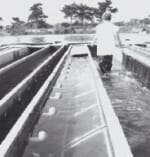 Polyester screen frames in an outdoor raceway tank in a land-based nursery.
Broodstock conditioning & larval rearing
Results on broodstock conditioning and spawning show that mussels can produce viable larvae throughout the year in a hatchery situation. Thus, the goal of broodstock conditioning as part of the development of hatchery technology for a reliable blue mussel seed production was reached.
Production of triploid and tetraploid broodstock
A Technology Transfer Workshop showed that triploid M. edulis larvae could be grown successfully at a semi-commercial scale. Results obtained suggest that there could be a relationship between triploidy and larger size of larvae within batches. In many trials triploid mussel larvae grew significantly faster than their diploid counterparts and in none of the trials did diploid larval growth performance exceed that of triploids. However, most of these trials were compromised by either lack of replication or uncontrolled density. Nevertheless, it is safe to conclude that triploid mussel larval growth performance is similar to or better than that of diploid larvae during culture.
Spat settlement and on-growing
The goal that spat can be cultured to seed size within a time frame and with mortalities similar to other hatchery reared bivalve species has been achieved, and thus, the goal of seed production as part of the development of hatchery technology for a reliable blue mussel seed production was reached. In addition, batches of diploid and triploid seed were produced in parallel in order to compare the performance of diploid and triploid seed.
Economic costs
The economic feasibility of producing blue mussel seed based on hatchery-produced larvae was compared with the benefits of blue mussel seed collection methods presently in use. From this it can be concluded that hatchery production of mussel seed in Europe is only economically feasible the product has an added value such as triploidy.
Further information
A full review of the project and its outcomes can be found on the project website at www.blueseedproject.com
July 2008