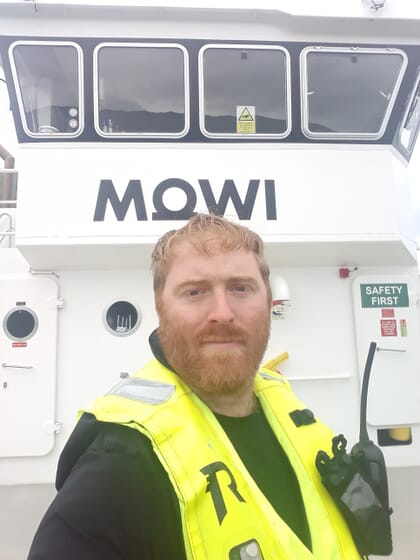 Last Friday (18 June) Lewis Gibson, skipper of the Beinn Mowi workboat, and his deckhand Lewis Sneddon, noticed the 36-foot yacht Joenathe was drifting towards Kingairloch salmon farm in Loch Linnhe, where the workboat was moored.

The sailboat had no engine or power and was dragging both her anchors, including 200 metres of rope and 50 metres of chain in high winds and swell. Joenathe, which has previously sailed to the Galapagos and rounded Cape Horn, made contact via VHF channel 16 emergency channel and stated that they had lost power and required urgent assistance. The 69-foot Beinn Mowi secured Joenathe alongside and returned to the fish farm.
After several hours trying to get the sailing vessel's engine to restart the crew of Joenathe spent Friday night alongside the Beinn Mowi, and Saturday night moored on one of Kingairloch fish farm's pens.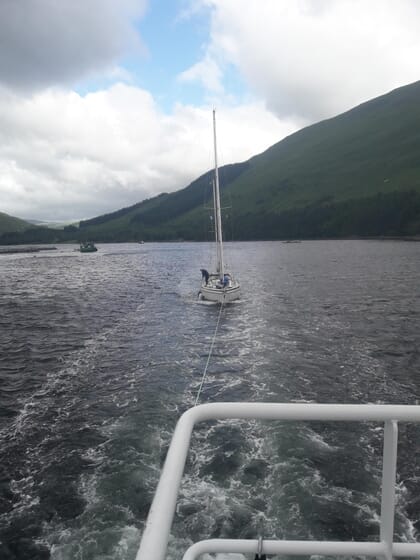 By Sunday the weather had improved sufficiently to enable the Beinn Mowi to tow Joenathe approximately 12 nautical miles to Dunstaffnage marina for engine repairs.
Jörg, the master of Joenathe, and his crew Hajo, were over the moon with the assistance and hospitality that he received from the team from Mowi.
Jörg, who is from Münster in north-west Germany, said: "We are extremely grateful to the crew of the Beinn Mowi. It's very seldom you get to meet such good seamen, they really knew what needed to be done under strong wind conditions and we are so grateful that they supported us in this way.
"It was an outstanding offer from the two Lewises to tow us to Dunstaffnage and it was another great piece of seamanship to get us alongside on the pontoon so smoothly. It was really fantastic."
Lewis Gibson, skipper of the Beinn Mowi, added: "It was a case of right place, right time. We were aware of the yacht drifting towards us and the skipper must've saw that we were on deck and hailed us on the radio, by which time he was less than 100 metres from us.
"It was around 5.30pm when he made contact and the site staff who work at Kingairloch would've been away by that time. He would probably have collided with our farm or the rocky shoreline, which we're glad we were able to prevent.
"It was a bit nerve-wracking. This was only my second shift as skipper, I've never done anything like this and the Beinn Mowi is twice the size of the sailing yacht, but we managed to come alongside in a safe and controlled manner and take control of the situation. We helped to gather the anchors which were fully paid out and bring both boats into the shelter of Loch a' Choire. He was such a lovely guy and a highly experienced sailor. We're just happy we were able to help."