The Global Salmon Initiative (GSI) was created by a number of salmon producers, who decided a model of pre-competitive collaboration and increased transparency was the best way to improve the sustainability of the industry. Its members set ambitious targets of achieving the highest environmental and social standards – as set by the Aquaculture Stewardship Council (ASC) – sharing expertise and knowledge to promote accelerated change at speed and at scale, and sharing their progress via a publicly available and transparent reporting platform.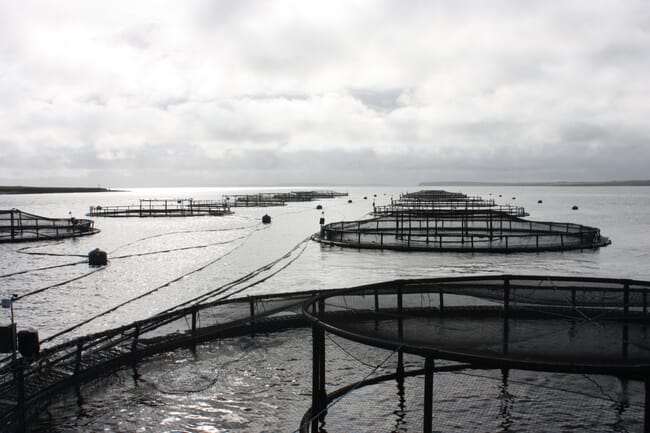 Five years ago no salmon farm had achieved ASC certification, today over 40 percent of GSI members' farms are ASC-certified and they continue to work towards their 100 percent goal. And the initiative now includes feed producers and pharmaceutical companies too.
As GSI Co-Chair and Marine Harvest CEO Alf-Helge Aarskog explains: "When we started GSI we weren't sure if it would work. Different companies, different regions, coming together to focus on environmental improvements based on sharing best practices could be a win-win for the industry and the environment. We quickly realized that we all had common challenges, and that by bringing together the best expertise in the industry and working collectively with those CEOs willing to take a risk and focus on the long-term future of the industry, we could actually start to see improvements industry-wide."
The GSI model of pre-competitive collaboration and collective thinking has been one of the group's major successes and continues to be the backbone of the group's approach to achieving significant improvements in sustainability. Through sharing knowledge and expertise, GSI has been able to identify and integrate new innovations and improved approaches to its members' salmon farming operations - including both the launch of the GSI feed tender in 2016, which triggered significant development of non-marine omega-3 sources, and the continued testing of new non-medicinal approaches to disease management.
GSI has also launched the first industry-wide, independently audited, annual transparent sustainability report, which shares data on 14 indicators.
"GSI was a game-changer when it launched, but we never anticipated the level of impact it would have, not only on salmon farming, but on the food sector as a whole," says Jason Clay, Senior Vice President, Food & Markets, World Wildlife Fund (WWF).
"GSI's approach of identifying challenges and creating a frank and practical conversation on how to find solutions as well as a platform for exchanging information is what is really changing the game. In no other sector have we seen change at the speed and scale as we have done through the GSI, and it's the GSI members' visionary outlook that is making that possible," he adds.
"Creating the GSI was an important move at the time," adds Aarskog. "We were stepping out and making commitments I'm not sure anyone expected us to achieve, but five years on we can proudly say the risk paid off, and the fact we are still going proves that the continuous work GSI is doing is important for the members."
"Looking back over the past 5 years, there have been some difficult times, and some difficult discussions," says GSI Co-Chair and Blumar CEO Gerardo Balbontin, "but as we mark this 5-year milestone we have proved that collaboration is the way to achieving a sustainable and prosperous future for the salmon farming sector. However, we are not taking our foot off the gas – there is still a lot to be done and the GSI continues to stand strong because all of its members remain as committed to our shared vision as we did back in 2013."