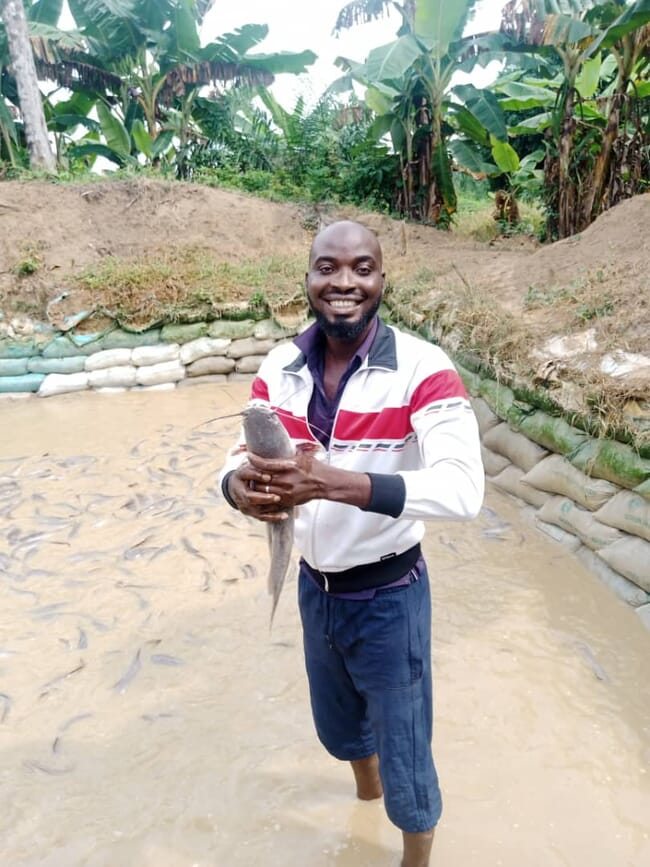 How long have you been farming for?

Two years.
What size is your farm and what species do you produce?
The farm is set in a three plots of land (180 m × 360 m) and I raise hybrid catfish for their reliability and strength compared to other species. I have three 30 m x 50 m ponds.
What sort of production system do you operate?
I use earthen ponds because they're close to the usual habitat for the fish - this aids growth and makes them healthier.
Why did you decide to embark on a career in aquaculture?
I chose aquaculture because it is profitable and a means of creating a sustainable business for myself and to make a living and also give employment to the youths in Nigeria who are interested in aquaculture. Also, the risk factor is low when all things are done properly.
What's your ultimate ambition in the sector?
My ambition is to expand and not just sell my farm produce during harvest but process some for export to other countries.
What's your greatest challenge at work?
Capital: the business is capital-intensive and the more you invest the more your chances of staying in business and growing.
What's your greatest achievement to date?
My greatest achievement is that I was able to make a small profit in my first year of operation. A new entrant in the business is expected to incur a loss, or break even at best.
What piece of equipment would you most like to have on your farm?
Good pumping machines, so that we can dig more ponds, a fish smoking machine to start processing in a healthy way and a sealing machine.
What's your favourite seafood dish?
Snails and tilapia.