John, who manages the Quoys hatchery for Cooke Aquaculture Scotland on Unst, has completed the NAFC Marine Centre UHI Technical Apprenticeship in Aquaculture Management just over 18 months after it was launched.
The technical apprenticeship enables experienced senior-level fish farm staff to gain a degree-level qualification in aquaculture management while working in the aquaculture industry.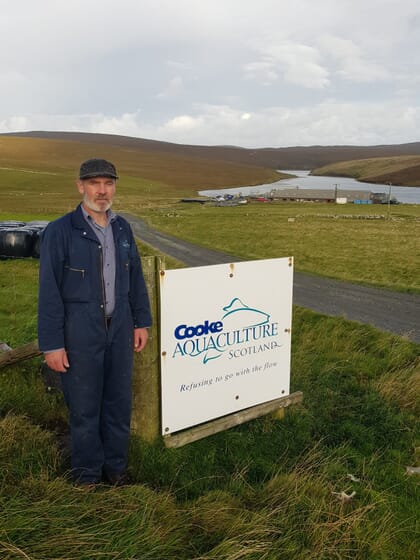 "I have no doubt it will allow me to continue in assisting Cooke Aquaculture in producing what I think is the best salmon on the market in what is such an important industry to the Scottish economy, maintaining and supporting rural communities such as Shetland. I would recommend this apprenticeship to anyone who gets the chance to complete it," he said.
Course leader Stuart Fitzsimmons said that John's completion of the apprenticeship marked an important milestone for the programme, which was developed by NAFC and launched in March 2017:
"Following the successful introduction of our Modern Apprenticeships in Aquaculture for new and experienced fish farm staff, we had a lot of interest from aquaculture companies in a training programme for their managers. The Technical Apprenticeship in Aquaculture Management was designed to meet that need and to provide a progression opportunity for staff who have completed Modern Apprenticeships. It allows senior aquaculture staff to gain a management qualification while working in the industry and building on their existing knowledge, experience and skills. The use of distance learning, supported by NAFC staff, means that people from anywhere in Scotland can undertake this training at times and places that suit them, without having to attend college classes," said Stuart.
The apprenticeship covers both technical aquaculture-related topics, such as the management fish farm production, the maintenance of fish health, and the maintenance of a safe, healthy and productive environment, as well as business management topics such as financial management, personnel management, health and safety, and operational planning. On completion of the programme students receive a Lantra Technical Apprenticeship at SCQF Level 9 and an SQA Scottish Vocational Qualification at Level 4 (equivalent to an Ordinary Degree), plus additional short course certificates.
NAFC currently has 25 other senior aquaculture staff throughout Scotland enrolled in the Technical Apprenticeship in Aquaculture Management. A further 48 students are enrolled in the centre's modern apprenticeship's in Aquaculture at Levels 2 and 3.