Ordered by Norwegian salmon producer Nordlaks the new technology will reduce CO2 emissions by 30 percent and while NOx levels will be 90 percent lower. The 84-metre wellboat will carry up to 600 tonnes of live salmon and trout for Nordlaks and is being developed by NSK Ship Design in Harstad.
"Today, Nordlaks has one wellboat. We are now contracting a new boat with forward-looking technology for increased transport capacity, achieving even safer operation and to meet the necessary capacity for the increase in production planned by Nordlaks," says Kurt Werner Nilsen, who is responsible for wellboat operations in Nordlaks.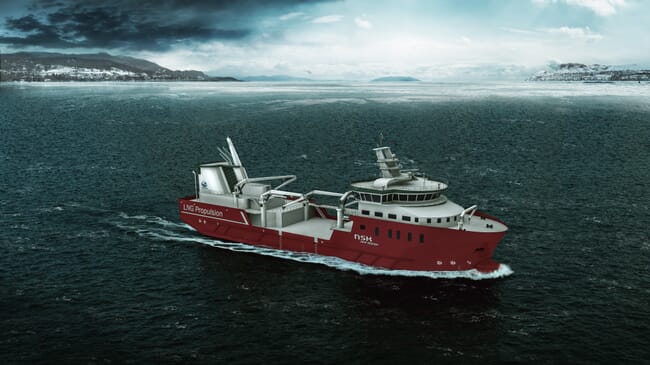 The vessel is designed by NSK Ship Design in Harstad and will be built in Turkey at Tersan Shipyard. The wellboat will be 84 meters long and 19 meters wide. It will be equipped with state-of-the-art technology for handling fish and water quality. The wellboat will have the capacity to carry over 600 tonnes of live salmon and has very good facilities for the crew.
"NSK Ship Design has been working to develop wellboats with LNG propulsion since 2010 and has always had strong faith in the fact that this is the right way to go for the industry. This propulsion system will reduce the operating and maintenance costs for the wellboats and provide a significant environmental gain," says Thomas Myhre, Sales Manager at NSK Ship Design.
Water quality, fish welfare and the environment have been the focus in the development process. The wellboat is also designed to operate at aquaculture facilities in more exposed waters, such as Nordlak's future Havfarms.
"We see a great potential for LNG and battery packs in wellboats. Next-generation wellboats have a number of power-intensive processes on board, and the logistics and operating patterns of the wellboats make LNG and batteries suitable as power sources," adds Myhre.
Expected delivery of the vessel is in February 2020.