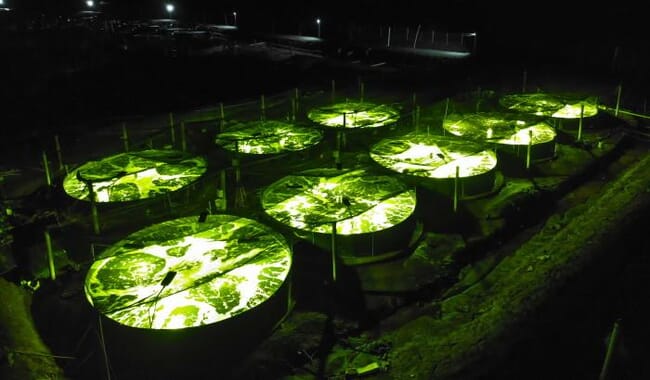 While lighting is used to optimise production of a number of aquatic species, it's rarely been used on shrimp farms to date.
However, Loc Tran, founder of ShrimpVet (Minh Phu AquaMekong Co), teamed up with Signify to investigate whether the addition of lighting can improve the stability of shrimp farming systems and produce more consistent shrimp yields. They trialled Philips AquaAdvance 260W Shrimp lights, which had been tailored towards shrimp using a patented blue and green spectrum.
"Adding lighting to shrimp production makes the shrimp grows faster and increase the survival rate by 35 percent. I saw this as a huge potential to increase shrimp production," said Loc Tran, founder and director of ShrimpVet
"Applying technologies such as lighting would increase shrimp's growth and resistance to weather and seasonal changes," he added.
According to Signifiy the use of artificial lighting prevents abrupt light changes that can trigger stress reactions in shrimp. It also allows farmers to control environmental conditions and influence shrimp's behaviour, such as feeding activity, and physiological processes including metabolic rate, growth and maturation.
"The result of well-aligned biological clock was better shrimp resistance to pathogens and stronger immunity in general. Survival rates rose to 35 percent followed with 47 percent increased yield. The Philips AquaAdvance 260W Shrimp also helped shrimp metabolize food better, improving the feed conversion [by] up to 22 percent while increasing the shrimp weight [by] 32 percent. With Philips AquaAdvance 260W Shrimp, it is now possible to harvest in [the] rainy season and add an extra growing season. This not only made farming more efficient, but was positive for the environment, as using less feed means less waste in the water. Faster growth rates mean shorter production cycles, giving diseases less time to take root," said the company in a press release.