Plans to ban the industry were initiated following the mass escape of salmon from Cooke's farm off Cypress Island last August, but the salmon farming firm urged a Senate committee to consider the impact on rural jobs supported by the industry and to make public policy based on sound science.
"To be clear: any ban on Atlantic salmon farming will be based purely on emotion and ideology, not science," said Joel Richardson, vice president of public relations for Cooke Aquaculture Pacific.
Washington's salmon farms have operated in Puget Sound since the 1980s under an assortment of owners throughout the years, with the latest – prior to Cooke Aquaculture Pacific – being Icicle Seafoods.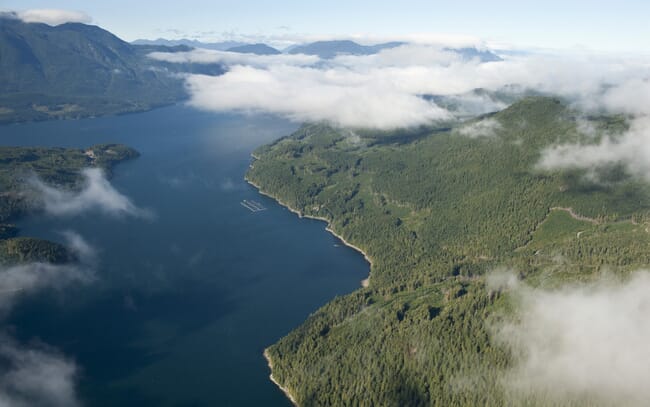 "With Icicle on the brink of bankruptcy in 2016, Cooke announced it would purchase all of Icicle's farms and retain the entirety of its rural workforce, securing the livelihood of Washington families who depend upon aquaculture for their income," said Richardson. "Cooke also invested in state-of-the-art technology and net-pen infrastructure to ensure the long-term viability of the company and the economic benefits it provides. Cooke was proud of this decision: We believed we were saving a thirty-year Washington industry that would have otherwise gone under, and were very excited to start bringing these farms up to our global standards."
Cooke obtained state regulatory approval needed to complete the purchase, including approval by the Department of Natural Resources (DNR) for the assignment of the four operating leases to Cooke. At no time during the purchase did any state agency or official, including DNR or the Commission of Public Lands, express any concern about Cooke's acquisition of Icicle's production assets or the possibility of salmon escapes, or suggest in any way that Icicle's operations were out of compliance with any state laws, regulations or leases. In February 2017, with some of its acquired nets pens near the end of their useful life, Cooke applied for DNR permits to install new state-of-the-art pens, including at the Cypress facility, once the pens were emptied of stocked fish.
Richardson said the company was not prepared for the subsequent widespread disparagement by public officials of Cooke as a company or salmon farming as an industry following the Cypress Island incident.
"The criticism by members of the Legislature, the Governor and the Commissioner of Public Lands was and is surprising, as it both reflects and relies upon cherry-picked findings peddled by advocacy groups who misuse scientific literature to exaggerate the very low risk posed to native salmon," said Richardson. "The state's own Department of Fish & Wildlife has consistently reported that the escaped fish from Cypress Island carried no pathogens and are not able to survive in the wild or compete or interbreed with wild salmon. Although there have been plenty of fears expressed, there's no scientific basis for claiming that Atlantic salmon threaten native salmon."
Ultimately, Richardson said, the lack of fair and equitable treatment of Cooke and the attempted confiscation of Cooke's $76 million investment in Washington amounts to economic protectionism against Cooke as a foreign company.