Krill shown to boost bass performance
The replacement of fishmeal by Antarctic krill meal in diets of European sea bass has positive effects on growth performance, feed utilisation and liver metabolism.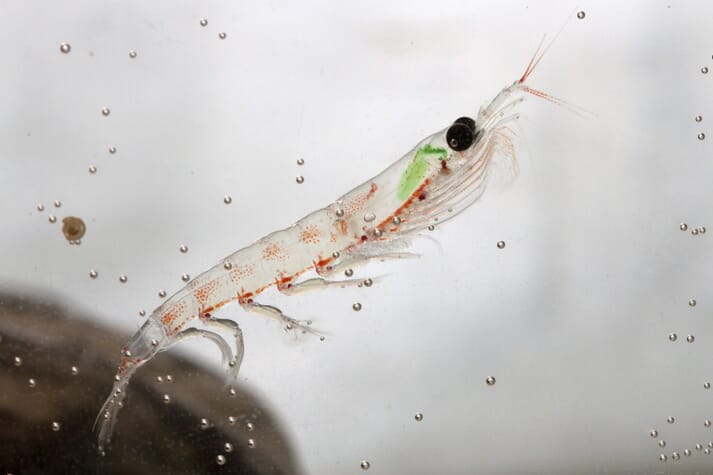 So concludes a new study, recently published in Aquaculture, undertaken by scientists from the Research Group in Aquaculture (GIA) IU-ECOAQUA (Spain) and Aker BioMarine.
In the study, European sea bass (Dicentrarchus labrax) were fed a practical diet with either a 15 percent fishmeal content or the same diet substituted by 30 percent or 50 percent Antarctic krill meal for 12 weeks in triplicates. At the end of the feeding trial, growth performance, liver morphology, liver proximate composition, lipid classes and fatty acid profiles, as well as the expression of hepatic genes related with lipid metabolism, were evaluated. The study concludes that there are multiple benefits of replacement fishmeal with Antarctic krill meal in diets for marine fish.
"A sustainable growth of the aquaculture industry implies the use of eco-friendly ingredients as alternative to the traditional marine protein and lipid sources," said Silvia Torrecillas senior researcher at GIA. "Our results indicate that krill meal inclusion up to 7.5 percent as fishmeal replacer in practical diets for European sea bass improves growth performance, feed utilization and liver health status".
Key findings
Dietary inclusion of krill meal in low fish meal diets has a positive effect on performance and health of European sea bass juveniles.
Improved fish growth by 20 percent, feed intake and specific growth rate feeding krill derived phospholipids rich in n-3 HUFA (appetite increased).
Dietary krill meal decreases liver vacuolization levels and lower sings of steatosis.
Dietary krill meal modulates liver lipid metabolism and may decrease the synthesis of cholesterol levels in European sea bass liver.
Further information
The study, titled "Replacement of fish meal by Antarctic krill meal in diets for European sea bass Dicentrarchus labrax: Effects on growth performance, feed utilization and liver lipid Metabolism" was authored by Silvia Torrecillas, Daniel Montero, Marta Carvalho, Tibiabin Benitez-Santana and Marisol Izquierdo. For more information, visit: www.qrillaqua.com.