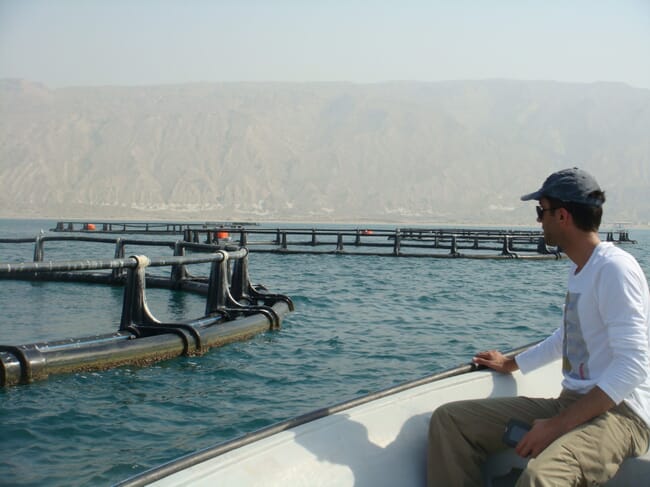 So fear the authors of a new study, who have developed a model to plot the increase in dissolved nutrients in the Gulf, should Iran's marine aquaculture ambitions be realised without the necessary safeguards.
Background

Iran aims to increase marine finfish production to 200,000 tonnes by 2028, up from less than 3,000 tonnes in 2018, in an attempt to tackle issues relating to freshwater shortages and food security. However, by moving into open net-pen systems in the Persian Gulf (which is also known as the Arabian Gulf), they risk endangering the region's coral reefs, which represent a significant fisheries resource, and are of considerable economic value. In preparation for this expansion, the authorities conducted a 2-year site selection exercise, and developed a detailed monitoring plan. However, the authors flag up a range of issues associated with net pen aquaculture in other regions, and argue that such issues are only likely to be exacerbated in such an enclosed water body.
"The Gulf is not a deep, well-flushed temperate or cold-water fjord, such as may be found in Norway, Canada and Chile. It is more like a large petri dish, in which one may study the effects of human impacts," they explain.
In order to assess the likely impacts, the researchers took typical values of nutrient spillage from open-net pens, and inserted them into a hydrodynamic model for the Gulf. The results suggest that nutrient values suitable for coral reefs to flourish would be exceeded "within months".
"The establishment of fish farms, as proposed, runs the risk of compromising water quality in the area and destroying the reefs on which artisanal fisheries depend," they add.
Methods
Nutrient wastes from finfish net-pen farms include fish faeces, uneaten food, medication and fouling organisms on the nets. However, in this study, the researchers focus on the spread of excess nitrogenous waste likely to be generated by the increased aquaculture activity. Through analysis of a number of studies on net pen aquaculture, they used a "conservative estimate" that 44 kg of nitrogen would be released into the water for every tonne of fish produced.

While coral growth increases upon moderate addition of nutrients, past a certain point the further addition of nutrients has the opposite effect, they note, as the corals are outcompeted by algae, causing a decrease in coral recruitment and an acceleration of bioerosion. In terms of nitrogen thresholds for corals, the researchers settle on a maximum of 20 μg/l.
"We do not claim that levels this high will kill all the reefs in the Persian Gulf, although it would be extremely difficult to find reefs anywhere in the world thriving at levels this high. It does mean that, should levels of N [nitrogen] reach or exceed these values, Persian Gulf reefs, already subjected to an onslaught of anthropogenic stresses, will be seriously endangered," they explain.
Should such levels of nitrogen occur, algal blooms known red and brown tides, threaten reefs both in Iran and in other Persian Gulf countries – with potentially far reaching geopolitical impacts.
"These planned aquaculture projects have the potential to damage the mangroves and kill every reef in the Persian Gulf in a very short period of time. There is a high probability of affecting fisheries resources in neighbouring countries – a situation to be avoided in politically volatile regions," they observe.
Given that net pen aquaculture is still in its infancy the Gulf, there is still scope to avert such a crisis, however.
"Sustainable mariculture could be carried out near coral reefs if operations do not exceed the environmental carrying capacity of a location. This will require extensive advance studies, and rigorous monitoring. A detailed monitoring plan needs to be established for this new industry in the Persian Gulf. Farms breaching the regulations should encounter serious limitations in their license renewal… Monitoring programs, to be effective, must have teeth," they argue.
The alternative, the authors suggest, would be to establish land-based recirculating aquaculture systems (RAS).
Further information
The study is published in the latest edition of the Marine Pollution Bulletin, under the title Cage aquaculture in the Persian Gulf: A cautionary tale for Iran and the world.