Interest Grows in New Salmon Lice-Zapping Laser
NORWAY - Sea lice has been the biggest issue facing the salmon farming sector for some time, but a Norwegian technology firm has come up with a way to get rid of this out-of-control parasite. Bonnie Waycott reports for TheFishSite on how Stingray Marine Solutions has developed a new method called optical delousing, or shooting sea lice with a laser gun to kill the salmon farming industry's biggest threat.
Sea lice occur naturally on different species of wild fish including adult salmon. Once they encounter fish they attach themselves, usually on the skin, fins or gills and feed off the mucous or skin, sometimes resulting in open wounds.
These planktonic parasites are one of the most significant threats facing salmon fish farms, which are stocked with hundreds of thousands of fish in small areas, creating breeding grounds for lice.
Infestations on farms also increase the number of lice in surrounding water. Treatments such as medicinal and biological control have had some effect but the parasite is becoming increasingly resistant to these.
However, a team of staff at Stingray Marine Solutions believe they may have found an answer - a laser gun that can be lowered into salmon pens to clear sea lice away by shooting them. The device is designed as a permanent, preventive installation for salmon pens. It identifies sea lice on salmon and kills them with a 100-millisecond pulse of light. It's also able to identify lice in a mere seven milliseconds, and could effectively treat an infested pen.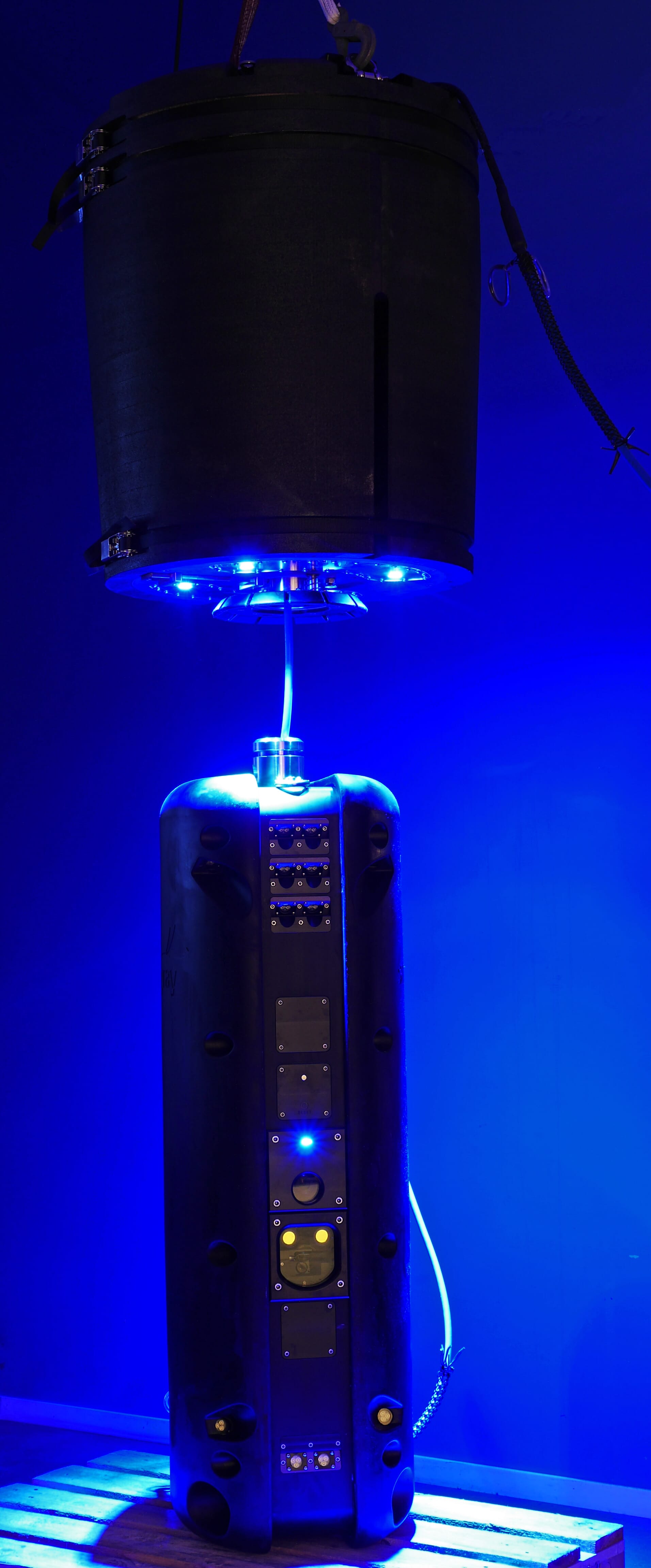 The idea of removing sea lice using a camera and laser was patented in 2010, followed by an R&D project that ran from 2011 to 2014. The device was first commercialized in October 2014.
The Stingray team includes staff from 6 different countries, 23 people in total including mechanical, electrical, automation and software engineers as well as economics and marketing staff. Since the laser gun was launched in 2014, more than 50 units have been sold in Norway and feedback from farmers has been positive.
"There are huge concerns over the effects sea lice could have on wild salmon and trout populations," said Stingray's General Manager John Breivik.
"The density of biomass in farming pens increases the concentration of sea lice in a particular area, and this becomes a wider problem both on the farm and in neighbouring farms and areas. This is where our new device comes in."
The laser gun is enclosed in a watertight pod like a punching bag. The pod also contains a camera that can identify the sea lice on the fish as they swim by, while a computer calculates the laser's trajectory so it hits the target each time.
A buoy provides buoyancy and positions the laser gun in a pen. The laser gun, with lamps, cameras and lasers, then hangs underneath while the buoy floats on the surface of the water. A cable connects the laser gun and buoy, raising and lowering them and securing communication, electricity and data between the two units. A similar cable is buckled up above the pen to position the laser gun horizontally and secure electricity and an Internet connection. This allows it to move horizontally along the cable at the water surface. A pen cabinet is attached to the pen and functions as a connection point between the surface cable (connected to the laser), and cabinet at the feeding vessel. This forwards data to monitoring rooms. The data is processed and analysed, and the results sent to farmers. Working 24/7 throughout the year, the laser gun doesn't need any handling under normal conditions.
After being detected by the camera and advanced software, a guided laser pulses directly at the sea lice, killing them within milliseconds. The laser fills the sea lice with a lot of energy such as photons, coagulating them until they die. The salmon themselves are not harmed because their shiny skin acts as a mirror that reflects the light emitted from the laser. A very gentle delousing is therefore provided with no wounds inflicted. Millions of fish have been successfully treated so far.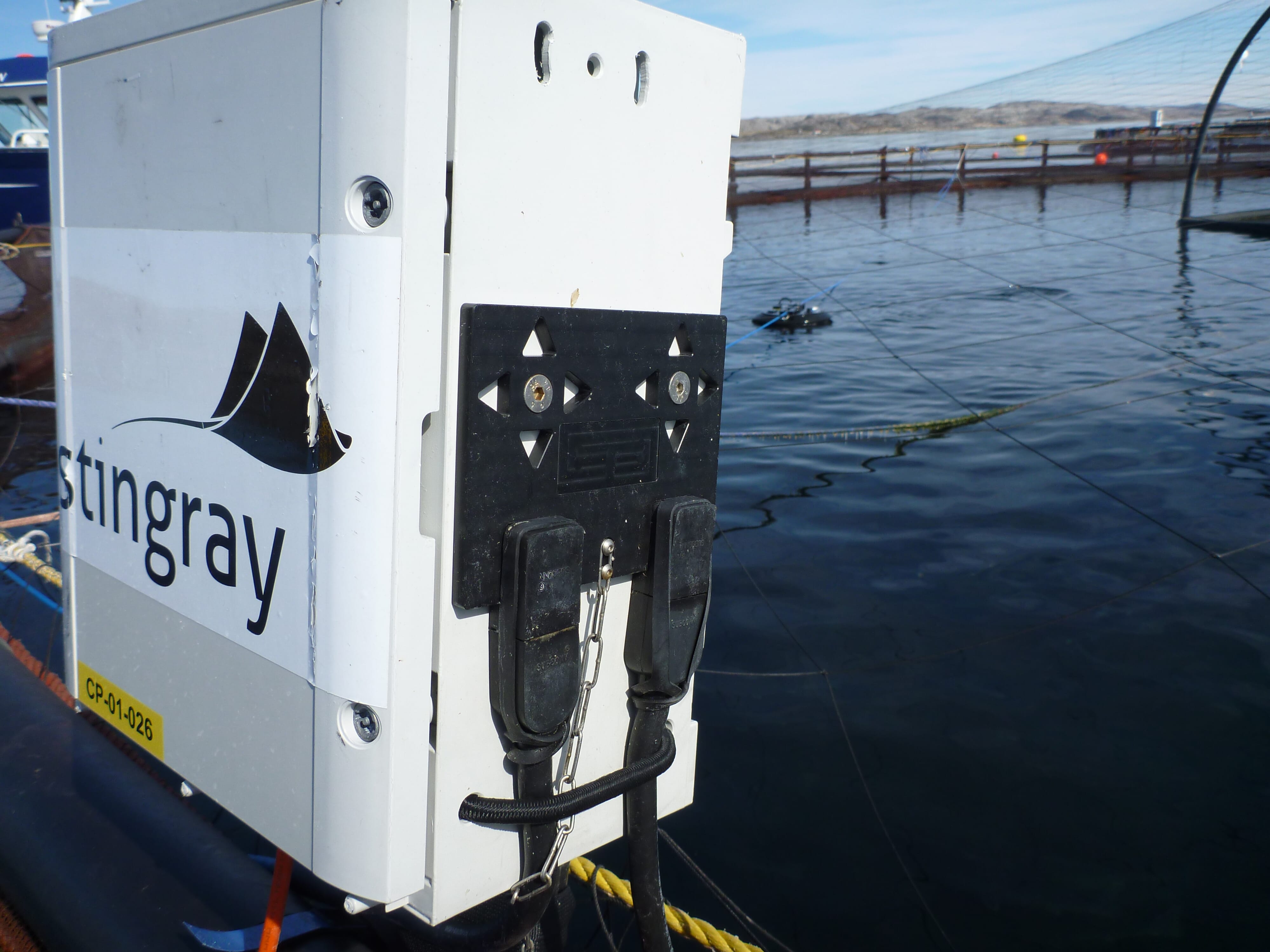 "There were challenges," explained Breivik. "For example, choosing the right materials, finding the optimal design and trial and error to produce a robust and stable product for rough conditions. These were some issues along the way, but they also brought us to a better solution. The unit is produced in strong materials, and its design takes into account the people working with it, the fish swimming around it, and of course the environment."
The laser gun costs NOK 325,000 a year per unit, or more than NOK 1 million over a period of 4 years.
Under a four-year minimum agreement, hardware and software upgrades and servicing are provided. Stingray's customers are small and medium-sized firms seeking innovative solutions to the sea lice problem. Breivik believes that when such customers have kept the number of sea lice down over time, people will understand that the laser gun is a good thing, an example of prevention rather than cure.
New R&D projects are in the works but the commercialization and distribution of the laser gun are still in their early days. It is hoped that within the next few years, several thousand pens worldwide will have the unit. New software applications will be part of the process, and Stingray hopes the market will see more advantages as they present increasingly better results.
To learn more about Stingray's sea lice zapping laser, visit: http://en.stingray.no/page/6019/Sea_Lice