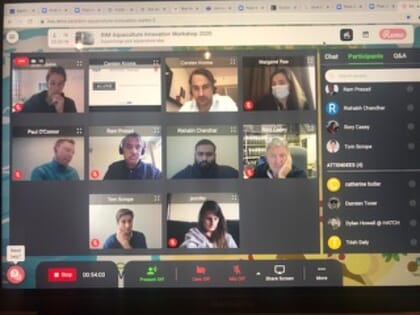 Supported by Bord Iascaigh Mhara (BIM) and delivered by Hatch, the event aimed to provide up-and-coming and existing aquaculture businesses with a wide range of industry contacts, market intelligence, refined business strategies and clearer routes to commercialisation and their key markets.
Ten participants – involved in fields including novel sea lice treatment strategies, innovative ways of processing seaweed, water quality, aeration, fish health and plant-based seafood – took part in the event, delivered via an interactive online platform, due to Covid-19 restrictions in Ireland.
"This is the third year that we have worked with Hatch on the workshop and the quality of the participants exceeded our expectations. The calibre and level of expertise in Ireland, both from a technical and innovative viewpoint is very exciting and encouraging," reflects Richard Donnelly, salmon and shellfish manager at BIM.
"Many of the companies were not directly associated with the aquaculture industry but have technologies and ideas that could be harnessed by this sector. What makes this programme unique is that it gives entrepreneurs the opportunity to immerse themselves in the global world of aquaculture, with the added reach and expertise and support from Hatch and BIM," he adds.
Hamed Jafarzadeh took part in the workshop, as part of a team at Ireland's Tyndall National Institute, which is in the process of developing underwater communication devices that can monitor fish, seaweed and water quality – part of the EU-funded IMPAQT project.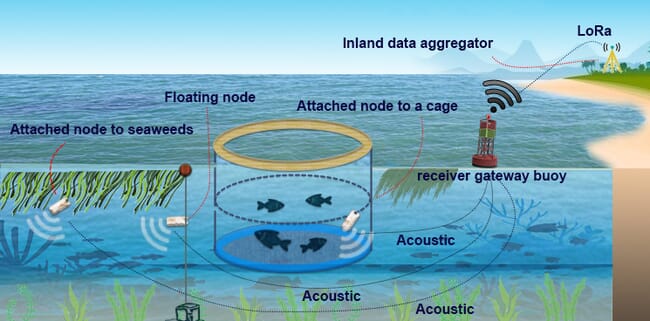 "We currently have the prototypes ready for our products and looking into deploying some of them in IMTA [integrated multi-trophic aquaculture] sites shortly. And are also in contact with relevant partners on how to improve the next version," explains Jafarzadeh.

"Initially, I thought it would be a typical workshop type event with talks from industry experts which I should take notes on. But, although it was virtual, it was delivered in a very interactive and intuitive way. The participants were always invited to engage in the talks, pitch to industry leaders and obtain comments about their works. The workshop enabled me to gain more knowledge about the challenges in the industry, grow my network and learn about how to take first and subsequent steps," he adds.
Jafarzadeh is now looking to build on what he learned.
"We're now planning to engage with BIM and Hatch to discuss how we can improve our product and also preparing for the development of commercial products out of our research project. We are planning to have regular meetings with Hatch and BIM to discuss further opportunities," he says.
This is Seaweed, which is developing new technologies for extracting active ingredients such as proteins and carbohydrates from seaweeds for a range of food and health uses, also took part.
"We have been considering taking on VC investment right now, and also considering food accelerators that could guide us to a higher value before looking for a significant investment," says Paul O'Connor, founder of the firm, which emanated from NovaUCD.
"Not only did we receive excellent tuition on how to position our company to potential investors but we also made significant contacts in the field of aquaculture globally. Of particular note was the expertise that was shared by the adept Norwegian advisors. Aquaculture is a significant and rewarding industry in Norway, a circumstance that could be replicated in Ireland and in other countries worldwide," he adds.
Nova-Q, which applies a unique range of nitrifying bacteria for uses including improving water quality in recirculating aquaculture systems (RAS), and in preventing toxin spikes, was another of the ten companies and concepts taking part.
"The workshop was very well put together and packed in lots of different ideas and areas. One strand helped us to define our business model. Another strand put us in touch with experts from the aquaculture industry," explains Tom Scrope, the Irish company's UK manager.
"It also encouraged us to change our mindset – we'd basically been focused on the salmon RAS market, in particular hatcheries producing post-smolts in Norway. But we're now aware that our products could be very useful for improving water quality in shrimp ponds in Asia too and Hatch helped to introduce us to interesting companies in the shrimp sector, such as the Indonesia-based shrimp startup Alune," he adds.
Unlike some of the companies Nova-Q is well established, having been operational for 10 years and involved in aquaculture for three. However, according to Scrope, the workshop was still incredibly valuable.
"Most of our customers so far have been relatively small, independent fish producers, but it's taught us how to start dealing directly with bigger corporates, which is not always easy as an SME," he explains.
Long-term vision
The three aquaculture innovation events held to date in partnership with Hatch are, according to BIM, part of a long-term initiative to encourage diverse talents in Ireland to look towards solving the many significant challenges in in the fastest growing food sector in the world - aquaculture.
"It's BIM's vision to harness and develop this huge talent pool available to us in Ireland and to put the country at the centre of the global aquaculture industry. We will be continuing to support and develop existing and new companies both now and into the future," Donnelly concludes.
Commenting on the initiative Wayne Murphy, co-founder and partner at Hatch, says: "We were incredibly pleased with the growing demand for places on this year's Hatch / BIM workshop and with the quality of participants and range of technologies applying. Their appetite for learning and for accessing the tools, knowledge and networks to scale-up their ideas and technologies was very encouraging.
"Workshop sessions included those with the Hatch team on the global aquaculture landscape, industry pain points, venture capital with Aqua-Spark and SOSv, Cargill's global perspective on aquaculture, discussions on strategy, planning and scaling, investor readiness and to the protection of IP has made for a very busy and productive two-week programme. It has been exciting to connect and work with these ambitious entrepreneurs and we look forward to seeing how they develop and grow over the months and years ahead."
Hatch is hiring
As part of this project, Hatch is currently looking to hire a full-time aquaculture development coordinator to focus on supporting, connecting and engaging all high potential opportunities for the sector in Ireland.
"BIM is incredibly serious about shaping and developing Ireland's future role in global aquaculture innovation and we support their ambition. And key to the future success of these plans is the development of an Ireland-specific aquaculture investment fund to support these early stage high potential startups and those already seeking to scale-up their technology globally. The introduction of this fund will be a game-changer for Irish aquaculture," concludes Murphy.