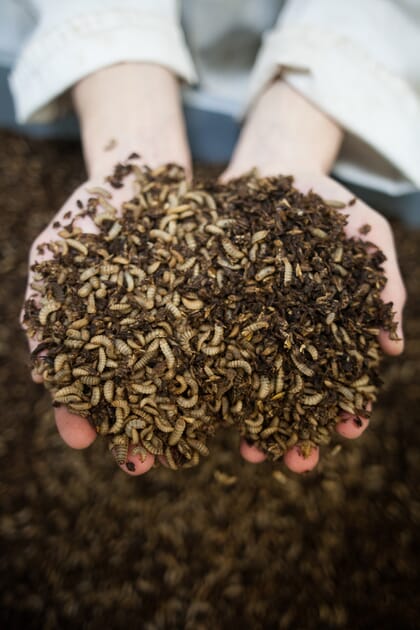 The UK Government's Industrial Strategy Challenge Fund (ISCF) announced the financial support programme for a research consortium to deliver a complete demonstrator system for the conversion of food waste into insect-based animal feed and biofertiliser. It will also prove that the farming of black soldier flies is economically viable, low carbon, and scalable in the UK, while validating its safety and efficacy.
Led by Entocycle, which uses black soldier fly larvae as ingredients for pet food and animal feed, the project involves a range of organisations from different sectors, including the University of Stirling's Institute of Aquaculture, Cooke Aquaculture Scotland, and the Scottish Aquaculture Innovation Centre (SAIC).
The University of Warwick, Durham University, Tesco, Beta Bugs Ltd, AB Agri Ltd, Better Origin, ISCF Future Food Production Systems, Fera Science Ltd and Insect Technology Group UK are also supporting its delivery.
By 2040, the consortium intends to establish the UK as an international centre of excellence for the farming of black soldier flies and the development of related technologies. It aims to have delivered more than 100 sites internationally, creating 3,300 jobs in the UK, and save 50 million tonnes of CO2 equivalent over the next 20 years.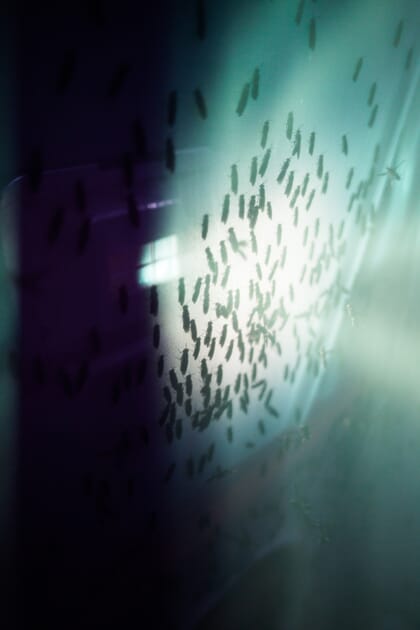 Keiran Whitaker, founder of Entocycle, said: "The UK is making an ambitious commitment to becoming a leader in sustainable food production systems. Through the use of insects we can guarantee local supply chains – the early experience of Covid-19 has shown just how important this will be in the future – while making significant reductions to CO2 emissions caused by the production of traditional feed ingredients. The positive environmental impact could be huge, helping to support the UK's transition to a net zero carbon economy and the restoration of natural ecosystems."
Heather Jones, CEO of SAIC, commented: "As the human population of our planet grows, the demand for food and protein will also increase exponentially. At the same time, it has never been more important to reduce the carbon footprint of our food production systems. Farmed fish will be integral to delivering on that need, as a low-carbon source of quality protein, and the research capabilities and expertise we have in Scotland will be a key part in making the UK an international centre of excellence. We can and should always look for new ways of further enhancing the aquaculture sector's impact on the environment and new sources of feed will be critical in meeting that challenge."
Mark Weir, feed performance manager at Cooke Aquaculture Scotland, added: "We are excited to bring our insight and expertise to the table as a vertically integrated Scottish salmon producer and innovative feed manufacturer.
"We develop nutritionally-balanced diets that support farm-raised fish to stay healthy, grow efficiently and thrive in the marine environment. We achieve this by utilising feed ingredients from MSC-certified and other sustainable fisheries, combined with continuous improvement in feed formulations and delivery.
"The prospect of an abundant, locally available, low carbon alternative is attractive and we want to help to prove the concept and work with research organisations to develop this as a practical ingredient that can be incorporated into feed supply chains."