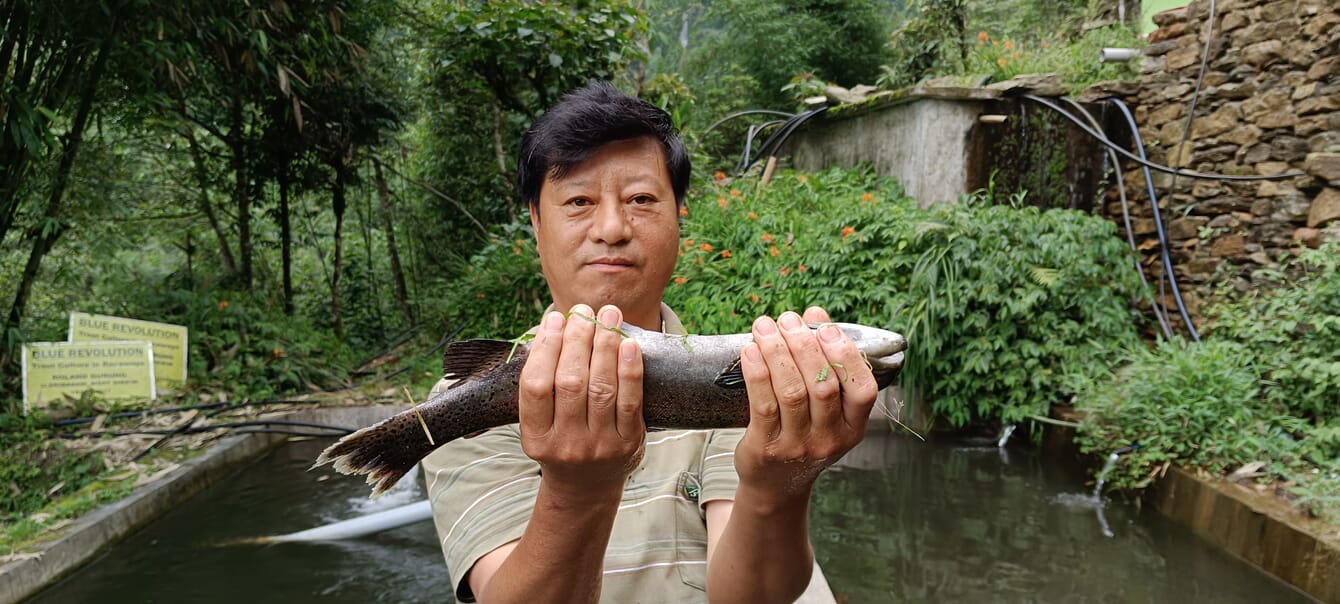 Samdup Bhutia has been a rainbow trout farmer for over a decade. The 52-year-old claims to be one of the first farmers that started rainbow trout farming in Sikkim from a remote village of Sribadam, around 100 kilometres from Gangtok, the state capital.

Samdup has six grow-out tanks and a hatchery that produces around 300,000 fingerlings per year that translates into an income of Rs 10 lakhs ($12,094) annually. He also has 7,000 broodstock.
"Rainbow trout farming has changed the destiny of the village drastically as it has helped us to make healthier profits. We have built palatial houses with the income earned from rainbow trout and also invested in other avenues. The farming has been a profitable venture thanks to the suitable climatic conditions of our village and round-the-clock availability of water,"said the man who won the best fish farmer award from the College of Fisheries, a central Agriculture University, in 2015.
Rainbow trout hub
Sribadam is a picturesque village located at an altitude of 7,000 ft and surrounded by a green canopy of hills, springs and monasteries. The village is a hub of rainbow trout farming in Sikkim, including 50 farmers and producing around 40 tonnes of adult fish and 450,000 fingerlings annually.
The farmers say they ventured into rainbow trout after senior officials from the state fisheries department, along with a team from ICAR-DCFR (Directorate of Cold Water Fisheries Research) based in Uttarakhand, visited the village in 2011 and spotted the location's potential.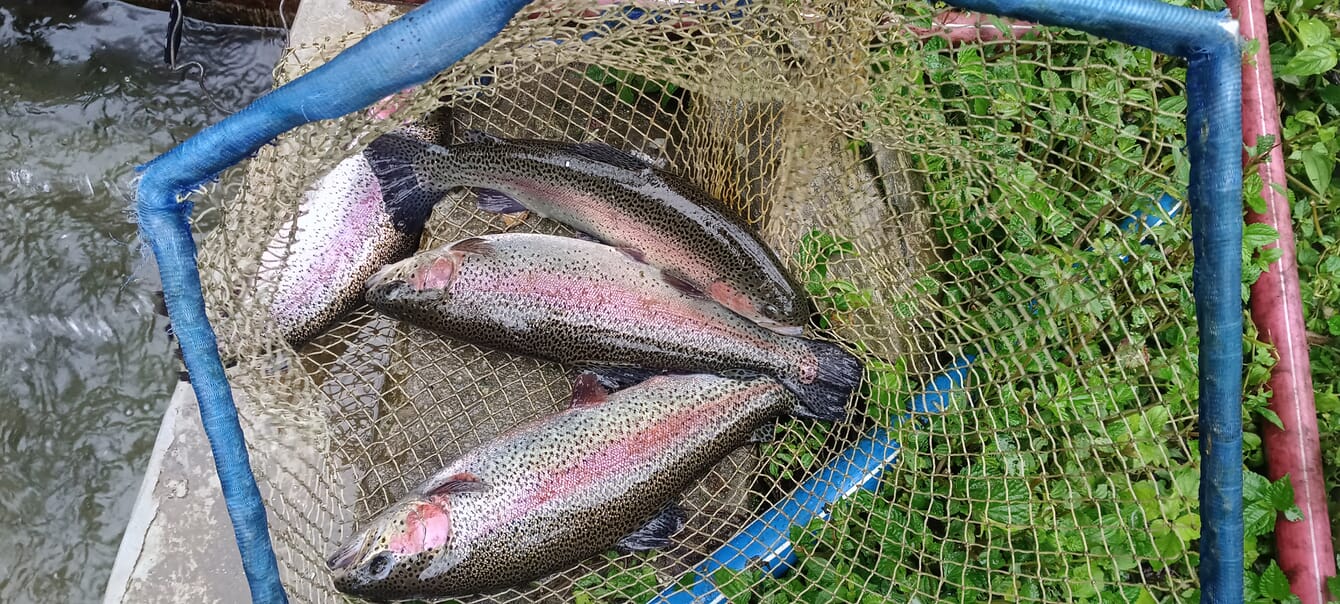 "At first, six villagers, including me, decided to venture into trout farming, while others were apprehensive about its outcome. We were provided with Rs 40,000 ($483) for constructing a tank and also 500 fingerlings each. We were also trained by the officials of fisheries department as we knew nothing about fish farming. We faced severe set-back when the entire stock died due to our lack of experience. But didn't give up and started making profits from 2012," Samdup recalls.

The fish farmers attribute the constant supply of water and perfect climatic conditions for the village becoming the hub of rainbow trout farming.
"The fish require temperatures of around 14-18°C, which is commonly available here, as the temperature barely goes beyond that, even during an extreme summer. The natural springs ensure that we get an uninterrupted supply of water 24/7, as even a minor disruption can be catastrophic and could result in severe mortalities which we have faced in the past when the pipes connected with the springs got washed away in floods, resulting in huge losses to farmers," points out Indra Bahadur Chhettri, a member of the trout rearing co-operative society.
Kal Bahadur Gurung, 40, one of the big fish farmers in the village, recalls facing collective losses of Rs 13 lakhs ($15,722) in 2016 and 2017, his water intake pipes were washed away.
"Rainbow trout farming is a profitable business but we have to depend heavily on natural water for farming. Even a minor disruption can prove fatal and lead to severe mortalities. We remain concerned more about water than diseases, which we control by throwing salt into the water," he reflects.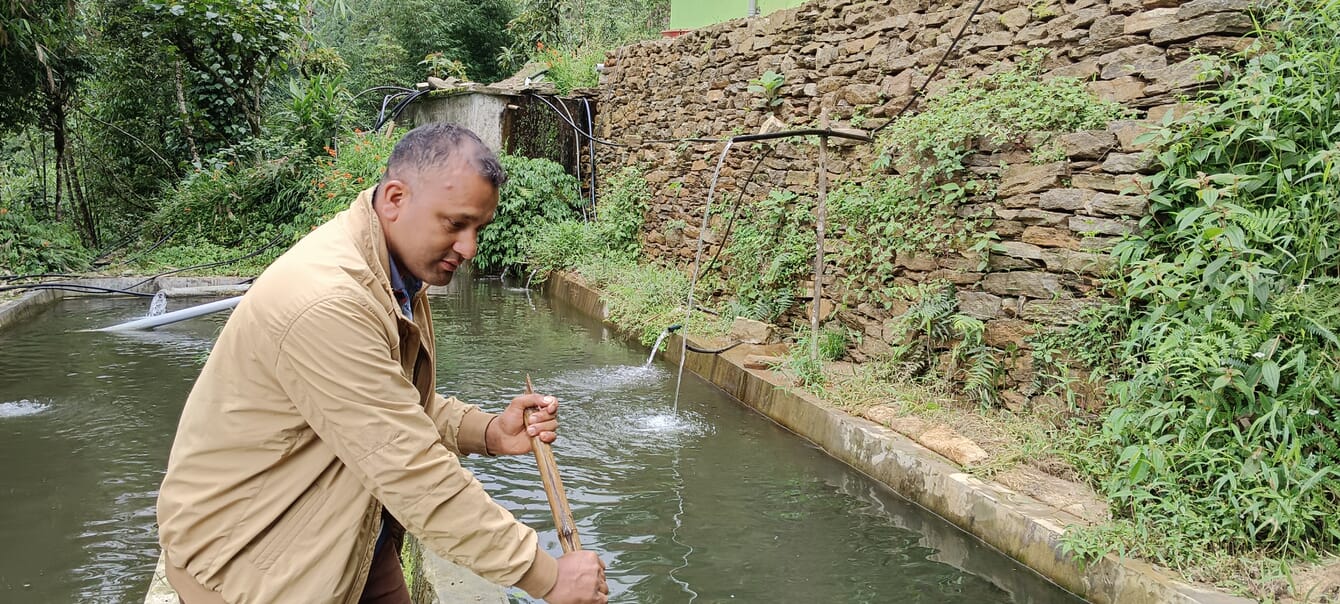 Demand and supply
According to senior fisheries officials, Sikkim – which has a population of around 0.67 million (census 2011) – has 760 rainbow trout raceways with an annual production of 340 tonnes (2022-23), while the production was just 95 tonnes in 2014-15.
Sikkim also has nine hatcheries, including three belonging to the government and the rest owned by farmers. The total fingerling production in the state was 619,000 in 2022-23, well above the 253,000 produced in 2018-19.
"We have around 1,500 fish farmers, of whom 500 are involved in rainbow trout farming. We also produce grass and common carp," says Surendra Bhandari, assistant director of the state fisheries department.
He points out that rainbow trout was introduced in the state in 1986 with the import of eyed ova from Himachal Pradesh in north India. The stock was initially reared in the government farms for breeding and seed production. But from 2009-10, with the financial support to farmers by NFDB, the culture of rainbow trout started in the private sector.
"The government decided to grow rainbow trout because it's a high value fish and the farmers can earn good profit, as the climate and the water quality parameters of Sikkim is very congenial for the fish. The government provides both technical and financial support to farmers. Besides 60 percent subsidy is also provided to fish farmers on purchase of fish seed," he adds.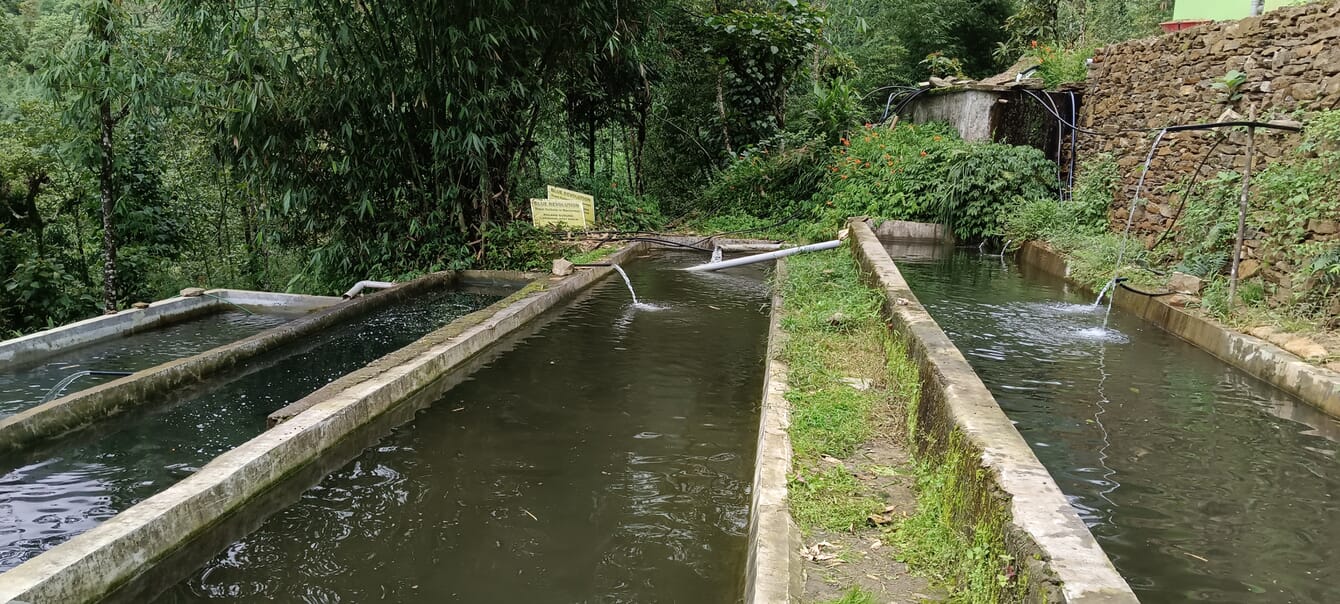 The senior government officials point out that despite taking extensive care of the stocked fingerlings, the average mortality rate of fingerlings still hovers around 15-20 percent.
"The mortality rate can be reduced significantly by stocking advanced fingerlings (> 75mm size) but due to the non-availability of fingerling rearing space in the hatcheries of the state the trout seed is stocked in fry or early fingerling size," says Yowaraj Sharma, assistant director (Soreng district), of the fisheries department.
He adds that the stocking density is 40 fingerlings per cubic metre and formulated pelleted feed of different sizes are used to feed the fish.
"We know there is a problem regarding the availability of feed and the state government has established two fish feed mills for producing feed where the production has started on a trial basis," he said.
Farmers agree that rainbow trout have given them a fresh opportunity in a state where income opportunities are limited, due to the hilly terrain and lack of adequate facilities.
"We have been selling fish to big hotels and resorts in Sikkim as our state gets lot of tourists from inside the country and abroad. My production has stood at 2,800 kg over the past year and the income was around Rs 15 lakh ($18,113). The production can increase if the government builds more hatcheries for us," points out Subhas Rai, 44, a trout farmer in Pakyong district.