Sponsor message
Are you trying to break into aquaculture industry or already working in the field and looking to gain additional expertise for career development?
INAPRO: Innovating Aquaponics for Water Savings and Sustainable Food Production
EU - What if it were possible to grow fish and vegetables with a low environmental impact, yet almost no need for water input? Discover the potential of an innovative aquaponic system which is ready to change the way we produce food.
Aquaponics may be still largely unknown by the general public but it's a growing trend, which has the potential to feed the growing world population. This green technology couples aquaculture (production of fish) and horticulture (production of vegetable) whilst saving water, energy and nutrients.
In an aquaponic system, the used water from the aquaculture sector, which is rich in nutrients, is used to grow the plants. Aquaponics is a highly efficient way of producing food and is becoming increasingly popular thanks to business, companies and even cities that are investing in it. Nevertheless, large scale installations lack stability, standardisation and economical profitability.
---
*
"Aquaponics is like aquaculture. But better! While aquaculture can lead to pollution, contamination and diseases, aquaponics works like the circular economy our society definitely needs. A self-sustainable production providing proteins and vegetables for a healthy diet respecting the environment! What else?"
Michèle Rivasi, Member of the European Parliament
---
The EU-funded project INAPRO aims to overcome these limitations by innovating and improving aquaponics in order to respond to the global challenge of sustainable food production. The INAPRO system optimises aquaponics through the integration of cutting edge technologies and by providing a modular solution for the management of water, energy and nutrients. The final goal of the project is the commercialisation of an innovative model-based aquaponic system.
The main innovation provided by INAPRO is the double recirculation aquaponic system (DRAPS) for water, consisting of a recirculating aquaculture system (RAS) for the fish section and a recirculating hydroponic system for the plants section.
These two systems run independently and are linked only through a one-way valve. In the INAPRO system, the wastewater from the aquaculture sector is used as fertiliser for the hydroponically grown crops and then, thanks to a cooling trap system, the evapo-transpirated water is captured from the horticulture sector and reinserted into the aquaculture one.
This system allows to establish and maintain optimal conditions in both parts, avoiding negative interactions between the fish and the plants.
Thanks to this innovation, the INAPRO system allows the production of fish and vegetables with almost no external water input. Indeed, INAPRO needs a daily water input representing only 1-3% of the total amount of water circulating in the system.
INAPRO has been developed to be scalable to greenhouses of different dimensions (from large scale agricultural facilities to smaller urban farming solutions) and under different climate conditions. The highly efficient reuse of water makes this system the perfect solution to produce food in rural areas with water scarcity issues.
Moreover, depending on where the greenhouse is located, the system can use different sources of water (including rainwater) and can be powered by different sources of renewable energy (solar, wind, biomass) cutting both costs and greenhouse gas emissions.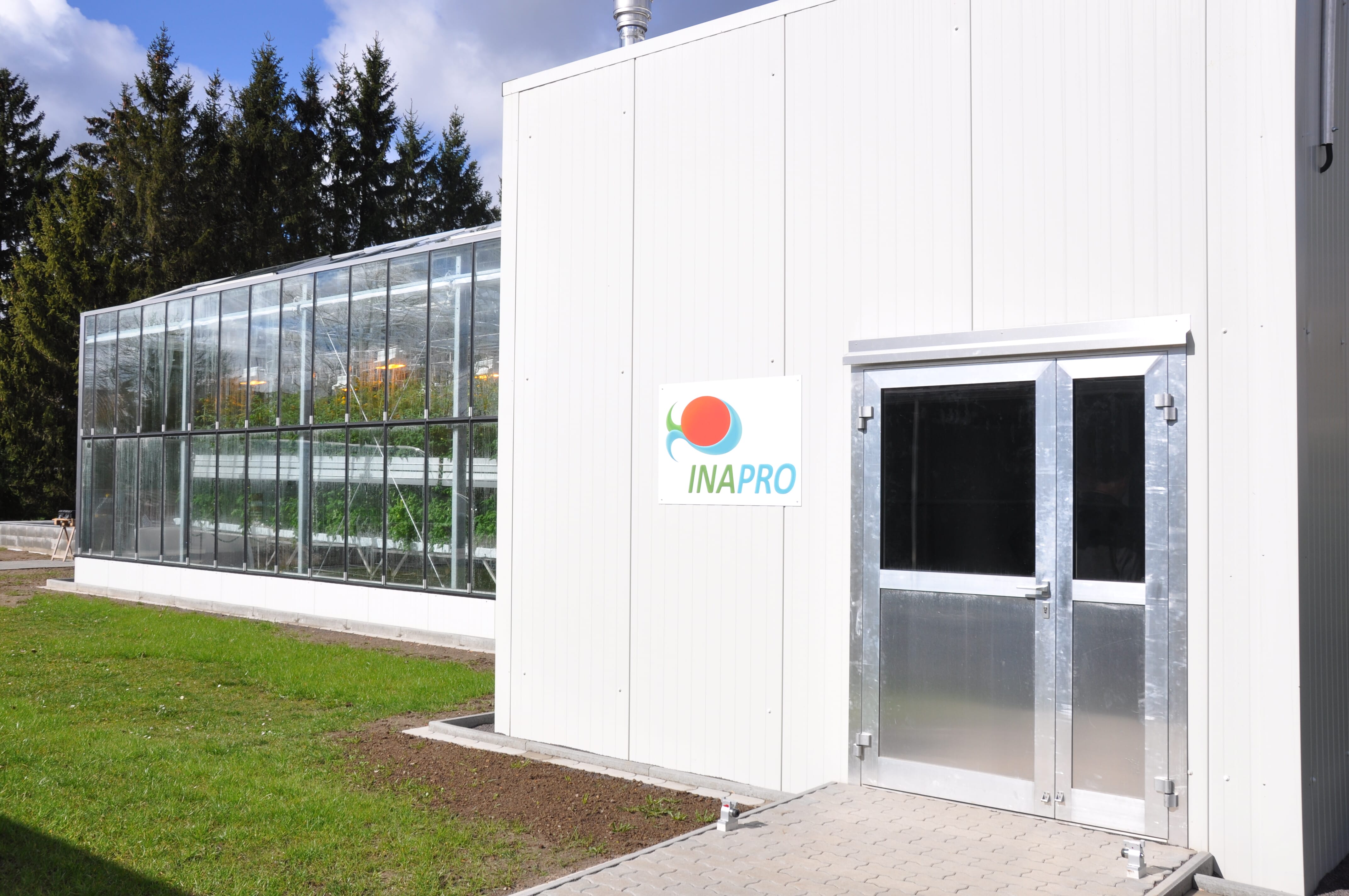 INAPRO allows the production of local, healthy and sustainable food that is free from contaminants and chemical residues. In fact, INAPRO does not require fish drugs and antibiotics and employs only a minimal amount of fertilisers. Since the food is produced in a closed system, no pollution is dispersed in the surrounding environment avoiding any negative impact on soil and groundwater.
As INAPRO products can be grown anywhere, this system represents a local and sustainable solution to the increasing demand for seafood products without putting additional burden on already overexploited fish stocks. Instead it cuts the emissions and costs for transport and avoid the negative environmental impacts of conventional fish farms.
As stated above, the INAPRO system is adaptable to installations of different sizes and locations. At the time of writing, an INAPRO test facility in Abtshagen (Germany), is already running and producing tilapia and tomatoes.
By spring 2016, two other demonstration sites will be built in Europe, one in Waren (Germany) and the other in Murcia (Spain). The demonstration sites are expected to produce around 6t of tilapia and 12t of tomatoes per year. To ease the shift from conventional aquaculture and horticulture to aquaponics, the INAPRO system allows farmers to calculate their revenues whilst taking into consideration all production-related costs.
Sponsor message
UMass Sustainable Aquaculture Online Courses
Aquaculture is an increasingly important source of safe, nutritious, and sustainable seafood for people worldwide. Globally, aquaculture production must double by 2030 to keep pace with demand. These increases in demand for aquaculture products, food security considerations, and job creation have generated an increased need for skilled workers.
Discover how you can be part of this rapidly expanding industry.