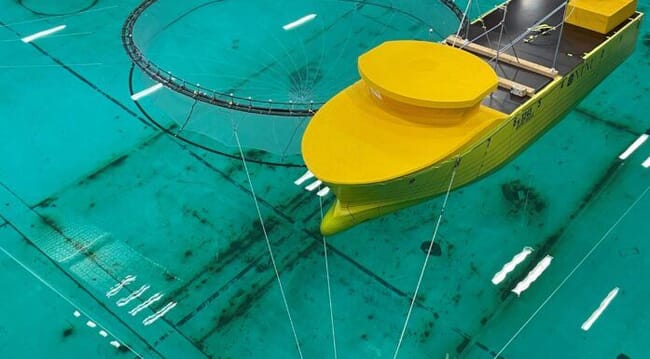 As aquaculture looks to move into larger farms in more exposed and remote locations, making design decisions based solely on experience will not be adequate. As a result, the SFI scientists are conducting prior research to help the planning of risk, contingency and operations.

Researcher Hans Tobias Slette has been using scale models to help simulate how a given fleet of vessels serves a group of aquaculture facilities under different weather conditions.

Model simulations are also used to assess how effectively a fleet of vessels can respond to events such as the mass death of a facility's fish population.
"Vessels used in open ocean aquaculture carry large amounts of equipment. They are expensive and demand efficient utilisation," emphasised Eivind Lona, a researcher at SINTEF – the institution which is leading the SFI Exposed project.
"The range of equipment carried by vessels in the aquaculture sector is growing. Nets are becoming larger, and anchors heavier. We need bigger vessels to handle all this equipment, and we believe that bigger boats will be positive for safety," he added.
"Some vessels may function very well under quiet mooring conditions alongside the net pens but may be entirely unsuited for transport across stretches of open ocean or for heavy lifting operations," said Ørjan Selvik, senior advisor at SINTEF Ocean.
Together with his colleagues, Selvik has been looking into how vessel design work should be carried out in order to ensure that the aquaculture sector has the fleet that will meet its future needs.

However, he has been left frustrated by the project's industry partners, who want to protect their own ideas and the competitive advantages that these offer.
"During the research term allotted to the SFI Exposed centre, we had pictured ourselves presenting a series of tailored vessel designs. However, after eight years, we can say unequivocally that specific product development has to be the stuff of individual projects," he said.
Selvik emphasised that for this reason it has become important to identify aspects of common interest on which all partners find it natural to collaborate. These may include issues such as knowledge bases and computational models that can be used as a basis for design.
Researchers at SINTEF Ocean have developed a model that enables them to calculate the forces acting between vessels and net pens much more precisely than before.
"We have previously developed software for calculating the forces that act on larger constructions, such as ships and oil platforms," said Lona.
Another type of software can be applied to pipelines and other slender and flexible constructions.
These results can be used to help identify exactly what forces various types of equipment can withstand, and to establish criteria for whether or not an operation can be carried out. They can also be used to calculate how weather conditions influence different vessels' abilities to perform given operations.