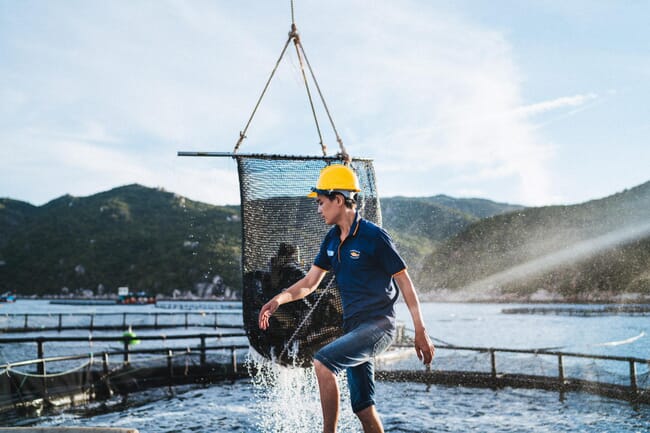 For the vast majority of aquaculture producers, feed is typically the largest single expense – often representing over two thirds of total production costs. With feed costs rising sharply, progressive producers are taking steps to enhance competitiveness by finding innovative ways to improve feed conversion efficiency.
Vietnam-based barramundi pioneers Australis Aquaculture have been running an advanced genetics-backed breeding programme with Xelect since 2018. While genetics has a clear track record of delivering significant improvements in key traits such as growth and disease resistance, the link between genetics and feed efficiency has been less well understood.

Feed conversion ratio (FCR) is the standard measure used to assess food efficiency in livestock. This denotes the ratio between the amount of food consumed and the weight gained, so achieving a lower FCR translates into a large reduction in cost.
However, feed conversion efficiency is notoriously difficult to measure in commercial aquaculture settings, as fish are communally raised in very large numbers. Recent scientific discoveries suggest that other characteristics can serve as a useful proxy. For example, fasting tolerance – the ability to maintain weight when feed is withheld for short periods – has been shown to be highly correlated with [feed] conversion efficiency.
Dr Marie Smedley, senior breeding programme manager at Xelect, commented: "Essentially, an individual that spends less energy maintaining weight has a lower maintenance energy requirement which translates to improved feed efficiency. Our latest trial with Australis suggests that significant gains are possible – with high weight maintenance groups showing a 12 percent improvement in FCR over low weight maintenance individuals. Because this trait is also heritable, a significant part is down to genetics. Therefore, fasting evaluations can be performed routinely to select the most feed efficient broodstock in Australis' breeding programme. The trial was concluded in November but we've already been able to apply the findings commercially to the breeding programme".