The use of quality smolt, improved equipment, selective breeding over generations and skilled management at the site have also been credited for improvements in fish quality and animal welfare.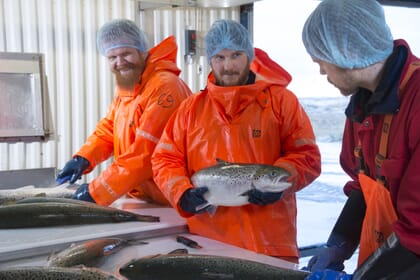 "We did not expect the changes we have implemented to have such a major effect, and I must say I am impressed myself," says David Hardarson, manager at Kalmanstjørn, in southwest Iceland.
Kalmanstjørn, like StofnFiskur's other sites, is land-based, holding fish from the time they smolt to when they mature, and it has its own facility for stripping and incubation of eggs. This year Hardarsson expects to produce 66 million eggs, and this might be even higher in 2018.
"Under the ownership of Benchmark Holdings, we have been able to invest in equipment that enables us to improve the farming conditions," he explains, pointing out new aerators as the most significant factor.
While the site previously used a single oxygenation system for the entire site, they now have a system for each tank. Regulating temperature has been a challenge at Kalmanstjørn, but with the new system it has been possible to keep both stable and high temperatures throughout the production cycle. On average, the temperature has been 2.5 C higher than previously.
The fish stocked in October 2015 were the first generation to be produced under the new conditions, reaching 4 kg within 11 months, a marked improvement on the 16-18 months it previously took. This discovery coincides with an increased global interest in producing salmon up to 4-6 kg using an entirely land-based cycle.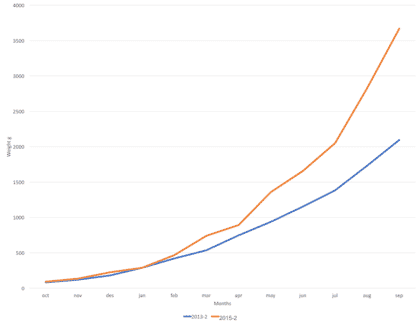 Like the other StofnFiskur sites, Kalmanstjørn sources water from deep bore holes. The water is naturally filtered through volcanic rock, securing a pathogen-free environment for the fish.
Skilled staff
According to Hardarson, good smolt quality and an experienced team are key to the improved production times. Knowledge of the site, combined with positive experience from previous improvements, have led to opportunities for new investments. The team at Kalmanstjørn, consisting of six operators in addition to the site manager and his assistant, have been working together for several years and have recently implemented new protocols for grading the fish.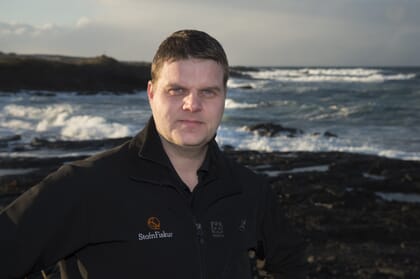 "We have started grading the broodstock in separate tanks for males and females at smolt size," says Hardarson. "This means more females can be included in the stock, giving more fish to choose from when selecting broodfish."
"Growth is an important trait for the StofnFiskur strain. From generation to generation we see the result of selecting the best performing fish for breeding. Smolt of excellent quality and condition are crucial for obtaining the results we have lately experienced at the plant," he explains.
"We have also been testing a new broodstock diet for the fish at Kalmanstjørn over the last few months, and are now using a feed optimized for broodstock. I am very much looking forward to seeing what impact this will have on the fish and egg quality over the next years," he adds.
Future developments
"We have produced healthier and more robust fish," Hardarson says proudly. "Next year, the fish will be in StofnFiskur's programme for timed maturation, and later transferred to freshwater, where they will naturally stop feeding and prepare for spawning. We have great expectations for these eggs. These fish are the eighth generation in our breeding programme, and we believe that genetics play a large part in the major improvements we are seeing."