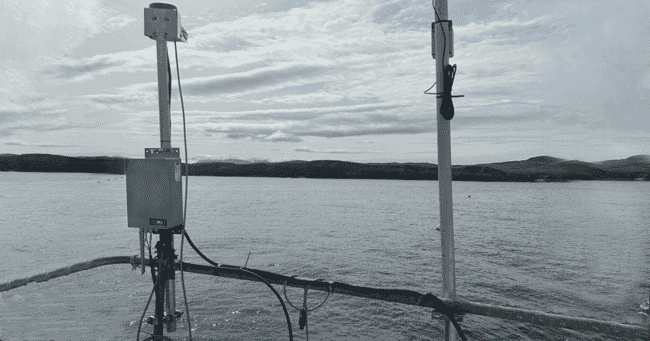 Earlier this year I presented at the Economist's World Ocean Summit in Lisbon on the impact of the ocean environment on aquaculture sustainability.

The aim of the summit was to address the greatest challenges facing our greatest asset: the oceans and seas of our planet. Climate change, biodiversity loss and pollution were top of the agenda, and my contribution centred on the need to use space technology to tackle these problems – and the importance to the aquaculture industry of doing so.
Aquaculture, fisheries, algae and aquatic animals output reached a record 214 million tonnes in 2020 (UN FAO), and with ambitions to increase sustainable production by 25-35 percent by 2030, in-depth knowledge of our oceans is essential.​
To achieve this, we need a better understanding of the oceans and the factors that affect their health. This is where space technology comes in.
Krucial's capability is moving data from anywhere (in-ocean sensors and cameras), to anywhere (cloud and data analysis applications) - regardless of distance or location. This will help the aquaculture industry, marine ecologists, shipping companies and policymakers maximise the benefit of interventions aimed at benefiting ocean health. We're clear that using technology to make data more accessible will lead to an improvement of ocean conditions and contribute to their protection.

Satellites are an essential tool for monitoring and understanding ocean health. Already they can be used to detect algal blooms and changes in ocean colour, gather in-situ data on parameters, from water temperature to salinity, and provide valuable insights that the aquaculture industry and others can act on to boost sustainability, benefit fish welfare and maximise yield.
By tapping into space technology, we have an opportunity to illuminate those parts of the ocean we currently know little about. Ninety percent of the earth's surface has no access to terrestrial connectivity services, so it's time to look to space for connectivity. More information about our oceans will lead to better decision-making and targeted action to improve their health. Healthier oceans make for a more sustainable, more successful aquaculture industry - and healthier fish overall.
My experience at the World Ocean Summit further solidified my view that innovative technology will help our oceans, and I was inspired by the tech companies displaying their solutions – and the numerous investors present who are backing a whole host of ground-breaking ideas. Policymakers, NGOs and even the world of finance were in attendance, all with an understanding that ocean health is of the utmost importance to the global economy, as well as the environment.
Aquaculture is a bold and ambitious industry, intent on providing sustainable protein for a growing world population. Oceans that are properly monitored and understood can provide the basis from which aquaculture can achieve that goal – but space technology holds the key to making that happen.
The ability to collect data and make that data available to decision makers is critical in the fight to protect our oceans. It's simple - if we can't measure it, we can't manage it and therefore we can't improve it.