The practical programme aims to increase the expertise of personnel involved with operating activities and safety issues in their field of work. The programme is offered as an independent study programme but is as well fully integrated into units that correspond to one semester course of study in fisheries technology at the Icelandic College of Fisheries, with a special focus on aquaculture.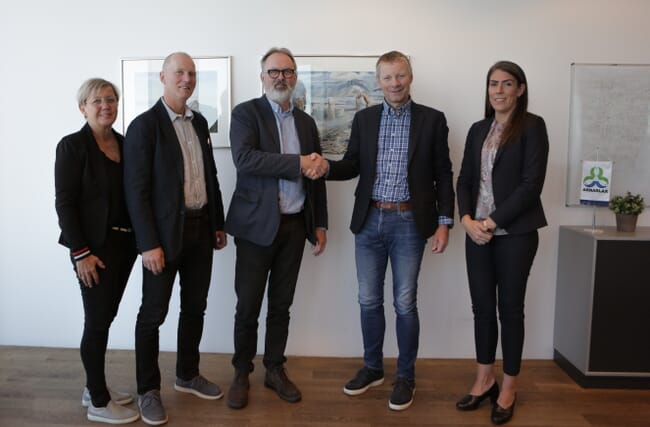 Björn Hembre, CEO of Arnarlax, states that it is important to build a study course in aquaculture. "Icelandic salmon farming is developing rapidly. We must ensure that our personnel can get education and training in the industry. Our goal is to have 50 percent of our staff completing the study course on aquaculture that the Icelandic College of Fisheries has agreed to supervise and maintain for the future in accordance with the rapid development in the industry. We aim to maximise production and thus it's vital to increase employee expertise. We have outstanding staff working at Arnarlax and we believe it is essential for us to secure opportunities to build up expertise in the industry and help our personnel to grow in their jobs with long-term advantage in mind."
About 20 Arnarlax employees are expected to commence their studies this autumn. The course will be spread over three semesters in order to help as many as possible to study alongside their jobs and thus link individual study courses to their work duties. The courses will be taught at Bíldudalur and other local units of Arnarlax in the Westfjords in collaboration with the Westfjord Educational Centre, while the organisers will also make use of teleconferences when needed.
Arnarlax personnel will be offered a validation of competence and thus given the opportunity to have their experience and previous studies assessed as course credits. The college will then establish ways for participants to complete formal studies as "Fisheries Technicians" if they wish.
The goal of this partnership is to establish a uniform vocational training courses for aquaculture personnel that all companies in this industry can offer to their employees.
Teaching material is prepared by the Icelandic College of Fisheries in collaboration with Guri Kunna and Froyja Vgs in Trondheim but the Norwegian colleges will also provide material and expertise in individual fields of study.
The Icelandic College of Fisheries, the Westfjord Educational Centre and the University of Hólar, alongside Norwegians and Scots, are participants in two three-year long collaborative projects in the field of aquaculture (BlueEdu and BlueMentor). The aim of these projects is, among other things, to work on co-ordinating the study and mentoring of general staff in the industry and this new Icelandic project is set to benefit from this collaboration.