Horseshoe crab haemolymph is the source of Limulus amebocyte lysate (LAL), which is used in sterility testing in human medicine. However, the capture and bleeding of the species for haemolymph by the biomedical industry removes 600,000 crabs a year from the wild, of which 30 percent expire in the process. This has posed significant risks to both species viability and LAL supplies.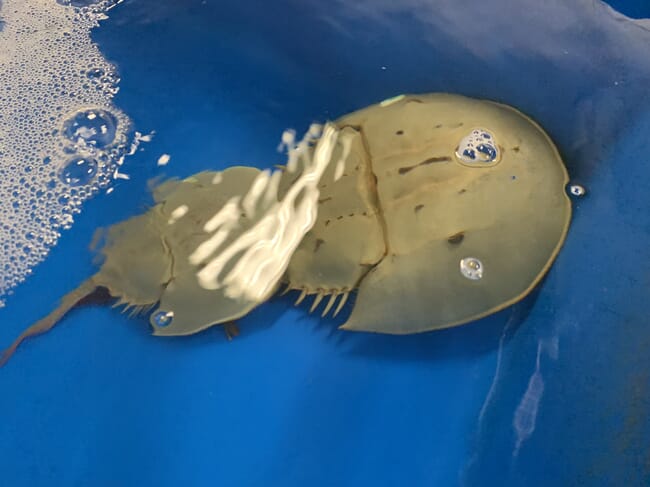 Although aquaculture methods have been trialled to reduce mortalities and improve LAL supplies in the past, the researchers who took part in the new study noted that "long-term efforts to husband adult crabs have been largely unreported or unsuccessful for the last three decades, with captive crabs tending to lose condition after 3-4 months of husbandry".

As a result, they tried - and succeeded - in developing and optimising an indoor recirculating aquaculture system (RAS) for captive horseshoe crab husbandry that would facilitate repetitive LAL harvesting while maintaining animal wellbeing. A surgically implanted catheter was developed to achieve a low-impact, routine harvesting method.
They reported that crabs used in the study thrived throughout a 12-month period, as measured by biologic markers, including LAL activity, bleeding frequency, and breeding behaviours (copulation and sperm and egg release) and remained healthy throughout the investigation, with 100 percent survival. Water parameters did not change significantly throughout the course of the study at the calculated HSC density and feeding rate. Immediate and long-term action plans for system perturbations were established and deemed convenient and effective.
The results indicated that holding horseshoe crabs in RAS "is practicable, that management protocols can be easily executed using conventional equipment, and that available feed inputs are nutritionally robust and affordable."
They then evaluated the effects of captivity on health markers such as amoebocyte density, hemocyanin levels, and LAL activity.
They concluded that routine haemolymph harvesting resulted in high LAL quality, while safeguarding animal wellbeing.
LAL is uniquely sensitive and specific for gram-negative bacteria, which represent 70–80 percent of pathogens that typically lead to sepsis. However, erratic results associated with interfering substances plagued efforts to adapt LAL for clinical use in the past.
In the study, the researchers report the development of a new LAL-based assay that can detect gram-negative bacteria and endotoxins in human blood without interference using aquaculture-derived LAL.
As a result they conclude that "sustainable LAL production from aquaculture could potentially satisfy industry needs with a fraction of one year's current capture via year-round harvesting from a finite cohort of horseshoe crabs and expand raw materials supplies for potential future clinical applications."
Further information
The full study, which was published in Frontiers in Marine Science, under the title 'Horseshoe Crab Aquaculture as a Sustainable Endotoxin Testing Source', can be accessed here.