Hopes raised by Trump's aquaculture order
North American aquaculture firms have welcomed last week's announcement by President Trump to step up the US offshore fish farming industry.
The US president issued the first ever executive order to include provisions to improve the country's aquaculture competitiveness and economic growth on Thursday. It pledged the development of "more efficient and predictable aquaculture permitting processes" and has been met with enthusiasm by companies including Innovasea and Cooke Aquaculture.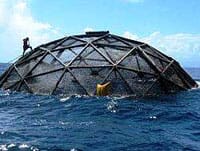 "The White House's action is a positive step toward simplifying the United States' byzantine regulatory review process for aquaculture, which can be daunting, expensive and time-consuming for businesses looking to get into sustainable fish farming," said David Kelly, CEO of Innovasea.

Trump's order aims to improve coordination among agencies and reduce the barriers that currently limit offshore aquaculture in federal waters.
The order notes that the US imports more than 85 percent of the seafood it consumes. To help address the $15 billion seafood trade deficit it aims to speed up the aquaculture permitting process - setting a time limit of two years for decisions to be made on offshore aquaculture operations. The National Oceanic and Atmospheric Administration (NOAA) has been designated as the lead agency for aquaculture projects in federal waters.
It also stipulates that the US Secretary of Commerce must identify at least two geographic areas containing locations suitable for commercial aquaculture - known as Aquaculture Opportunity Areas - within the next 12 months, and raising this to 10 such areas within the next four years.
Trump has also asked the commerce department to identify federal grant programmes that are applicable to aquaculture.
Glenn Cooke, CEO of the Cooke of Cooke Aquaculture, said: "I am very pleased President Trump has recognized that domestic farmed production of aquaculture seafood is vital to help correct the severe trade imbalance and strengthen local food security. This should be viewed as a call to state and local governments that the country is in dire need of domestically produced seafood protein and that they should find ways to support, promote, and expand this essential food sector as other countries have.
"As a family company, with marine fish farming operations in Maine and Washington and shellfish farming in North Carolina, and wild fisheries in other states including Virginia, Louisiana, Mississippi and Alaska, we are extremely proud of the hard work and dedication that our people put in every day to produce healthy seafood meals for families across the USA. Cooke Aquaculture USA in Maine was very proud to have been chosen as the supplier of sustainably farmed Atlantic salmon for the President's 2017 inauguration. Our strong operations have shown that aquaculture presents a tremendous opportunity to create thousands of jobs and build vibrant working waterfronts co-existing with traditional fisheries in rural coastal communities.
"President Trump and his Executive Agencies are to be commended for their leadership to address the regulatory challenges with establishing seafood farms by revising the National Aquaculture Development Plan and implementing a Nationwide Permit authorizing finfish, seaweed or multi-trophic culture in federal marine waters."

Unfinished business
Kelly, however, was a little more circumspect in his praise, warning that: "Executive Orders can be rescinded, which is why we're also urging Congress to take up the bipartisan AQUAA Act that was filed earlier this year that would permanently establish a clearly defined regulatory framework for aquaculture in the United States."