So concludes a new report by Rabobank, published today, which suggests that as "demand has been fragile due to high and volatile prices" salmon must do more than maintain its position as "the 'affordable luxury' seafood that is also a mainstream product".
The report compares the performance of various proteins and notes that demand for seafood and poultry have increased, while pork consumption has remained on the level and beef consumption has decreased. It adds that the growth in the popularity of seafood has been made possible by the growth of aquaculture sector, while the reasons it's becoming more popular with consumers include the "efficient FCRs, lower environmental impact and no perceived animal welfare issues".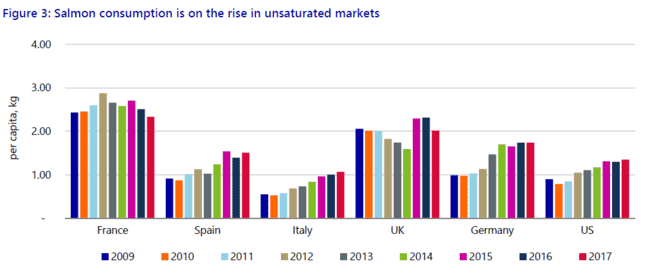 "Price point and pure convenience are no longer the only determinants of consumer food choices. Among aquaculture seafood and other animal proteins salmon became a winning protein due to its modern appeal, known health benefits, mild taste and attractive product offerings," the report argues. This has allowed demand for it to grow faster than any protein, even in markets such as the EU and the US which are already "saturated with protein".
Other factors that aide the success of the salmon sector, according to the report are the year-round supply and the advanced processing technology used in the sector.
"Other farmed seafood categories such as seabass and sea bream or pangasius and tilapia have not managed to create the same value proposition as salmon", the report continues – largely due to the low fillet yields of the first pair of species and the "lower price point and lack of fresh value chain" for the latter pair.
Meanwhile, the report adds, further growth in salmon can be fuelled by new product offerings – particularly in the convenience segment. Indeed, it points to the fact that fresh, pre-packed salmon products have increased by 18 percent in Germany since 2012 and by 38 percent in the US since 2014 - and by improving penetration into markets – such as Spain, Italy and Germany – that are not traditionally large consumers of salmon.
Equally the report sees considerable scope for growth of salmon sales in the US, China and Brazil.
Prices
While prices of NOK 60/kg – double the average 10 years ago – are now "the new normal" for the salmon sector, the report warns that such a high price could lead to "demand destruction" and substitution with other protein products unless the sector continues to innovate.