Groundfish in good demand
Surprisingly, consumption is increasing, probably as a result of the health drive on groundfish species consumption. Surprisingly, groundfish catches are expected to go up in 2009, which should keep the market well supplied.
Groundfish supply forecast to recover in 2009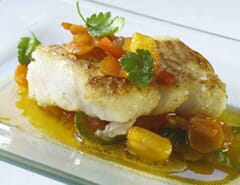 Groundfish harvests are projected to recover slightly in 2009, but reduced production of farmed fish will likely keep pressure on the world's seafood supply. Supply of Alaska pollock is expected to fall almost 11 per cent in 2008, to 2.5 million tonnes, although projections for 2009 suggest it may recover slightly to 2.58 million tonnes. The harvest of Alaska pollock from the USA is set to fall to just over one million tonnes, signalling a sharp decline of more than 32 per cent since 2005. In contrast, Russian supplies of Alaska pollock are expected to grow 4 per cent in 2008 to 1.2 million tonnes. This positive trend for Russian Alaska pollack will continue in 2009, with a rise of more than 8 per cent, to 1.3 million tonnes.
Less groundfish on the US market
During January-September 2008, USA groundfish imports fell by 9 per cent compared to the analogous period of 2007, settling at 102 100 tonnes. The decline was due to decreased imports of both fillets (-8 per cent) and blocks (-12 per cent) during this period. The top three groundfish fillet importers to the USA were responsible for this drop: China (-4 per cent, 54 400 tonnes), Iceland (-33 per cent, 5 800 tonnes) and Canada (-8 per cent, 3 300 tonnes). China was also behind the lower US Alaska pollack imports of groundfish blocks. This country shipped 13 per cent less product to the USA during the January-September 2008 period compared to the previous year, though remaining the top supplier of groundfish products to the US market. Argentina is the second main provider of groundfish blocks to the US market; the country managed to take advantage of the limited Alaska pollack availability and increased its hake exports by 61 per cent to 5 800 tonnes in the first nine months of the year.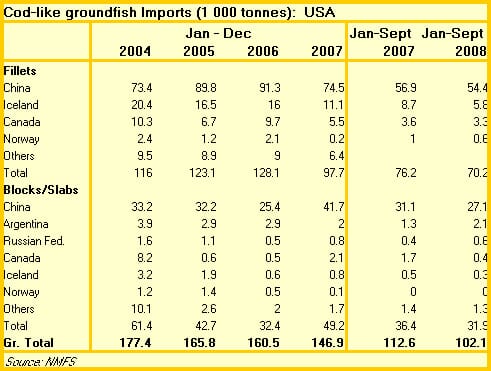 Groundfish block prices on the US market show different developments. Cod block prices which have been stable at USD 2.58/lb since spring, experienced a drop (to USD 2.50/lb) in December 2008. Alaska Pollack blocks show the opposite trend, an increase in price in December 2008 from USD 1.93/lb (stable since June 2008) to USD 2.00/lb. The decline in hake block prices started a few months earlier than for cod. In September 2008 they were around USD 1.83/lb sliding down to USD 1.81/lb in December 2008.
Groundfish prices in the USA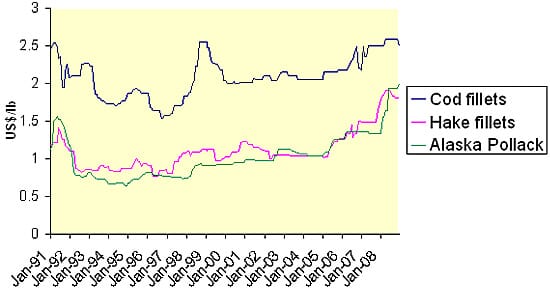 Demand good for groundfish products
All these forecast and production figures together indicate a rather gloomy supply situation, while demand is expected to be quite good, especially for the lower priced groundfish species. In December 2008, prices of Alaska pollack increased sharply. This species is the trend setter for price developments in the US market, thus further price increases are likely in the near future.
Alaska pollack
In Germany, origin: Russian Federation/USA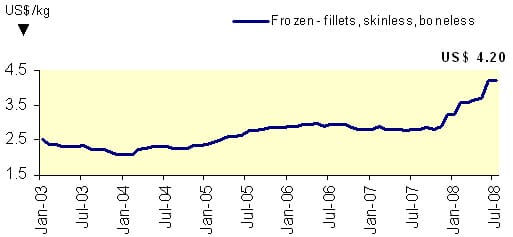 January 2009