Groundfish Market Report - August 2008
Report prepared by Paola Sabatini, FAO GLOBEFISH 2008.
Groundfish prices go up

The upward trend in Alaska pollack prices is impacting the world groundfish market. Decreasing catch quotas led to a 16% increase on prices during the first half of the year. Some producers are reporting a three fold increase in surimi raw material prices based on Alaska pollack and are looking for alternative species. Further price increases are likely for the second half of the year. Price trends in other frozen groundfish fillet segments are mixed, but as usual will follow the trend set by the Alaska pollack in due course.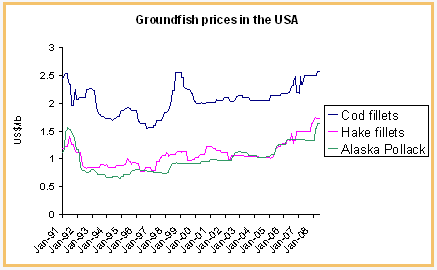 Further price increases in the US market
During the first half of 2008, groundfish prices on the US market rose further on the wake of the increase which started at the end of 2007. Cod fillet prices reached US$ 2.58/ lb in June 2008, a 3% drop compared to the second half of 2007. There is an evident upward trend in the Alaska pollack price which increased from US$ 1.33/lb in December 2007 to US$ 1.63/lb in June 2008 due to the strong demand for Alaska pollock both in the fillet and surimi segments along with a lower US catch quota.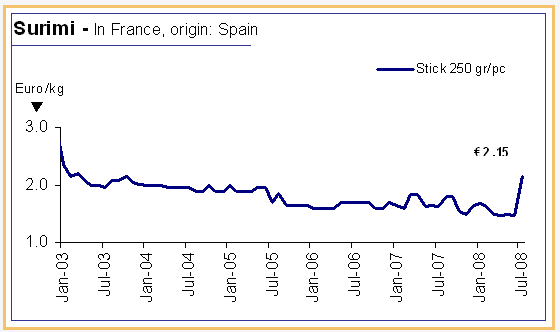 The strong increase in surimi prices in just a few months, were a result of low Alaska Pollack landings. The market remains difficult and some buyers have difficulties ensuring their cover. All surimi producers are looking for alternative species (sardines and whiting) which could bring surimi prices down again. However, alternative species generally result in a lower quality surimi product, and only groundfish species are considered to be good providers for surimi raw material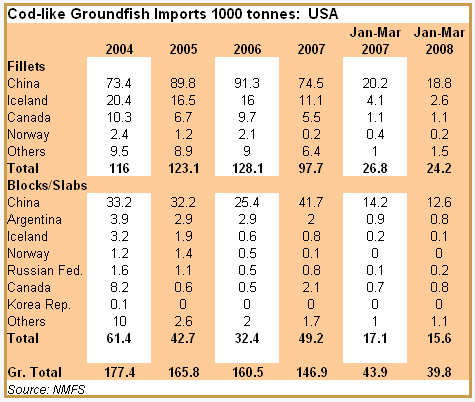 The 10% decline in US groundfish fillets imports in the first quarter of 2008 (24 200 tonnes) was brought about by a decline in imports from the top two suppliers, China (-7% to 18 800 tonnes) and Iceland (-37.7% to 2 600 tonnes) compared to the same period of 2007. The Icelandic decline was mainly caused by the sharply reduced cod catch quotas for 2008. An analogous drop in imports was registered by groundfish blocks (-9%) when the first three months of this year are compared to the corresponding period of 2007. China, the main supplier of groundfish blocks to the USA, reduced its shipments to this market by 11% compared to last year and whereas other countries have kept their export levels stable.
Further price hikes likely
Groundfish resources continue to be under stress in almost all fishing areas. Demand for whitefish products stays strong, which leads to higher offer prices in all markets. In addition to the traditional markets – EU and USA – new markets are emerging, mainly Brazil and Russia.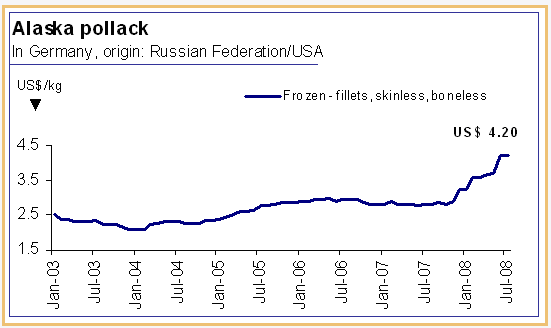 August 2008