Launched in March this year, the distinctive blue and white "OK" logo can be found in participating restaurants and fishmongers, as well as a number of manufacturers across France, Spain and Italy.

The project is co-ordinated by three national aquarian and marine research centres, all members of the World Ocean Network. These are the French national centre for the sea, Nausicaa; Italy's Acquario di Genova and Spain's Aquarium Finisterrae.

Like other members of the World Ocean Network, which initiated the project, these centres all have educational and research roles for both the general public and the seafood industry. In France, for instance, the national fisheries and aquaculture committee (CNPMEM) is working with Nausicaa to promote Mr Goodfish.

As a tourist attraction, Nausicaa justifies its educational role with ease: "If every visitor to Nausicaa chooses sustainable fish after his visit just once a year, that would make 600,000 visitors x 300 gramme portions or 180 tonnes of fish." The combined visitor count at all three sites is around two million.

Every year, France eats 850,000 tonnes of fish: for consumption to be sustainable consumers need to diversify their purchases, choosing in terms of available stocks and the season. "Nausicaa is more than a simple aquarium. It is a place to learn ... because one does not protect something which one does not know well," says the Nausicaa's mission statement.

While Champagne, foie gras, caviare and truffles are all luxury foods today, Nausicaa is keen that fish does not become a luxury food tomorrow. The centre has organised public debates to raise awareness so that, for instance, coley is promoted as a sustainable alternative to cod.

Speaking at one such conference, chef Tony Lestienne insisted on the need to train or retrain the collective palate, because "...no matter how good freezers become, frozen fish can never replace fresh..." But, he conceded, very little fresh fish is ever sold whole, since consumers no longer know how to prepare it.

Mr Goodfish branding is intended to bring seasonality and sustainability back to the national diet, by recommending fully grown, locally caught species which it lists on its website (alongside minimum sizes). So far its accreditation has been accorded to fishmongers and restaurateurs across France, Spain and Italy, as well as two fish processors in Boulogne: coproduct specialist Copalis and fish smoker JC David.

Just as the original French AOC denominations were guarranteed impartially by the state and subsequently the European AOPs that have superceded them are overseen by the EU, on the Continent there is trust in impartial public sector schemes.
Putting Mr Goodfish on the Menu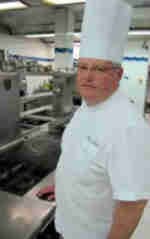 Alain Delpierre
Restaurateur and hotelier Alain Delpierre sees Mr Goodfish as an opportunity to educate the public.

"As chefs, we have to raise our game if the average consumer is going to be motivated to learn and understand what (s)he is eating."

His business, the Hotel Atlantic in Wimereux, orders enough fish to serve 150 covers in a day during the summer. Whole fish arrives from local fish merchants and each consignment is cooked and served within 48 hours of delivery, either in the hotel's resaurant, la Liègeoise, or in the brasserie downstairs on the promenade.

"Fish is just as seasonal as fruit or vegetables," Delpierre explains.

What applies to the quality of year round supermarket strawberries can be applied in equal measure to out of season fish.

"Most fishermen understand this and abide by it. But more people need to know and understand this.

"For instance, there's no point in fishing or serving scallops during the summer months, when the fish are breeding. They lack the firm texture of the winter months and it takes away from the pleasure of rediscovering top quality scallops when they come back into season during the autumn.

"Mr Goodfish also involves developing less well known species of fish, such as coley. Diners underestimate what you can do with the species, which is a versatile white fish."

Seasonality means respecting natural cycles, Delpierre emphasises: it is easier to be aware of the changing seasons on land than it is at sea.

Delpierre was raised in Boulogne and has lived all his life by the sea. Fishing is in the family: his father owned two boats and ran a herring factory before retiring.

Living on the coast, the sea is as important as the land. Without understanding the constantly changing marine environment, there is no way of having a 360° view of the world on the shoreline.
August 2010