Caused by a range of bacteria, viruses, parasites, algae and zooplankton, complex gill disease (CGD) is a growing health challenge for salmon across the world. During 2018, a new type of CGD emerged in Chile resulting in significant gill inflammation among the fish, which progressed unusually quickly and led to stock losses.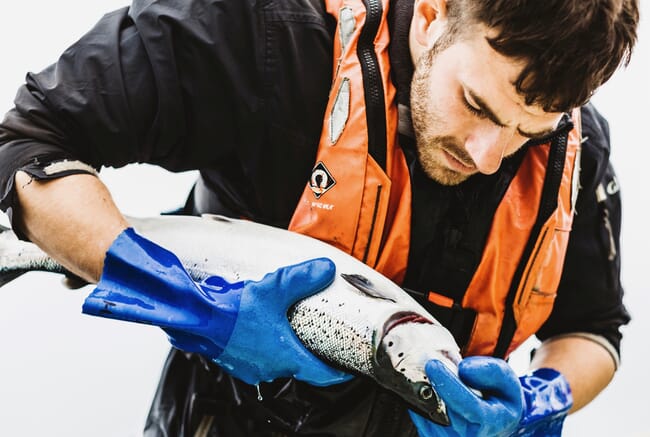 Following the outbreak at a salmon farmer's facility in Chile, researchers from Hendrix Genetics, the University of Edinburgh's Roslin Institute, and the Institute of Aquaculture collected and analysed samples to conduct an in-depth assessment of the developing disease. The Hendrix Genetics team was led by Carlos Lobos Blumenfeldt, while funding support for the project was provided by the Scottish Aquaculture Innovation Centre (SAIC).

The samples gathered by the team are currently undergoing genomic and transcriptomic analysis at the Roslin Institute. The results could help the researchers to better understand the pathology of the disease and, through genomic studies, determine whether fish with enhanced resistance could be bred in the future.
Dr Sophie Fridman, a gill health expert at the Institute of Aquaculture, said: "Due to the growing concern about the increasing occurrences and severity of gill diseases in the Chilean Atlantic salmon farming industry, diagnostic work and case studies are vital in the estimation of impact and the planning of mitigation strategies to optimise respiratory health and welfare of fish.
"This opportunity for international collaboration offered a very valuable knowledge exchange between leading researchers in the field of gill health in the UK and Chile. Our findings will have far-reaching implications leading to enhancements in early detection and treatment outcomes, resulting in significant improvements in fish health and welfare, as well as the prevention of serious stock losses in the field."
The team harnessed Scotland's world-leading expertise in gill disease to share knowledge with their Chilean counterparts during the two-way knowledge exchange. While collecting a large number of samples, they also trained a team of aquaculture health professionals in gill health diagnosis and sample collection.
Initial analysis by Noahgene Ltd, another project partner, has also suggested an earlier amoebic infection had been largely cleared, while pathogens commonly associated with complex gill disease in Europe were discovered. However, an important finding was very high levels of Tenacibaculum maritimum, a bacterium more usually present in gills damaged by algal blooms. Additional assessment conducted at Harper Adams University did not find pathogens commonly associated with complex gill diseases in Europe.
Dr Alastair Hamilton, genomics expert at Hendrix Genetics Aquaculture, said: "It is most encouraging to have uncovered a finding of such potential significance at this early stage – if this pattern is confirmed in subsequent cases, it could point the way to treatment strategies, including opportunities for selective breeding. By adding to our understanding of these complex pathologies, this opportunity for knowledge exchange through the SAIC project will be of tremendous value to both the Chilean and Scottish aquaculture industries."