FISHBOOST, now in its second year, is developing selective breeding programmes aimed at increasing productivity and profitability of aquaculture, while reducing the impact on the environment.
The five year research project, funded by the European Commission has drawn together research organisations, both large and small and medium sized aquaculture companies and NGOs to develop both high tech and low tech approaches to improve aquaculture breeding.
The total cost of the project is €7,955,911 with €6 million coming from the EU.
The research project is looking specifically at Atlantic salmon, common carp, European sea bass, gilt head sea bream, rainbow trout and turbot.
The researchers are aiming to bring about balanced and sustainable breeding programmes covering a wide range of traits, breeding tools and technologies.
The need for developments in selective breeding techniques has been driven by the increasing demand for aquaculture products.
However, while the demand for aquaculture projects has been increasing, very few companies have been basing their production on genetically improved stock developed through breeding programmes.
Between February and December last year, in the first months of the project, 14 experiments were started in six EU-countries focusing on developing tools for genetic improvement of production efficiency and disease resistance in the main farmed fish species.
The experiments have been based on recording economically important traits in farmed fish populations with known pedigrees and family structures.
This allows effective analysis of genomics and quantitative genetics of the traits.
The experiments have been focusing on fillet yield, feed use, survival and lipid deposition in common carp, turbot, rainbow trout, gilthead sea bream and European sea bass.
For each species, a large number of families have been produced for the genetic analyses.
The experiments have been conducted in co-operation with the local aquaculture companies and breeding programmes:
In Greece, "Andromeda S.A." works on Gilthead sea bream.
In Czech Republic, "Klatovske Rybarstvi A.S." works on the Common carp.
In Finland, "MTT Agrifood Research Finland" works on rainbow trout.
In Spain, "Cluster de la Acuicultura de Galicia" works on turbot.
In France, "Syndicat des Sélectionneurs Avicoles et Aquacoles Français", "Ferme Marine du Douhet SAS", and "Les Poissons du Soleil" work on Gilthead sea bream and European sea bass.
The molecular laboratory analysis for family assignment is conducted by "Labogena - Laboratoire D'Analyses Genetiques pour Les Especes Animales" in France.
In several of the studies, the same sets of families have been recorded for production efficiency traits, as well as being looked at for major diseases. This is possible because the large family sizes of the species allow each family to be split into two offspring groups to be recorded for different traits.
These experiments are expected to be completed within two years.
In June this year, FISHBOOST published two in-depth reports on selective breeding in Atlantic salmon and rainbow trout in Europe, outlining some of the differences that exist in breeding programmes within the European aquaculture sector.
FISHBOOST said that because of the uniform production strategy of Atlantic salmon produced in the Northern part of Europe, differences among breeding companies are relatively small.
All seven breeding companies perform family selection and the report shows that commonly selected traits include growth, processing yield, product quality and disease resistance.
Most of the salmon has been selected for about 10 generations by 2012.
The market share of breeding companies in total European egg production was 93-95 per cent in 2012 and 96-97 per cent as of 2013.
The FISHBOOST report says that after an equal growing period, currently produced salmon reaches a three times higher bodyweight than wild salmon would in the same conditions.
However, trout is produced in a wide variety of systems for different markets throughout all of Europe and this diversity in production strategy is reflected by the large differences among breeding companies.
Of the 15 breeding companies in Europe, six perform mass selection and the other nine perform family selection, according to the FISHBOOST research.
Commonly selected traits are related to growth, morphology, processing yield, disease resistance and reproduction and in 2014 the highest number of selected generations in family selection was 14 and 20 in mass selection.
The market share of breeding companies in the total European egg production was 65-68 per cent in 2011 and FISHBOOST says that selective breeding has resulted in a threefold increase in TGC of strains of breeding companies compared to wild strains.
Now FISHBOOST has set its sights on improving the genetic resistance of farmed fish to some of the most problematic infectious diseases in European aquaculture.
This is the aim of the project's Work Package 1 (WP1).
In its first year of existence FISHBOOST has undertaken a series of disease challenge experiments on populations of juvenile fish with known pedigree.
The data collected from these experiments will be used to quantify the genetic variation in disease resistance in the fish populations and enable the scientists to develop genetic markers that can be used to find underlying resistance genes and to breed more resistant stocks.
FISHBOOST said that infectious disease outbreaks present one of the biggest threats to reliable and sustainable production of finfish in Europe.
In an outbreak, typically some fish in a population are much worse affected than others and this variation has been put down to both genetic and environmental factors.
FISHBOOST said that by quantifying and characterising the genetic factors more resistant stock can be developed through selective breeding programmes.
The Work Package 1 experiments are looking at viral, bacterial and parasitic diseases in several finfish species and the research is typically a collaboration between the industry and academia.
The current projects are looking at:
Flavobacterium in rainbow trout (rainbow trout fry syndrome) led by INRA in France
Koi Herpes Virus in common carp led by University of South Bohemia in Czech Republic
Viral Nervous Necrosis in sea bass led by Ferme Marine du Douhet and Ifremer in France
Pasteurellosis in sea bream led by University of Padova in Italty
Sparicotyle chrysophrii in sea bream led by Andromeda and HCMR in Greece
Philasterides dicentrarchi in turbot led by CETGA in Spain.
The fish samples from these studies are now being genotyped using Restriction site Associated DNA (RAD) sequencing, and, in some cases, microsatellite markers for parentage analysis.
FISHBOOST said that the RAD sequencing data will generate new genetic markers dispersed throughout the genomes of each of the fish species and analyses will be performed to determine which markers are associated with disease resistance.
Four of the studies have been successfully completed and two are still ongoing.
In addition, families of fish have been produced for validation of two of the diseases under production conditions.
These data sets make up the basis for phenotypic, genetic and genomic analysis during subsequent periods of the project.
The researchers responsible for the challenge experiments form the expert veterinary committee, which reviews the challenge experiments, discusses best practices, pathology, animal welfare and trait definitions.
In several of the studies, siblings from the same set of families will be recorded for various production efficiency traits - feed efficiency and fillet percentage, which are traits that traditionally have been difficult to improve genetically.
Experiments have been started to study the genetic adaptation to new diets, in particular feed with several new plant-based components simultaneously.
According to FISHBOOST, this will be made possible because of the large family sizes of the species and this will enable powerful assessment of the genetic correlation between disease resistance trait and production traits, which is important for commercial application of the results.
This will be studied in the second stage of the project, the Work Package 2, which, together with Work Package 1, is performed with the industry partners, to enable continuous knowledge transfer.
Identifying fish through DNA can help strengthen traits that traditional selection methods find difficult to improve. The project's work already shows that selective breeding can protect wild fish from diseases prevalent in farms and generally improve aquaculture fish health, while reducing costs for producers.
As part of its hi-tech approach, FISHBOOST is developing DNA-based software to select breeding fish for new breeding programmes.
Because fish produce many more offspring than land-based species, it is easier to select for particular traits. However, it is essential to control inbreeding to keep the fish population healthy – researchers are developing IT-based methods to do this taking into account the specific biology of the fish. The project team is to make the software available free of charge.
The Work Package 3 is developing the genomics tools for use in aquaculture breeding. DNA extraction of fish from the challenge tests of WP1 has started for later genotyping by sequencing activities of RAD, 2bRAD or ddRAD methods to obtain single nucleotides polymorphisms (SNP) in a cost efficient way.
An Expert Genomics Committee has met to discuss and advise on the RAD sequencing techniques. Further, three tasks on tools for increased accuracy of selection using genomics information have started and are thus still ongoing.
In Work Package 4, software has been developed to set up a base population for breeding, BASEPOP. It uses genotypes and phenotypes to select individuals in an optimum way for a base population, based on the genomic relationships of individual fish within and between different strains.
The software will now be tested within the consortium, thereafter it will be freely available for everybody who wants to set up a new breeding population.
In Work Package 5, interviews have been performed with representatives' organisations on the perception of aquaculture breeding.
A report summarising these results has been produced and a survey on the producers' perception of aquaculture breeding has started.
Work Package 6 has seen the start of work on economic assessments of breeding programmes in collaboration with the AQUATRACE project.
A survey has been conducted to obtain an overview on traits under selection, selection method and productivity in European aquaculture breeding programmes for the six species of FISHBOOST.
Work Package 7 oversees the dissemination of information from the project.
The management of FISHBOOST is organised in Work Package 8, which is under the consortium or industry and research organisations.
The disease resistance research has largely been completed in the first year of the project and the sequencing and family assignment will take place in the second year and the results of the analyses of genetic resistance will be published in the third year.
The results of the experiments will then be applied to breeding programmes through family selection and the development of genetic marker tests for resistance genes.
This improvement of genetic resistance of farmed fish stocks in Europe through selective breeding will contribute to the control of infectious disease outbreaks in aquaculture.
"There is little breeding in European aquaculture and we want to make it better by improving ways to measure traits and develop more accurate selection methods," said project coordinator Anna Sonesson from the Norwegian Institute of Food, Fisheries and Aquaculture research – Nofima.
"All work is done in close collaboration between RTD and industry – this is essential for a project like FISHBOOST," she added.
The project is identifying fish that best use feed – difficult to predict in fish that feed irregularly and whose individual feed intake cannot easily be measured. Indirect selection methods are being developed to pinpoint families for this trait.
FISHBOOST is also evaluating fish from the same populations for efficient fillet production, to produce muscle rather than fat to appeal to consumers and for adaptation to new diets.
FISHBOOST said that at present just 10 per cent of the world's aquaculture production is using genetically improved stock and with large differences in practices across Europe, the fast-growing industry could benefit from blending traditional and new breeding methods.
"We are increasing our knowledge of the genetics behind the traits we want," said Ms Sonesson.
"In order to select parents, we must use a lot of families to ensure enough genetic variation.
"We will also try to quantify the value of breeding to producers."
Many of the project partners are part of the European Aquaculture Technology and Innovation Platform (EATIP) and the Farm Animal Breeding and Reproduction Technology Platform (FABRE-TP).
"Our aim is to boost the industry with efficient breeding programmes, whereby hi-tech tools and methods boost traditional approaches," added Ms Sonesson.
"We are very happy with the start of FISHBOOST, and the work that has been done so far, which puts us on track with the project. We have a good basis for the coming work up to 2019."
Ms Sonesson said that the most important impacts of FISHBOOST will arise when commercial fish breeders integrate new breeding technologies and software, and adopt accurate measurements of new traits to attain genetic gain, thereby taking the development of the species' breeding programs to the next level.
Optimised breeding designs, including economic assessment of these, and genomics tools for improving accuracy of selection for the six species will be developed.
FISHBOOST addresses two economically and sustainably important groups of traits that traditionally have been difficult to improve genetically: disease resistance and production efficiency.
Improved accuracy of selection and information about the genomic architecture will assure the genetic gain for these groups of traits.
FISHBOOST is investigating the societal views on acceptable systems and methods of aquaculture breeding.
Higher productivity, through more efficient fish, may lead to reduced prices of aquaculture products for the consumers.
Reduced mortality in aquaculture production through selection for disease resistance reduces impact on wild fish in addition to increased health and welfare of the aquaculture fish, and thus alleviates societal concerns.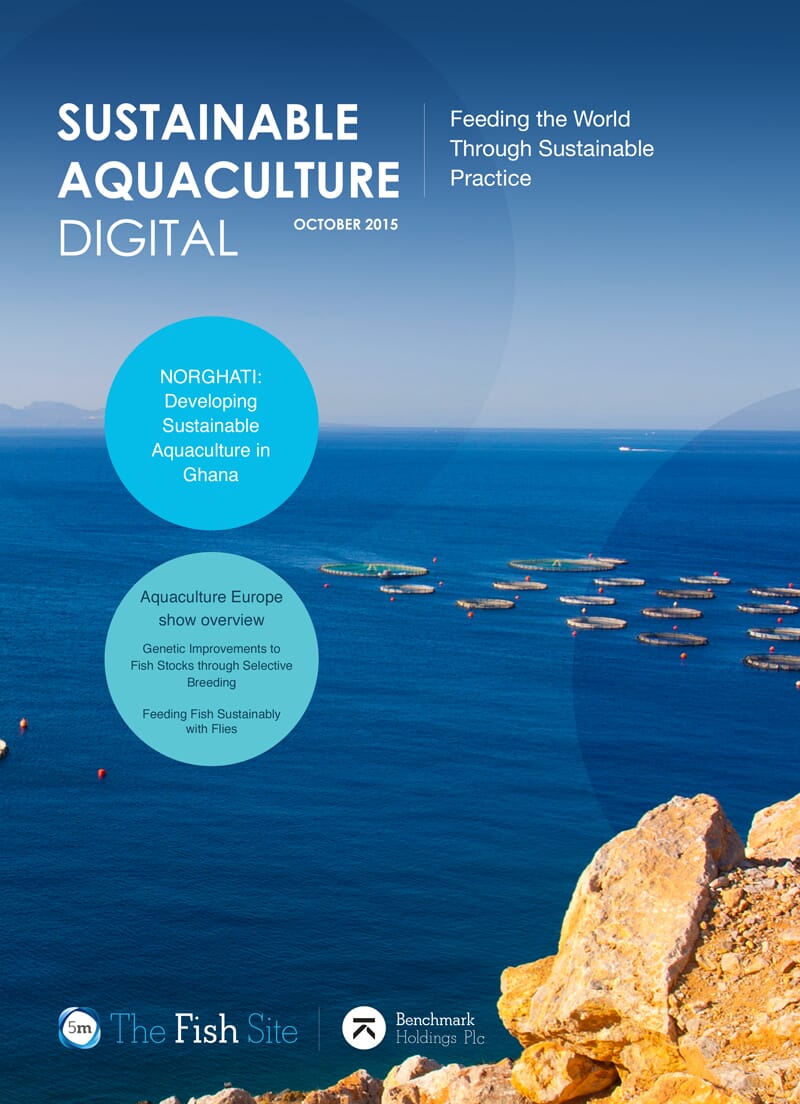 This article was taken from the October 2015 Sustainable Aquaculture Digital. To sign up for the February 2016 edition, please click here.