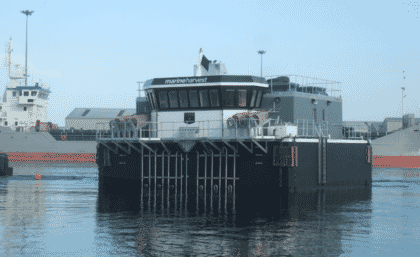 The deal marks a milestone moment for the Group, making it their largest ever single order and further endorses the company's strong position as a leading Scottish manufacturer and supplier to the aquaculture industry.
In announcing the news, Gael Force Group MD Stewart Graham said, " …..in the face of tough competition we are delighted to be favoured with this order from Marine Harvest. We are now building our 80th Feed Barge for the industry, and have been proud to supply all of the main Scottish Salmon producers including many previous barges for Marine Harvest. As a direct consequence of the success of Scottish Salmon we have created many new jobs this year and will continue to recruit on the back of this order. We are grateful to Marine Harvest for placing their order and their trust in Gael Force as a leading Scottish fish farming supplier…".
Graham adds, " it can and should be recognised that when all of the stakeholders in our industry, including producers, planners and regulators, work together then we can grow together. It is essential that our regulators take an enabling and proportionate approach to supporting the development of the great Scottish success story that Salmon is. There are huge positive benefits to the wider rural economy and its communities and this order is a great example of that positive impact on the Highland economy. We trust that all necessary support will be given to support the further development of our industry in line with our strategy out to 2030".
It is not the first time Gael Force has supplied Marine Harvest Scotland with 400T Feed Barges – among other barges previously supplied they took delivery of two 400T SeaMates at their Muck and Colonsay sites which have proven to be extremely effective, with excellent sea keeping characteristics in extreme weather conditions. Constructed to house 400T nominal feed capacity in six silos, the SeaMate is designed to be sufficiently robust to withstand all reasonably anticipated load combinations and be durable to provide a long, low maintenance service life in the severe marine environment. Additionally due to the design and construction of the SeaMate feed barges where the bulk of the silo capacity of the barge is below the waterline, this creates a very small visual footprint and high levels of noise suppression above and below the water due to the concrete structure whose walls are 300mm thick. A number of energy saving initiatives are also being looked at, which include the use of LED lighting and trickle charging from small wind turbines.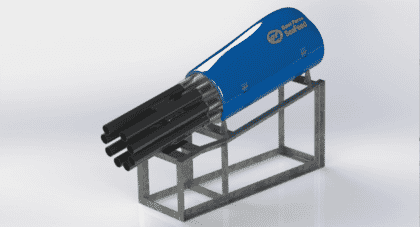 SeaFeed system
Feed delivery from the barges will come via Gael Force's recently developed offshore feeding system, SeaFeed, a robust and reliable system which offers operators a simple and intuitive, but user configurable control software to accurately deliver feed in an energy efficient manner, with low noise output and reduced maintenance requirements. Farm operator safety and prevention of water ingress are an integral part of SeaFeed's selector design and there is an emphasis on ensuring the integrity of the barge, with a watertight "homing" position which the swan neck delivery pipe defaults to when not feeding, or when a pipe becomes detached. SeaFeed's user friendly software is simply and clearly presented, and offers accurate environmental and feed pattern logging, amongst other great features.
The initial three barge order also has options for Marine Harvest to commission further barge construction with Gael Force and allows standardisation of the new site locations that are currently being proposed and developed by Marine Harvest.
New jobs at Gael Force
The initial order will enable the creation of around 20 new jobs at the Group, adding to the 43 staff that have already joined the company this year, and a doubling of capacity at their Inverness based manufacturing facility which will also assist in accommodating an increased programme of barge builds over the coming two years that also has also included barge build capacity for other Scottish Salmon producers. Gael Force also anticipates that a minimum of another twelve jobs will be created in the Group's own supply chain and the wider rural Highland economy.
AquaNor
Gael Force Group are currently attending Aqua Nor; the aquaculture industry's most prestigious exhibition in Trondheim, Norway, where visitors are being treated to a physical demonstrations of SeaFeed, in addition to their Pen Technology offerings, including SeaSight Underwater Cameras, SeaLight Underwater Lights and SeaGuard Seal Deterrents.