Although populations of the four species of Asian carps (bighead, silver, grass and black) are established in the US – where their voracious appetites and ability to out-compete native species has been well documented – only 25 individuals have been captured in Canada to date.
The Government is investing the money over five years in Canada's Asian Carp Program to continue prevention efforts through early warning surveillance, partnering and outreach activities. This funding will allow Fisheries and Oceans Canada to expand the Asian Carp Program to increase protection of the Great Lakes and the fisheries they support.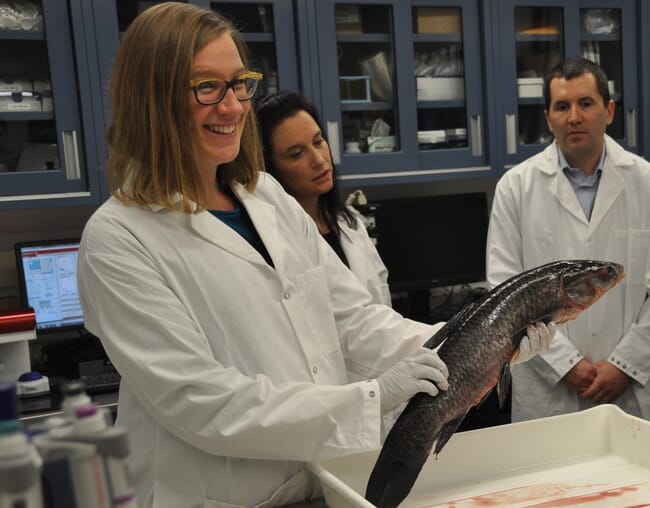 "Our government is committed to protecting the health of Canada's waterways, marine ecosystems, and our multi-billion dollar recreational and commercial fisheries from the threat of aquatic invasive species," said Dominic LeBlanc, Minister of Fisheries, Oceans and the Canadian Coast Guard. "I am pleased to announce this investment towards combatting aquatic invasive species that will both strengthen our Asian Carp Program and improve and protect the health of Canada's freshwater resources for generations to come."
Asian carps are among the top aquatic invasive species being monitored for their potential establishment in the Great Lakes. Already established in the Mississippi River basin in the United States, aggressively compete with native fishes for food and habitat, and have quickly become the dominant species. Risk assessments conducted by Canada and the US show that the Great Lakes contains enough food and adequate habitat for bighead, silver and grass carps – which can consume 40 percent of their own bodyweight in vegetation in a single day – to support an invasion and establishment.
The Canadian government added that it will continue to work closely with provincial and US counterparts to support prevention and control activities, provide scientific support and expertise designed to prevent the introduction and spread of aquatic invasive species.