From small fry to big fish: the end of salmon crofting in Shetland
Over a few short decades, the shape of Shetland's salmon aquaculture sector went from small-scale crofting by prosperous local heroes to corporate mega-business. Tom Morton surveys the industry landscape now after the boom-and-bust years of a decade ago.
Last year's announcement that Cooke Aquaculture had acquired Shetland's last independent salmon farming operation, Balta Island Seafare, brought to an end a dream born in the late 1960s: a dream of individual crofter-aquaculturalists throughout the isles adding to their income portfolios with a cage or two down in the voe, by the kale patch and the sheep fank.
Now the 'big three' – Cooke, Scottish Sea Farms and Grieg – run Scotland's most productive salmon farming region, which accounts for 30 percent of the national output. In the USA the trend towards backyard aquaponics is seeing the development of DIY farming of a number of fish species, including salmon. But from a Shetland point of view it all seems a little fantastical when you take in the sheer scale of the industry today.
A quick canter through the history of Shetland aquaculture – and a full, official history is being worked on under the auspices of what was the Shetland Salmon Farmers' Association and is now Shetland Aquaculture – quickly reveals all kinds of fascinating and, at times, scandalous tales. But the oft-told story of exactly how profitable the industry was in the early 1990s, and how annual Christmas bonuses for one company's workers included brand new Audis is essentially true. It indicates an inevitable pathway of development: small farms merge or sell out to local ownership, expand, profit, diversify, face slump, then crisis, then self-destruction, leaving capable, deep-pocketed multinationals to pick up the pieces. Or to be precise the sites, staff and hardware.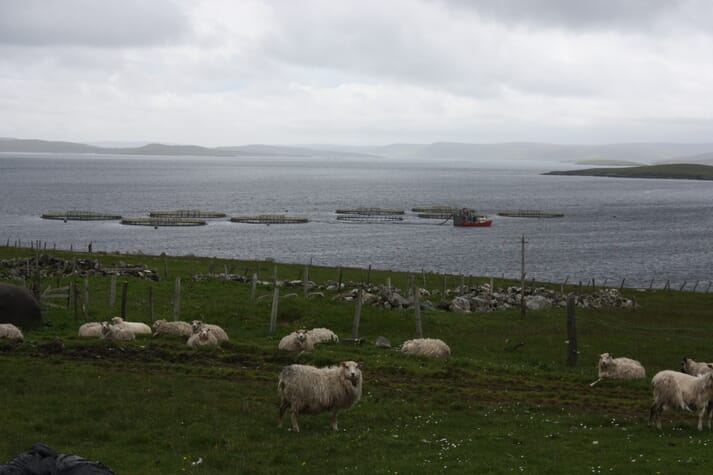 Figures and firms from the past loom large still: in Sandwick the facilities of the organic cod farming project – the venture begun by local firm Johnson Seafarms which went belly-up around a decade ago under the tenure of 'No Catch', despite £30 million of City finance – are now being run by FAI Aquaculture as a lumpfish hatchery. And the Shetland Seafood Group (SSG's) demise in December 2003 marked the beginning of the end for local fish farm ownership, despite desperate attempts by the local council via the Shetland Development Trust to save it.
Veteran councillor Drew Ratter, a former chairman of the Crofting Commission said: "SSG failed because we could not hold our nerve long enough to get through the low price period. And the Norwegians could and did. And what remains has been profitable ever since."
Other companies sometimes benefitted from the occasional casual distribution of financial aid by the local enterprise company, and, as Shetland Islands Council's retired fisheries development officer Ertie Nicolson remembers, the granting of works licences for new farms without any proper enforcement of conditions.
"The whole system was tidied up – there have to be laws out there, the sea belongs to everybody, it does not belong to the salmon farmer," Nicolson told the Shetland Times.
Of course, it was the Zetland County Council (ZCC) Act of 1974 that gave the council that authority over coastal developments, and a level of control unthinkable elsewhere in Scotland. Originally intended to provide safe supervision of local oil-related developments – and masterminded by the late Jo Grimond MP – it stated in one section:
"The Council may upon such terms and conditions as Licensing of they think fit grant to any person a licence to construct, place, works, maintain, alter, renew or extend any works on, under or over tidal waters or tidal land below the level of high water in the coastal area notwithstanding any interference with public rights of navigation or other public rights by such works as constructed, placed, maintained, altered, renewed or extended."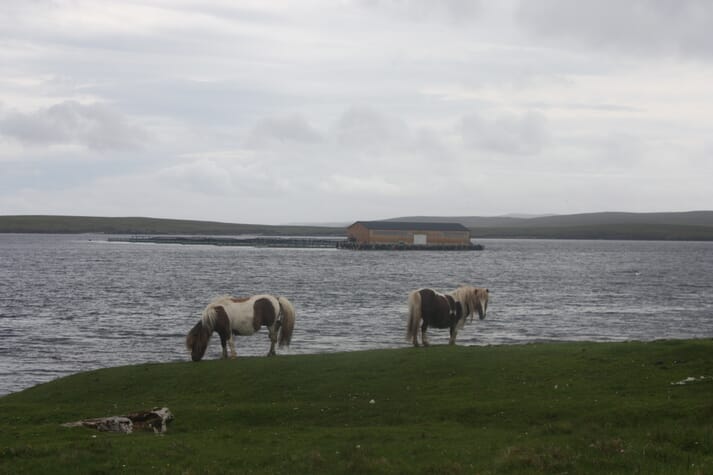 Sites were temporary, not owned by the aquaculture firms, and controlled in the end by the council. The ZCC Act in turn informed, and was to some extent usurped by, the Marine (Scotland) Act 2010 – which many in Shetland see as part of a process of Holyrood centralisation. Under Town and Country Planning legislation, more control has slipped away, with companies able to retain sites in perpetuity. The ZCC Act also served to drive forward early local developments and energise the aquaculture industry, as well ensuring, as Mr Nicolson says, that standards were, for the most part, kept high – or at least under local oversight.
Oddly, the first aquacultural proposals in Shetland, more than 40 years ago, were for mussel farming, and today of course, that is a major, largely locally-owned, success story with Shetland Mussels Ltd and Blueshell both major suppliers of the molluscs across the world. Shetland Mussels is a family business, and it was owner and director Lollie Tait whose pioneering work in small-scale salmon farming led to expansion, a trial with bivalve molluscs and an eventual switch entirely away from salmon.
And so Shetland aquaculture continues to thrive, remaining crucial to the local economy. The investment of the major operators is now combining with the local expertise and industry links of the NAFC Marine Centre, the extensive infrastructure provided by support companies like Ocean Kinetics, and the involvement of companies such as FAI in cleanerfish deployment.
That long-ago vision of the crofter/fish farmer has gone. Unless there's anyone with a very large fishtank in their house pioneering DIY hobby aquaponics and plotting to market their system worldwide.
In Shetland, that wouldn't be surprising.