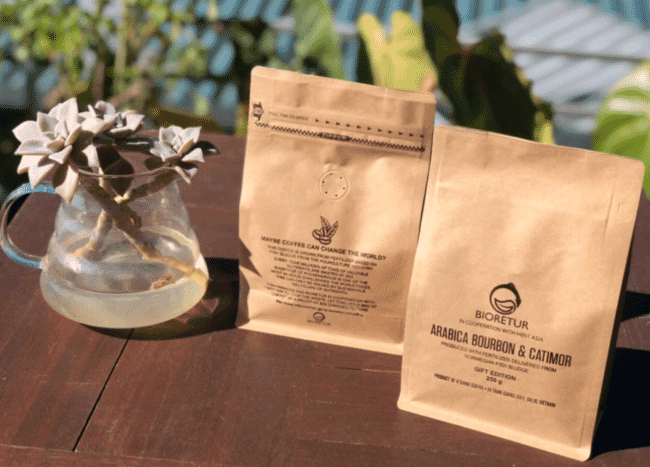 Erko Settefisk, which farms salmon and trout in the Norwegian town of Stord, has been working with Bioretur to upcycle its fish waste for a variety of uses, including fertiliser.
"Our solution brings the sludge back to the system safely and efficiently," says Steinar Wasmuth, CEO of Bioretur, who sends the sludge to be processed in Stavanger, before it is sent on to Vietnam.
"The arrangement is perfect for us. We produce a lot of high-quality fish, but the farm also creates fish sludge consisting of leftover feed and faeces from the fish. This water must be purified. We are subject to strict requirements from the authorities for of how we handle the fish sludge," says Rune Sandvik, general manager of Erko Settefisk.
When they opened the facility in 2015, they were very concerned with doing everything right in relation to climate and the environment. The agreement the company has with Bioretur means that they assume responsibility for properly handling the waste.
"We are immensely proud of what we have achieved. We know that we are well within the environmental requirements. We help make the industry even more sustainable. It is good to know that the waste is part of a journey, ultimately part of a climate-friendly production. In this way, we contribute to a lasting green shift," says Sandvik.
Vietnam needs phosphorus
According to Bioretur, extensive over-consumption of fertilisers has led to the depletion of soil in Vietnam. More phosphorus is produced from waste in Norway than the country can utilise in its agriculture, and there is relatively little interest in recycling organic material. In Vietnam, phosphorous-rich fish sludge is used as an organic fertiliser.
"The fertiliser is sent to Vietnam because they have a great need and demand for it. The ability to pay is low, so the solution is to export more sludge to get scale and profitability gradually," says Bioretur's marketing and communications manager, Hermund Ramsøy.
Fish farmers can focus
"Bioretur takes responsibility for the customer's sludge, right from the brownish water enters the facility on site. We take responsibility for the operation of the plant before the dried material is shipped. Even though Bioretur provides sustainable and long-distance transport, the fish farmers do not pay more than they would have done by depositing the sludge elsewhere. We also take care of reporting to the authorities. Thus, customers can concentrate on their core business, to produce good fish," says Wasmuth.
The sludge cycle
The sludge travels from Stord, to Stavanger, to Vietnam, before returning as - for example - coffee.
"We send all the fish sludge from Bioretur to Vietnam after processing in Stavanger, says Torleiv Næss Ugland, CEO of Høst Verdien in Avfall, which processes the waste.
"The dried sludge is mixed with other raw materials, and pellets are produced with various recipes, specially designed for tropical agriculture. The fertiliser is sent to Vietnam, where our people ensure the delivery quality repackage it in 25 kg bags for our customers all over Vietnam. We have a very skilled team in Vietnam with researchers, logistics workers and sales staff who run consulting right down to the village level. The organic fertiliser is then used to produce various tropical fruits, coffee, rice and rubber," Ugland adds.