The prize was collected by CEO, Christophe Vasseur, who pipped a dozen other start-ups to the post, following three sessions of pitches over the two-day event.
Inalve, which established a 10-tonne per annum pilot production facility in the south of France this year, plans to produce both a protein-rich algae meal, which he projects can be sold for a price comparable to fishmeal, at around $1,500 per tonne, and "an algae boost, for providing health and providing growth for the animals", which will be launched at $20,000 per tonne. Vasseur outlined that this "very low environmental footprint" greenhouse-based production system will "change the way we grow microalgae".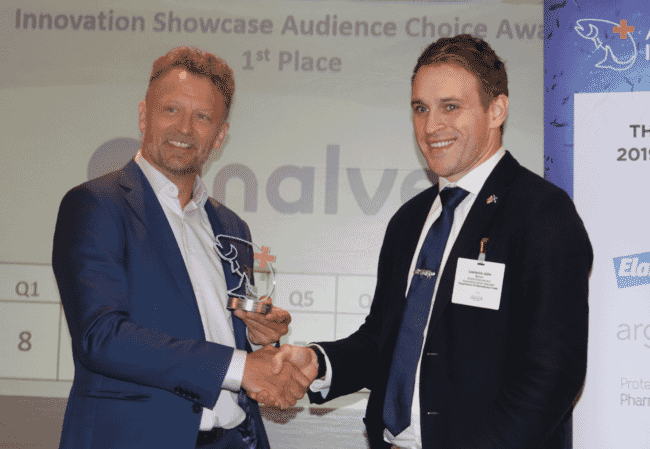 He also claimed to have advantages over insect and other plant-based proteins, due to their algal meal having 95 percent digestibility, and noted that "in the last three years we have won more than 10 innovation prizes", including recognition from livestock feed giants Cargill and Nutreco. Other elements he highlighted were "a very successful proof of concept" and the fact that they had managed to raise €3 million in private investment over three years. Currently building a plant in the south of France, the company aims to launch the first product on the market in 2020.
The award was decided by the 120-strong delegates at the London gathering, who were given the chance to award a mark out of ten for seven different aspects of each pitch. These ranged from evaluating the commercial demand for each product, to the originality of the concept, to the quality of the teams each start-up had assembled.
Inalve narrowly defeated Stavanger-based Fishency Innovations, which has developed an automated, continuous means counting sea lice called the SmartFunnel. Founder Flavie Gohin told delegates at the event how the device was already able to count lice on over 100 salmon a day, that Norway's second biggest salmon producer was planning on using the device, and that the company had recently secured NOK 3 million in funding from Link Venture Capital.
Meanwhile, Observe Technologies, which uses artificial intelligence to reduce the biggest costs on fish farms, from feeding to health, came in third place. Their system, explained co-founder and CEO Hemang Rishi, is already in use in 300 salmon farm pens in four different countries.