Total Peruvian landings were seven million tonnes in 2009, a six per cent decline from 2008. Capture production for reduction was 5.8 million tonnes, which compares with 6.2 million tonnes in 2008. Lower landings resulted in lower fishmeal output: some 1.34 million tonnes of fishmeal were produced in Peru during 2009, which was five per cent less than in the previous year. Exports were relatively stable at 1.54 million tonnes, as some stocks from 2008 were exported only in early 2009, when demand in China was strong.
Exports
Fishmeal: Peru

.
2004
2005
2006
2007
2008
2009

1000 tonnes

China
813.0
1049.4
535.2
555.2
831.9
753.9
Germany
153.1
235.9
208.9
166.0
191.9
269.1
Japan
197.0
170.2
174.0
149.7
148.1
117.1
Taiwan
PC
83.0
84.0
57.1
39.3
46.8
61.4
Viet Nam
NA
NA
NA
NA
63.1
62.5
UK
NA
NA
NA
NA
22.7
54.4
Others
508.9
461.9
338.4
349.1
259.5
335.7
Total
1755.0
2001.4
1313.6
1259.3
1564.0
1537.2
Peru's fishmeal production for 2010 has been estimated at 1.40 million tonnes, about the same as 2009, while exports are expected to decline slightly to 1.3 million tonnes. There is a great deal of uncertainty in Peru about the final figure for the fishing quota for next season, which will begin in late April or early May. It is speculated that the quota may be reduced by about 500,000 tonnes compared with the 2009 quota, which will result in lower availablity of about 125,000 tonnes of fishmeal in the market. A stronger than expected El Niño is likely to impact the anchovy resource, resulting in a lower quota this year.

China continues to be the main market for Peruvian fishmeal, with about half of Peruvian fishmeal exports going to this market. China imported slightly less in 2009 than in 2008, but that year had been an exceptionally strong year. German imports of Peruvian fishmeal increased by 50 per cent, probably in expectation of even higher prices in 2010. In a relatively new development, Viet Nam is now strongly represented as an importer of fishmeal from Peru. Fishmeal is in high demand as raw material for the growing shrimp feed industry in Viet Nam.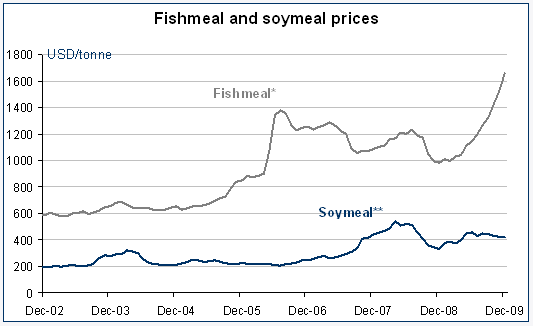 Chilean fishmeal industry destroyed by earthquake
The most significant news at the moment in the fishmeal industry is the amount of damage to the fishmeal industry in Chile, caused by the recent earthquake. As most of the industry is based around Concepción, the epicentre of the earthquake, damage to the industry is substantial. First estimates suggest a shortage of 200 000 tonnes in production and exports. This will cause an increase in demand from Peru, resulting overall in higher prices.

Fishmeal prices in China have been climbing up in the opening months of 2010, reaching a record high of US$ 1.900/tonne in March 2010. At present stocks in Chinese ports are 94,000 tonnes, which is one of the lowest levels reported. Bearing this in mind, fishmeal prices are bound to increase even higher in coming months.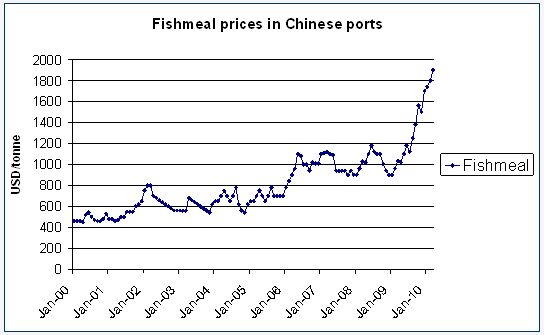 April 2010