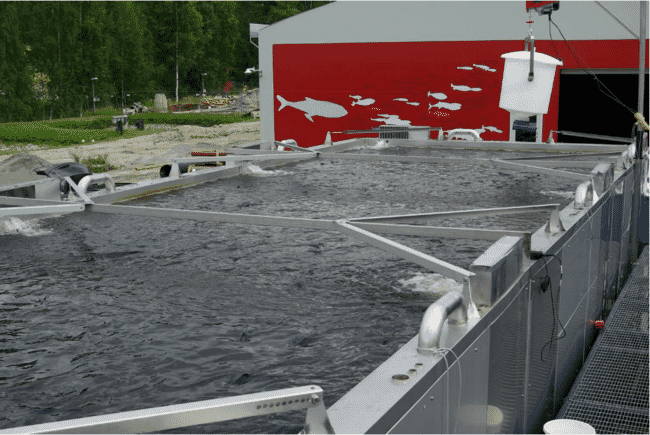 This was almost two million kilos more than in the previous year and is the largest production volume since the end of the 1990s. The value was up by nearly €23 million from 2021 in real terms, according to the latest aquaculture statistics complied by the Natural Resources Institute Finland (Luke).

A total of 15,300 tonnes of rainbow trout were produced for food, almost 2,000 more than in the previous year. European whitefish (800 tonnes) and other species (200 tonnes) made up the remainder of the total.
Of all food fish, 43 per cent, or almost 700 tonnes, were farmed in the Åland Islands.
"Production in the Åland Islands increased by slightly more than a million kilos from the previous year. This means that it returned to the level preceding the hemorrhagic septicemia infections of 2021. In Mainland Finland, some six million kilos of food fish were produced in sea water and slightly more than three million kilos in fresh water. Production concentrated on the Archipelago Sea and the Satakunta region in coastal areas, and in Savonia, Kainuu and Lapland in Mainland Finland. Recirculating aquaculture systems produced 1.3 million kilos of food fish," said Pirkko Söderkultalahti, senior statistician at Luke.
Hatchery production
Fish fry are stocked in natural waterbodies to strengthen fish populations. Fish farmers produced some 18 million European whitefish fry, 5.3 million pikeperch fry, two million salmon fry, and almost two million trout fry in 2022. European whitefish and pikeperch fry were delivered for stocking as small individuals of less than 20 grams and aged one summer, while salmon and trout fry were delivered as larger individuals. In addition to these species, grayling, pike and arctic char fry were produced for stocking.
In 2022, according to the report, the number of fry produced for stocking was at the previous years' level, but smaller than in the early 2000s. The production volume has been affected by a decrease in fish stocking and changes in stocking policies, a decrease in the number of fry producers, and the strengthening of natural fish populations of certain species, including pikeperch.
For the production of fish for food, 18 million rainbow trout fry and 2.3 million European whitefish fry were farmed. The number of rainbow trout fry decreased by two million from the previous year, while the number of European whitefish fry delivered for further farming increased. The decrease in rainbow trout fry can be explained by the end of fry exports to Russia after the invasion of the Ukraine at the beginning of 2022.
Fewer, more productive farms
Last year, there were 219 fish farming enterprises, of which three quarters operated in inland waters and one quarter in sea areas. The number of enterprises has decreased steadily since 2006 when the corresponding figure was almost 400, the report reveals.