Novel means of improving shrimp health – including the use of alternative feed ingredients – are due to be the subject of a short, free webinar taking place on 10 November.
Organised by The Fish Site and Calysta, the event has been inspired by trials that suggest the latter's FeedKind protein can improve shrimp resistance to early mortality syndrome (EMS), also known as acute hepatopancreatic necrosis disease (AHPND).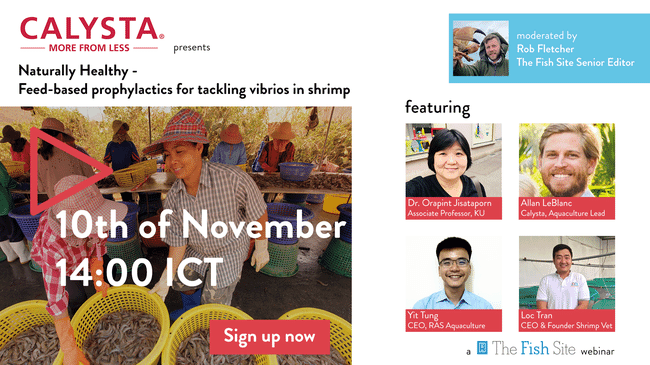 Caused by Vibrio parahaemolyticus bacteria, EMS/AHPND is one of the major bacterial challenges facing the global shrimp aquaculture sector and there are currently few effective treatments for this disease, other than antibiotics – which are unpopular with consumers and unsustainable in the long term.

However, trials undertaken by researchers at Kasetsart University, in Thailand, showed that shrimp fed diets in which over a third of the fishmeal content was replaced by FeedKind showed significantly higher survival rates when challenged by Vibrio parahaemolyticus.
While FeedKind is not yet available in commercial quantities, Calysta are in the process of building a 20,000-tonne capacity FeedKind facility in China. So, should the recent results be replicated in the field, there is hope that it could help safeguard shrimp from this disease.
Whether this is likely to be the case will be one of the key components of the new webinar, which will feature contributions from Dr Orapint Jintasataporn, associate aquaculture professor at Kasetsart University, who led the recent trials; Dr Loc Tran, CEO of ShimpVet; Yit Tung, co-founder and CEO of RAS Aquaculture; and Allan LeBlanc, vice-president of Calysta.
Taking place at 14.00 ICT / 8am CET / 7am GMT the event will last one hour and is free to attend. Please register here.