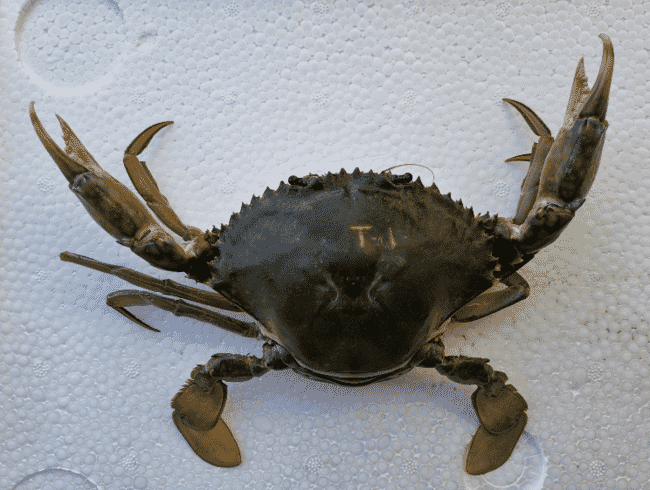 "It was reported that the crablets caused huge losses for the farmers because of their very low survival. A few survived but they produced low quality market-sized crabs that ended up being sold for a very cheap price," Joana Joy Huervana, commodity leader for crabs at SEAFDEC/AQD explained in a news release.

"We presumed it to be Scylla paramamosain or green crab (known locally as intsik-intsik in Capiz and tisay in Luzon). This crab is not commonly found in the Philippines," Huervana said.
She added the import of this species can pose threats to local stocks and farms, as they could be carrying diseases and other contaminants. She said farmers must be more vigilant, especially when importing stocks from foreign suppliers, to ensure these are properly documented and follow import protocols.
Huervana admitted that visual identification of crab seeds is difficult, especially during the juvenile stages of crabs.
"Visual differences are easily distinguished when the crablets are about the same size as matchboxes and sometimes, we do not have the luxury of the time to wait for all crablets to grow into that required size," she added.
As a result she suggested the use of Crabifier, a free smartphone app developed at the De La Salle University in Manila, which may help identify mangrove crabs at early juvenile stage using image analysis.
Moreover, she stressed that sourcing crab seeds from trusted and reliable suppliers are still the best way to ensure the quality and identity of juvenile crabs.
SEAFDEC/AQD operates one of the country's few king crab hatcheries in Tigbauan, Iloilo. It is mainly as a research facility with excess yields sold to farmers.
However, SEAFDEC/AQD reported that there is at least one crab seller falsely posing as an agent for SEAFDEC in Luzon.
"We want to take this opportunity to inform the public that SEAFDEC does not have authorized resellers of crablets or any hatchery seedstocks for that matter," said Huervana.