Sponsor message
New 100% online training course from FishVet Group and Benchmark Knowledge Services on The Health and Welfare of Atlantic Salmon
Julie Hesketh-Laird, the new chief executive of the Scottish Salmon Producer's Organisation shares her first impressions of the country's salmon sector and how she plans to help it to evolve.
After a decade in the job, Scott Landsburgh handed over the role of chief executive of the Scottish Salmon Producer's Organisation (SSPO) to Julie Hesketh-Laird in April. She is excited to represent the producers of the UK's most valuable food export, a natural fit after representing the producers of the UK's most valuable drink expert – whisky – for a dozen years, most recently serving as chief executive of the Scotch Whisky Association. And she's relishing the challenges presented by her new role.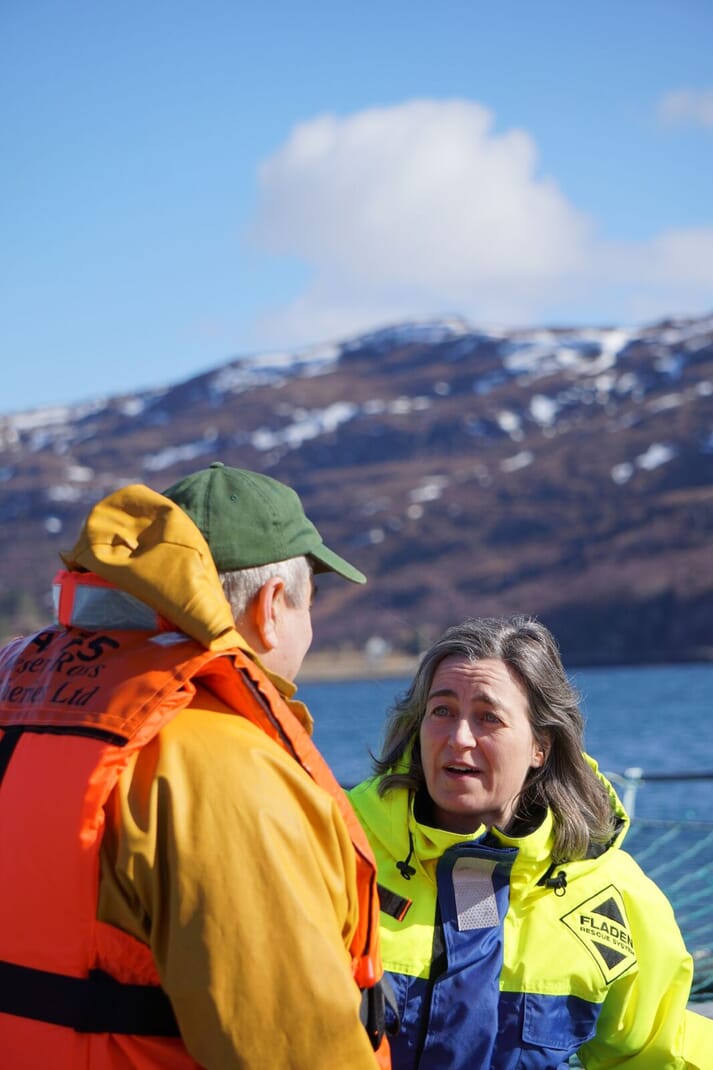 "I'd been in the whisky industry a good 12 years and saw the challenges that the salmon industry was beginning to go through and I like the challenge of the salmon industry," she explains.
Since joining she has been very impressed by what she has seen and the people she's met, both those involved in the PO and those from the wider industry.
"I've now met all the members of the board – that's been great. It's a good bunch of really committed people and I've met quite a few of their teams too," she reflects.
And she has enjoyed the opportunity to explore the geography of the sector more widely.
"I've been out to the north of Scotland and the west coast to meet some people and fish. The very first trip was out to Shetland which was just superb. I was looked after really well by the farmers and met the vets too. I'd heard about the industry investing and to see with my own eyes the facilities they're putting in there was fantastic," she reflects.
Her first encounters with the industry have been very favourable, not least due to the enthusiasm of its practitioners.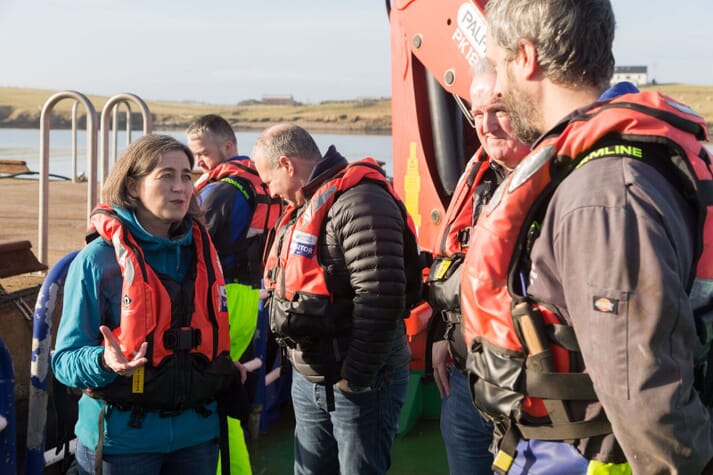 "I was told I would love the industry, it's quite tucked away, but when you get out there and see it it's exciting, it's innovative and it's very professional. The whisky industry talks a lot about passionate people; in salmon I've found the same degree of commitment. I've also met so many specialists – particularly in fish health and veterinary backgrounds, who really know their stuff and care about the environment," she explains.
A triumph of diversity
She has also been very impressed by the level of female involvement.
"I've been struck by the number of women in senior technical roles within the industry," she says. "What I see on the ground is some really strong female talent out there at all sorts of levels. I've met so many senior women – we recently had a meeting of fish-health experts in the office and there were perhaps slightly more women than men in the room.
"Having come from traditional industries in food and drink and chemicals, that was unusual. And it's not just in traditional HR and communications roles where women have made good inroads – it's the technical roles, and I've also seen women getting their hands wet and their hair wet out on the fish farms too. We're seeing women doing a whole variety of different jobs very, very capably."
As a result, she was delighted to be taking part in the inaugural Women in Aquaculture breakfast event during Aquaculture UK.
"Initiatives like this, which shine a light on the talent that's out there, can only help," she explains.
Top priorities
As for her own priorities, Julie's initial thoughts concern the need to represent the PO's members to the best of her abilities.
"It's still early days for me, so a clear priority is to get out and meet our members and understand their ambitions, but I want the organisation and representation of the industry to match the quality of the product," she explains.
She is also intent on ensuring that the sector is more proactive in promoting itself.
"It's a brilliant industry that could do with getting its case better heard, both with the media and with consumers – it's an industry that Scotland can and should be proud of," she observes.
However, she feels that some of the sector's opponents are perhaps more effective at disseminating their criticisms.
The Health and Welfare of Atlantic Salmon course
It is vital that fish farm operatives who are responsible for farmed fish are trained in their health and welfare. This will help to ensure that fish are free from disease and suffering whilst at the same time promote good productivity and comply with legislation.
Find out more
"It's up to the industry to make its points and make these more visible to consumers and to people with an interest in salmon. It's our responsibility to do that now," she says. "Let's not leave it to chance or for others to manage our reputation for us."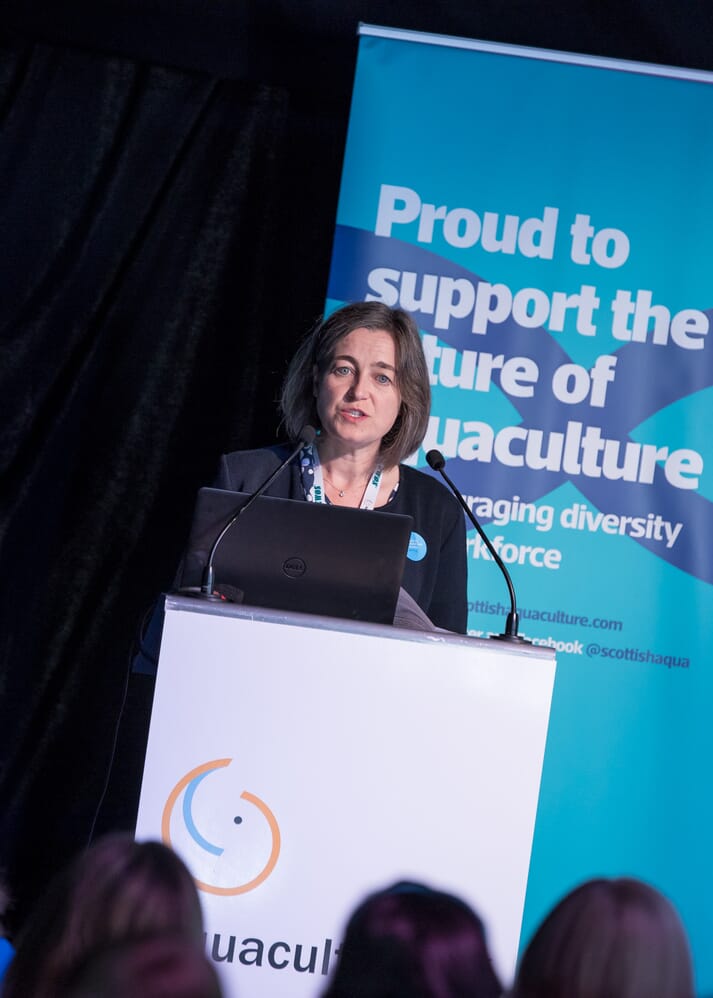 And she believes that her experience in Scotch will stand her in good stead when it comes to countering criticisms.
"In whisky there was plenty of concern from environmentalists and people concerned with [human] health; the whisky industry dealt with those issues head on," she explains.
Ramping up representation
Six of the seven major salmon producers currently operating in Scotland are already SSPO members and confirmation this week that a new player – Organic Sea Harvest (OSH) – has had approval granted for two new sites off Skye has inspired a hope that a seventh company could soon be in the fold.
"My colleagues have been [in talks with OSH] – I'm so new in the post that I've not met the owners yet but I'd very much like them to join," she says. "It would be fantastic if we could be entirely representative of the whole industry – I don't think any association in any sector can claim that, and it would be great if we could have the SSPO in that position – not least because it makes my job easier to have the entire industry on board."
Either way, she adds, the news of the new arrival has been a huge positive for the industry as a whole.
"The arrival of a new entrant is great news for the industry and shows that there's long-term confidence from people with money to invest in sustainable farming," she says.
To achieve a clean sweep of all the marine salmon producers, the PO would also need to bring Grieg Seafood Shetland back onboard, following the expulsion from the organisation in 2014 for importing smolts from Norway without putting them into quarantine. Although the practice was legally sound, it contravened the SSPO's own code of good practice.
In the past Grieg have been ambivalent about returning to the SSPO, but there are indications that relations are thawing – a process the new chief is keen to speed up.
"We've also been speaking to Grieg up in Shetland, I'd personally like the SSPO to be as representative as it can possible be and I'll be speaking to both companies early doors to ensure they can meet the requirements of the SSPO and, if they can, I'll welcome them in," she reflects.
Political challenges
The ongoing parliamentary enquiry into the industry will also be a major concern for the new chief executive, but she admits that – being new to the role – she is happy to defer to the technical knowledge of those who have been involved for longer.
"We need to put someone with the right level of knowledge to talk to the parliamentarians, so we're putting together an SSPO team to meet those requirements," she explains.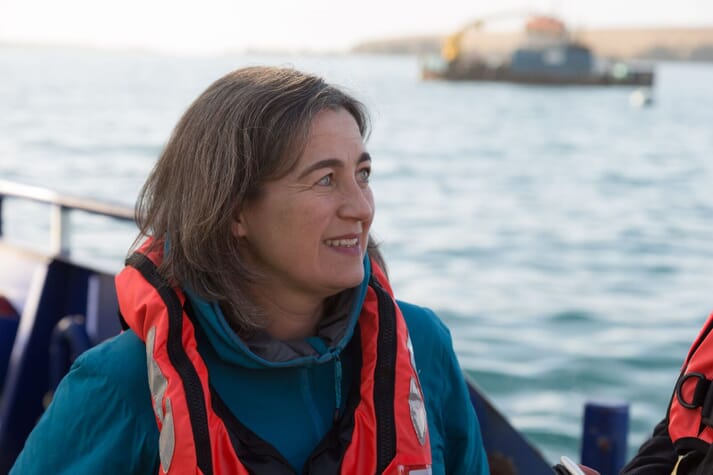 The outcome of the second report is still to be decided, but she admits that the first report aroused mixed feelings in the sector.
"The core takeaway from the environment report is the underlying support from the Environment Committee for salmon farming and I think that's a really good building block to start with," she explains, "but I won't deny that there's disappointment around some of the conclusions of the report in areas where we perceive there's been huge progress made. We're an enormously changed industry since the last report came out in 2002 and the environment has changed hugely too.
"I'd have like to have seen more of that come out in the report but we're only partway through the process now and the Rural Affairs Committee's next stage gives an opportunity for the industry to really set out what has changed since 2002. We can walk the committee through the innovation, the R&D, the investment and the change in attitude from the industry – to one of greater transparency and data sharing. There's also been the advent of SAIC [the Scottish Aquaculture Innovation Centre] – the money that now flows into R&D is unprecedented and we'll go into the second stage with a suite of balanced views which we hope can better inform the parliamentarians that are drafting the final report," she continues.
And, despite some possible pitfalls, she feels that political support for the industry is solid.
"We get really good support from Scottish government. Nicola Sturgeon was in China recently talking up the opportunity in that market for salmon – China's the third largest export market for Scottish salmon; £68 million worth of product goes out there. I was thrilled to hear Scotland's First Minister on an overseas platform talking up an indigenous industry and it's good that she's proud of us," she explains.
Although she feels the political climate is broadly supportive of the salmon sector, she suspects that the industry's goals to double to value of production to £3.6 billion a year by 2030 are probably more useful for generating debate and stimulating growth than actually being a realistic target to aspire to.
"It's ambition that keeps an industry moving, that stimulates conversation and debate, so I think it's good we have a stretching target, but no matter what number the industry came up with it's the overall direction of travel that's been set by that target that's important," she explains.
This interview was originally published in the Aquaculture UK 2018 showguide.