Trade of shrimp in EU shrinks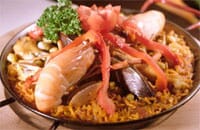 Prices of shrimp continue to be low, and are expected to stay that way, given the weak demand in all main markets. The downturn of the market happens in a period of the year, which is normally the main purchasing period. Therefore buying interest looks better than it is in reality.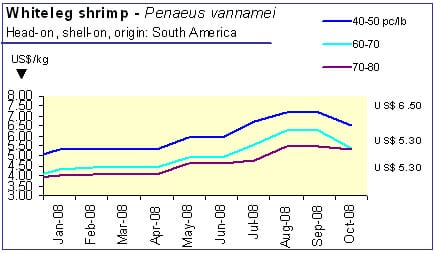 Ecuador becomes predominant in EU market
Ecuador and Greenland shared the lead among top suppliers to the European Union, with respectively 10% market shares of total EU-27 shrimp imports each, although in two different segments of the market. Denmark and India took the third and fourth positions with 8% and 7% market shares.

Ecuador was only third supplier to the European market last year, but managed to increase by 15% the volume of its exports to this region. 93% of Ecuadorian exports to the EU were in frozen whole form. On the other hand, almost the whole of Greenland coldwater shrimp exports (32 500 tonnes) was intended for Denmark and mainly for processing (65% was exported in whole frozen form and 35% in processed form)

Total Spanish shrimp imports plummeted compared to the same period last year (-21%) due to a drop of 50% in the availability of Pleoticus muelleri from Argentina coupled with slightly lower volumes of Chinese origin. The boom of Ecuadorian products in Spain (+15%) was not sufficient to counterbalance the reduction of availability from other origins. Official landing figures from Argentine authorities show a striking 66% decrease for the period January-May 2008 compared to the same period last year, from 21 200 tonnes in 2007 to 7 000 tonnes in 2008. Generally, warmwater shrimp prices have been decreasing since September although production costs remain high.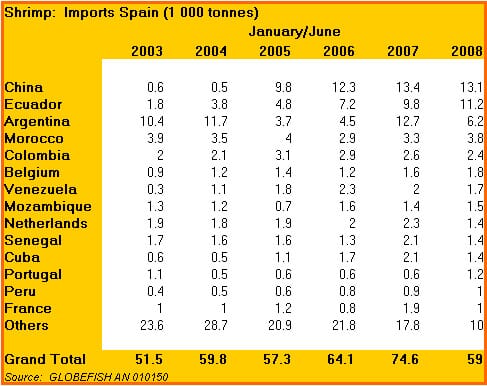 As with Spain, Italy registered a sharp drop in its shrimp imports during the first half of 2008 (-13% on last year figures) with only 28 500 tonnes. Argentine imports were only of 1 900 tonnes against 3 600 tonnes last year. Ecuador remained a strong top supplier to the Italian market, accounting for almost one third of total Italian imports.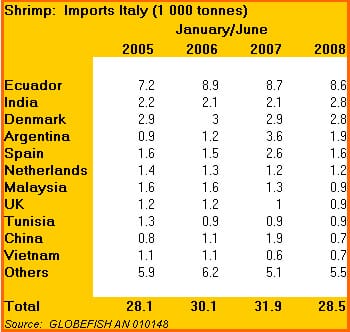 Demand continues to expand in France, including for expensive products
France was the only country where there was continuing demand for shrimp, with 46 000 tonnes imported in January-June 2008. Ecuador had a predominant position on the French market (20% market shares of total French imports) consolidated further with a 40% increase on last year figures.

However, it is interesting to note that apart from vannamei (average unit value: € 3.30/kg), the French market supports higher-price products such as black tiger from India (average unit value: € 4.52/kg) and wild shrimp from Madagascar (average unit value: € 8.27/kg). Notwithstanding the economic slow down, consumers continue to be mindful of quality issues and to show interest for expensive products. Madagascar increased its exports to France by 30% compared to last year.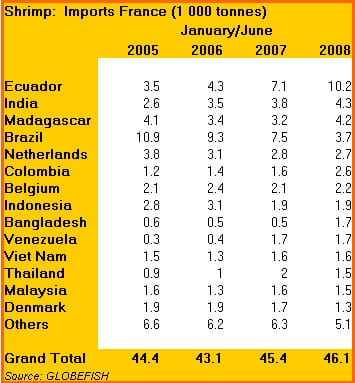 In August, Madagascan shrimp, through Gel-Pêche, received the certification from "Friend of the Sea" for sustainable seafood. This label is awarded for no over-exploitation, reduction of by-catch, and respect of the environment. In the future, imports from Madagascar may increase further.

Regarding sustainability, the Bangladeshi government has recently drafted a new policy aimed at expanding the shrimp industry in a sustainable way. This comes after an unfavourable report from the EU that found harmful substances in shrimp from Bangladesh, and after an EU threat of import restrictions from this country. On the French market, Bangladesh was successful and managed to triple its shrimp exports in one year, and it remained one of the major suppliers to the UK and German markets. However, virus problem and more scrutiny from the EU may cause more difficulties in future.
The cooked and peeled sector in UK weakens
The positive trend in shrimp imports registered by UK at the beginning of this year did not last and volumes in January-June 2008 showed a decrease of 3% compared to the same period last year (although in terms of value imports increased by 2%). UK imported 33 900 tonnes of shrimp at a value of € 133 million.

Similarly to 2007, coldwater shrimp products represented only 38% of total shrimp imports. In recent years, UK households have gradually reduced their coldwater shrimp consumption and the overwhelming majority of imports in UK now consist of shell-on frozen warmwater products of Asian origin. For the cumulative period January-June 2008, UK coldwater shrimp imports amounted to 13 000 tonnes of which more than 11 000 tonnes were prepared and preserved products and 1 700 tonnes were shell-on products (including both fresh and frozen products).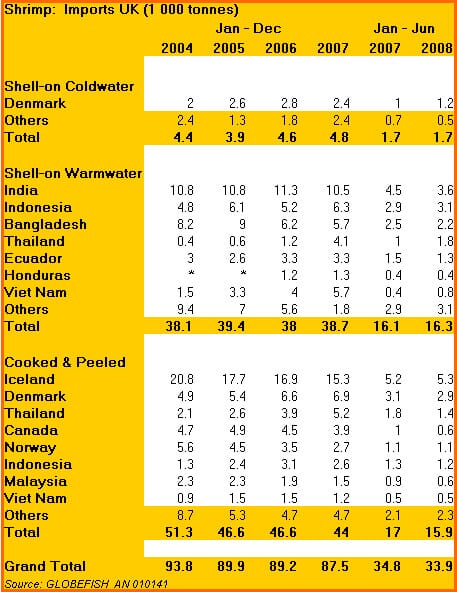 Shell-on coldwater shrimp imports into the UK remained stable. Thus Denmark strengthened its predominant position in this sector. Conversely, the cooked and peeled sector decreased somewhat (-6% on 2007 figures). In the prepared and preserved category, Iceland maintained its exports to the UK. With 5 300 tonnes exported to this destination during the first half of 2008, Iceland reached 42% market shares of total UK imports in this category.

In terms of value, Iceland registered a 17% increase compared to last year and the average unit value for Icelandic products on the UK market grew from £ 3.42/kg last year to £ 3.92kg this year. Denmark remained the second exporter to UK in the prepared and preserved category but registered a 6% drop. Warmwater products on the UK market are mainly of Asian origin. Indonesia, India, Thailand and Bangladesh represent 66% of frozen whole imports, although India and Bangladesh market shares decreased notably this year. Viet Nam is re-emerging on the UK market with a 45% increase on last year's imports.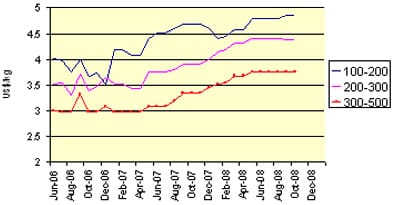 Shrimp market continues volatile
Considering the overall supply and demand situation, the global shrimp market is expected to stay firm until the end of the year. Despite the increasingly difficult economic situation, demand for shrimp in Europe remains rather good. However, there is concern among suppliers about customers' capacity to make timely payments of their orders. Moreover, it seems that insurance companies, which in the past always increased their limits towards the end of the year, are presently tending to reduce the limits. This may have an impact on sales in the coming months.
December 2008