EU Ambassador Roland Kobia congratulated the 59 men and 40 women who have successfully completed the first training courses of the Food Safety component of the EU Myanmar Trade Development Programme.
"This is an important step to boost aquaculture production in Myanmar and improve food safety for Mohinga and fish lovers home and abroad," Mr Kobia said at a ceremony on Friday at the Myanmar Fisheries Federation (pictured right).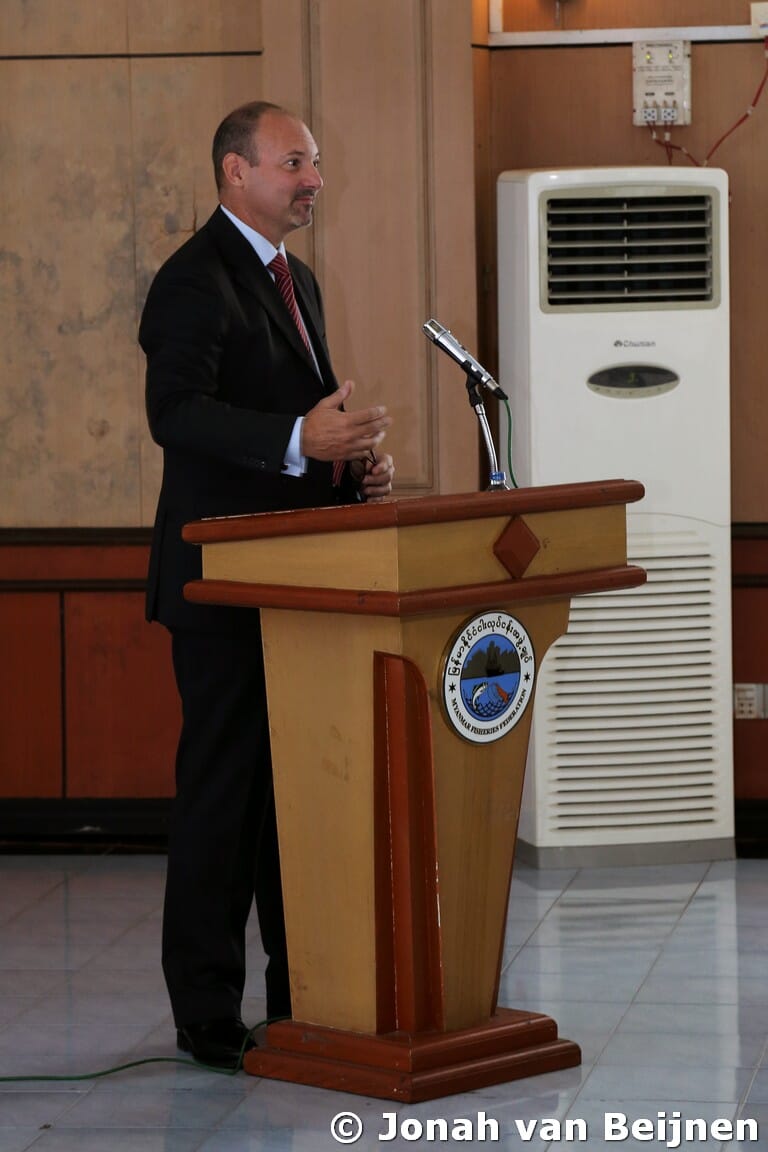 The five training courses dealt with Good Aquaculture Practices Compliance and Traceability to improve food safety procedures and monitor food control compliance by producers and exporters of aquaculture fishery products. The focus of the one-week courses is on Sanitary and Phytosanitary measures that control international hygiene standards.
"Delicious fish is enjoyed in Myanmar. A lot of people in Europe and elsewhere in the world would like to enjoy it, thereby opening up benefits for the Myanmar people as well in terms of job creation and revenue generation," Mr Kobia pointed out.
"To do so takes a long way – not only geographically, but also kind of swimming through the jungle of export regulations to guarantee good quality and a healthy enjoyment."
The training is part of the Myanmar Trade Development Programme (TDP) jointly supported by the EU and Germany, implemented by the Deutsche Gesellschaft für Internationale Zusammenarbeit (GIZ). The programme works in close cooperation with the Ministry of Commerce and other partner Ministries as well as the private sector.
The programme can already celebrate a major achievement: In the fishery sector a market has been established for exporting wild caught fish and recently the EU approved exports of aquaculture fish from Myanmar.
To make this happen certain rules and regulations have to be followed in particular in the key area of food safety and hygiene in food production.
"To achieve this, the programme for example supports the setting up of a monitoring system on chemical residues. In this area the first series of trainings has now taken place." The EU Ambassador explained.
The first batch of trainees came from the Department of Fisheries, in particular the Aquaculture Division, and also included practitioners from fish farms and hatcheries, processors and fish feed manufacturers and suppliers, as well as veterinary drug suppliers and importers.
"The key points of the training are hygiene requirements at fish farms, in particular control of feeds to make sure that it does not contain any harmful substances that could get into the food chain – and end up in the famous Moghinga or at dinner plates of fish lovers all over the world," Mr Kobia pointed out. The monitoring and control of feeds is quite new to Myanmar.
"Traditionally fish farmers often throw rice husk into the ponds to feed the fish, which actually sounds rather nice to me," the EU Ambassador explained.
"But to guarantee consumer safety the feed needs to be tested and documented. Up to now the manufactured feed in Myanmar is not tested and labelled and in the interest of consumer protection we will jointly work on this challenge."
The same is true for the monitoring and control of drugs used in fish hatcheries and high density aquaculture ponds. "We have to make sure that farmers only use approved drugs that do not intoxicate the fish and ultimately the consumers," Mr Kobia said.
"So far there is no system in place in Myanmar for drug control, but since importing labelled feed and drug might be too expensive in particular for small fish farmers, we should join hands and expertise to set up a manufacturing and supplier chain according to international standards."
"The training has started to raise the awareness for these important points to boost production and trade," the EU Ambassador concluded. Next steps will include providing equipment and training for staff from laboratories and inspection bodies so they are able to test and control compliance of international norms to guarantee food safety.
"The aim of these activities and trainings is to promote the sustainable development of the Myanmar fishery sector and install a food safety marketing chain for consumer protection at home and abroad."
Images: Copyright Jonah van Beijnen