According to a new publication in Aquaculture Reserach, researchers have found that essential oil extracted from thyme (Thymus vulgaris) could be a beneficial dietary supplement for rainbow trout (Oncorhynchus mykiss). The researchers conducted a feed trial over two months with fish that initially weighed 10g. The fish were fed diets containing different concentrations of the essential oil: 0.5ml/kg feed, 1ml/kg feed and 2ml/kg feed.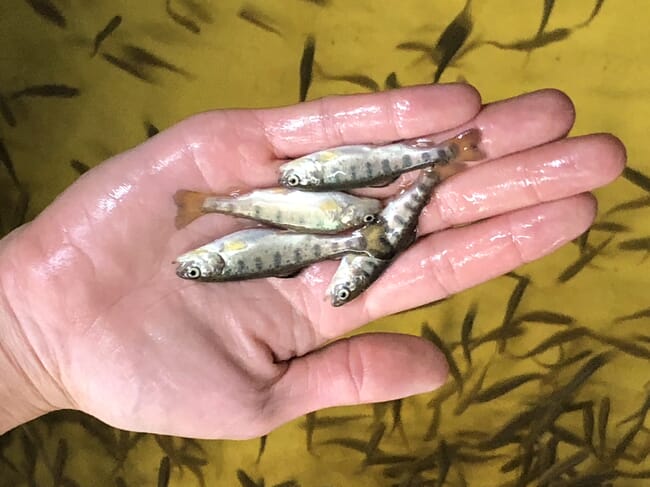 Results showed that fish fed the 0.5ml/kg diet had a better specific growth rate and weight gain when compared to other treatments. Fish on the 1ml/kg diet showed higher levels of complement component 3 (C3), a protein that plays a vital role in the immune system. They also had more CD4 gene expression – meaning that their immune systems were able to fight infections more quickly than the control group.
Though these results were promising, researchers noted that during supplementation, fish fed the experimental diets showed fluctuating Alanine aminotransferase levels. This protein is used as an indicator of liver health. Fluctuations and increased levels of the compound are often associated with decreases in liver function. Though researchers monitored the trout's liver function during the trial, they were unable to determine if the supplementation had a lasting negative impact.
As a final component of the trial, the researchers tested the survival rate of the fish after they were exposed to a common aquatic pathogen. The researchers challenged the trout with Aeromonas hydrophila, a bacterium that causes opportunistic infections and Aeromonas septicaemia in fish and amphibians. After exposure, fish fed the 0.5ml/kg diet showed the highest survival rate.
Overall, the researchers concluded that supplementing feed with thyme essential oil enhanced growth, immune responses and disease resistance in trout. They recommended using the 0.5ml/kg dosage to get the most benefits while reducing negative side-effects in liver function.
Read the original abstract here.